Gone are those days when you had to sit in front of a computer to manage your blog or website. This is an era of the mobile web. The convenience of managing your blog on the go obviates the need for traditional computers. With cutting-edge hardware, software and mobile apps, the performance of mobile devices today is at par with traditional computing devices. In this post, I will share the best free blogging apps for iPhone and iPad that you must install in 2022 to manage your blog on the go!
1. WordPress
Being one of the top blogging platforms, the WordPress app qualifies for one of the must-haves blogging apps for iPhone and iPad. If you also have your blog on the WordPress platform, then you'll find the official WordPress app for iPhone and iPad indispensable! In my personal experience, the app, however, works far more smoothly on the iPhone than on the iPad (tested on iOS 14.3). Here's a complete list of things that you can do easily on the official WordPress app:
Write a new post, and save drafts which sync with the web version of WordPress blog.
Add images and videos.
Publish/Update blog posts and pages.
Manage blog users, comments and plugins.
Change themes.
It supports the Gutenberg block editor.
I think this is enough to manage your WordPress blog on the go! However, if you want more control, you can always switch to the web version of your WordPress blog on your mobile device itself!
2. Google Analytics
You can't measure the performance of a blog without knowing the amount of traffic and user experience. What if you get this information right on your iPhone or iPad? Even better! The official google analytics app for iOS is a blessing. It works very smoothly on both the devices. Here are some important metrics that can be tracked on this app:
Real time visitors
Top landing pages by visits
Overview of traffic by channels – Organic, Paid, Direct, Social, Email and Referral.
Overview of visitors by geographic location, new vs. returning, mobile device and web browser.
Average page load time (in seconds)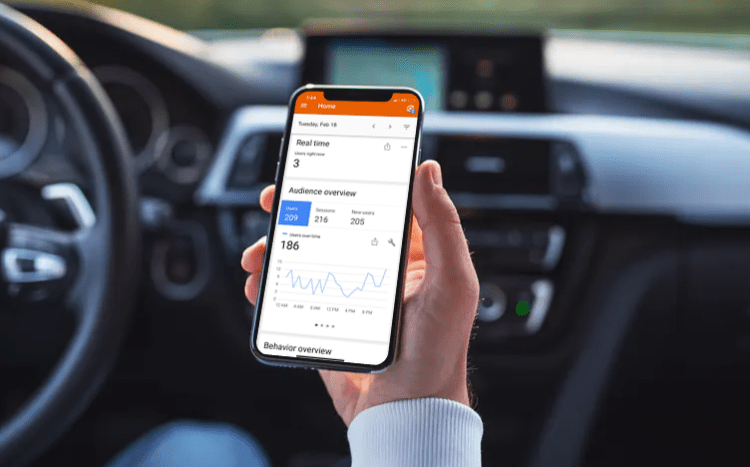 3. Canva
Your blog needs high qualities of graphic/visual content on a regular basis. If you are a blogger, then Canva is a must-have app on your iPhone to meet the design needs of your blog. With thousands of free illustrative images/photos/texts and templates, I am sure that you will never run out of creative design ideas for your blog again. This qualifies Canva for an absolutely must-have blogging app for iOS. The Canva app works like a charm on the iPhone. Have an iPad? With sufficient screen space for designing the graphics, you will love it even more.
Recommended – Canva Review: Design amazing blog graphics for free.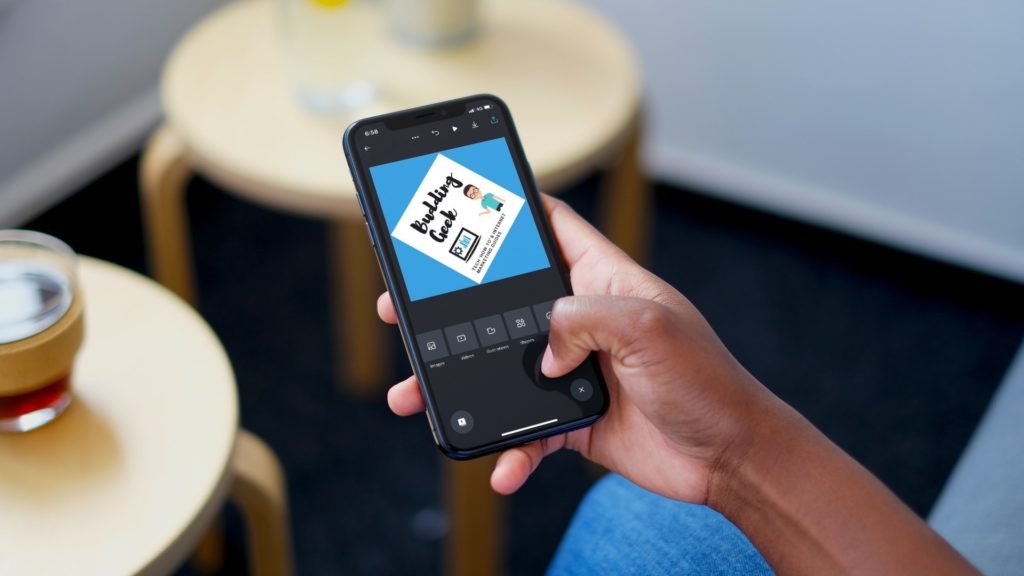 4. Grammarly Keyboard
Minor typos and grammatical errors are common while writing blog posts. What if I tell you that you could proofread your articles in real-time, as and when you type? It is a reality with the official Grammarly keyboard app for iOS. No wonder, this makes Grammarly one of the must-have blogging apps for iPhone. Here are two of its most useful features:
Proofread your articles for typing and grammatical errors in real-time, as and when you type the content.
Suggestions on the use of synonyms / better alternative words.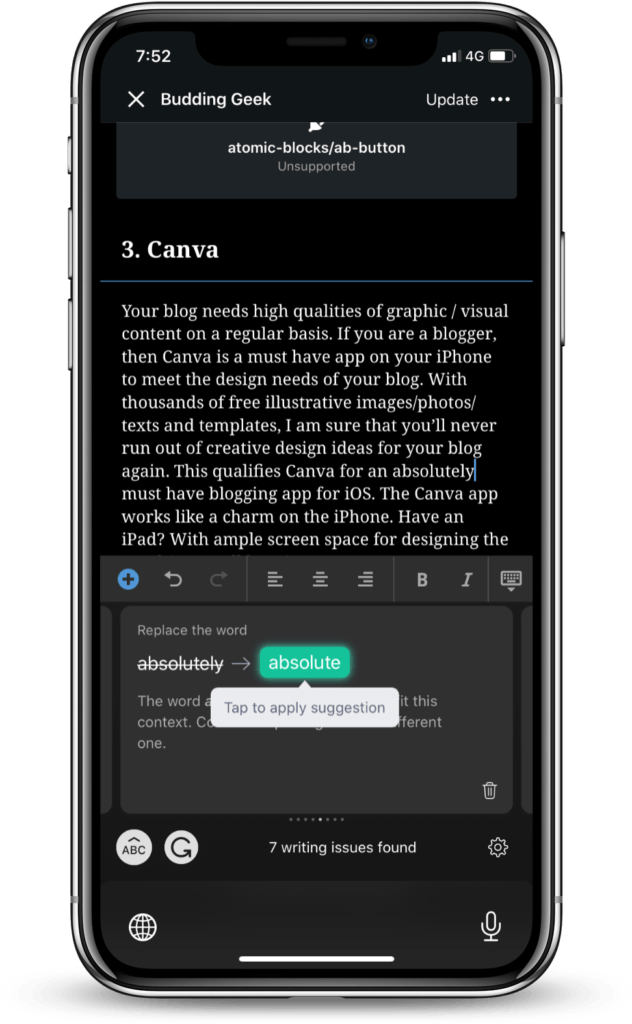 Its basic free account offers simple grammar and spelling checks only, and that's what you just only need for proofreading your articles on the go! Here are the steps required to install and use the Grammarly keyboard app on your iPhone or iPad:
Once installed, open the Grammarly app settings.
Tap on keyboards.
Enable Allow full access to Grammarly keyboard. That's it.
As you allow full access to the Grammarly keyboard, iPhone gives you a warning message that this might enable the developer to transmit anything you type, which might include sensitive data like a credit card number or street address. So, as an aware person, switch back to the regular keyboard on your iPhone if you need to use any financial app or type in any sensitive data.
5. Sprout Social
Marketing your blog on social media is as important as working on SEO. The Sprout Social app makes it to my list of top must-haves blogging apps for iPhone and iPad for the following great reasons:
Allows you to plan, organize your content, and cross post it across social media networks
All in one social inbox (messages from Facebook, twitter, linked – all in one place!)
Social content calendar – to help you visualize and organize all social media posts
Track your social media campaigns
It's a complete social media management tool
Sprout Social offers a free 30 days trial, after which it costs $99/month for the standard plan. Regularly updating your social media accounts is an important part of managing your blog effectively. It keeps your blog readers updated about all the new happenings and they feel engaged with your brand.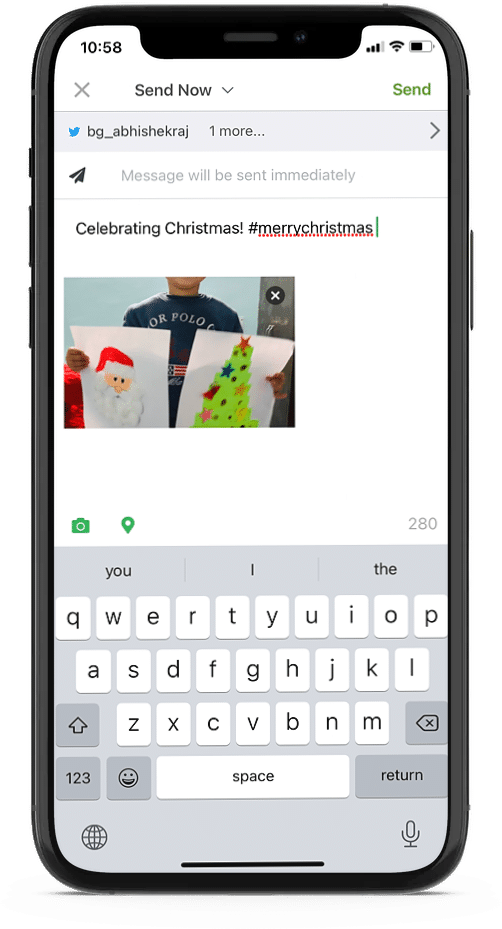 6. Medium
Medium is the perfect blogging app for those who have a flair for writing but do not have their own blog space yet. Managing a blog of your own is a time and money consuming task. But it surely is a rewarding experience as you own everything that you put up online. But in case one wants to escape it because of lack of time and resources, then Medium is the best place to go for!
7. Wix
Do you know what makes Wix one of the best blogging apps for iPhone? That's its intuitive drag and drop functionality that makes it a breeze to design a website, even with no coding or technical skills. The Wix app market is similar to the plugin repository of WordPress. The blog app in the Wix app market makes it easy to install a beautiful blog on your website. What's more? With so many Wix blog templates, you will definitely find a design that satisfies your taste and style! Try it today.
What are your favorite blogging apps for iPhone?
I hope you will find my article helpful in managing your blog right from your Apple iPhone or iPad. Can you suggest some more useful apps that might help in managing a blog or website on the go? Please share your thoughts in the comments below. I look forward to keeping this article updated with a more awesome list of blogging apps. If you liked my post, please share it! It will make my day and all this hard work worth it 🙂
---
Disclosure: This post may contain affiliate links, which means I may receive a commission if you decide to click through and make a purchase, at no additional cost to you. Read more about this disclosure