Safari is the default web browser for iOS devices, and probably the most popular app on any iPhone. It lets you access a variety of online content, from search engines to websites or blogs. But did you know that every time you surf the web, you leave behind a trail of personal information (also known as digital footprints)? This information can reveal your IP address, geographical location, search keywords, browsing patterns and preferences. To prevent this identity leakage, you need a good private browser on your iPhone. A private browser can help you browse safer and protect your digital footprints. In this post, I'll share 5 of the best private browsers for iPhone that you can try today.
What exactly does a private browser app for iPhone do?
Private browsers on your iPhone do more than just provide an incognito browsing window. They can help you protect your personal information from prying eyes. A good private browser on the iPhone can do the following:
Block ads, trackers, and cookies — This prevents websites from tracking your browsing activity and collecting data about you.
Enforce encrypted connections (HTTPS) —This makes it more difficult for hackers to intercept your data as you browse the web.
Provide enhanced protection through a VPN — A VPN encrypts all of your traffic, making it even more difficult for anyone to track your online activity.
Erase browsing history and cookies with a single click — This is a quick and easy way to clear your tracks and protect your privacy.
In addition to these features, some private browsers also offer other privacy-boosting features, such as the ability to:
Generate fake user agents — This can help you disguise your location and browser type, making it more difficult for websites to track you.
Block scripts —This can prevent websites from running scripts that could track your activity or deliver ads.
Whitelist websites — This allows you to specify which websites you want to allow to track your activity.
My personal thoughts about blocking ads on websites
I'm a publisher myself, and I run ads on my blog to help fund the cost of maintaining it. I don't charge my readers anything for the awesome content I provide, so I urge you to at least support those publishers who create valuable and quality content.
As a website visitor, you have the freedom to use the web however you want. But please consider the time and effort that publishers put into creating the content you enjoy for free.
The best free private browsers for iPhone in 2023:
1. DuckDuckGo
DuckDuckGo is the most famous private search engine which is often considered as a great alternative to Google. Why? Google tracks you, but DuckDuckGo doesn't. Google profiles you to personalize your search results, but DuckDuckGo doesn't. Now with its web browser app for iPhone, DuckDuckGo takes your privacy to the next level. Here are some of the most remarkable features of this app:
One touch 'Fire Button' to close all tabs and erase data. Once tapped, a fire will blaze up your browser screen to turn all your search history and data into ashes.
'Privacy Grade' – Based on the use of privacy practices, scripts and trackers, DuckDuckGo assigns a default privacy grade to websites you visit. It then enhances that grade by blocking trackers, ads and malicious scripts so that the website becomes fit for visiting.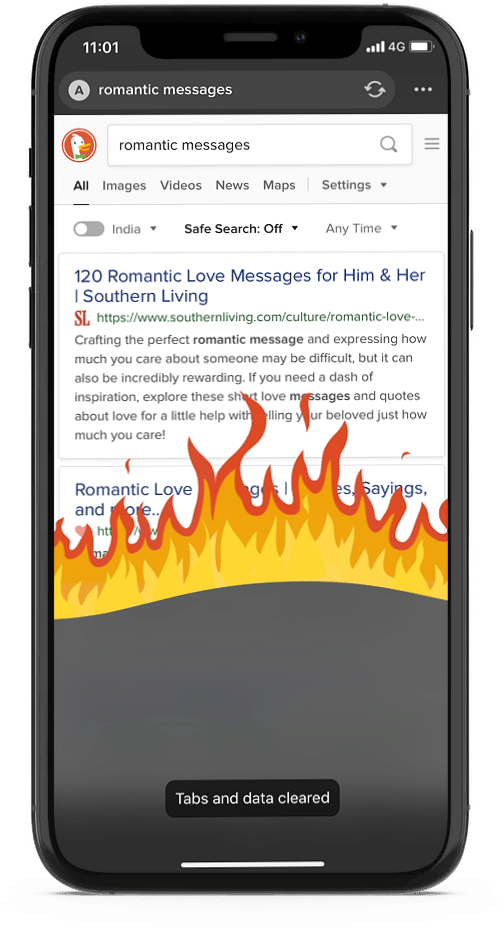 'Enforces 'https' connection wherever possible. A https connection ensures that the sensitive information you transmit over the web (such as while doing an online transaction) is routed securely over a secured network.
Ability to 'fireproof websites', i.e., you can whitelist websites of your choice so that cookies related to those websites are not erased once you tap the 'Fire Button'. For example: If you use Facebook mobile, you can fireproof it so that the cookies are not erased and you remain signed in.
The DuckDuckGo browser is my favorite private browser for iPhone. I encourage you to go ahead and give it a try.
2. Firefox Focus
After DuckDuckGo, the next best private browser for iPhone is FireFox Focus, a free and open-source privacy focused web browser developed by the Mozilla Foundation. The unique thing about FireFox Focus is that you can either use it as a standalone private browser app or as a content blocker with Safari, the default browser app on iPhone. Following are some of the striking features of this web browser app:
Blocks ads, analytics and social media trackers
Blocks deep content trackers such as embedded videos, news articles and photo slideshows (enable this on experimental basis as it may cause a website to stop functioning as expected)
Ability to block web fonts – thereby making webpages load even faster
One-tap button to erase browsing history and cookies
Siri shortcuts to automatically clean your browsing data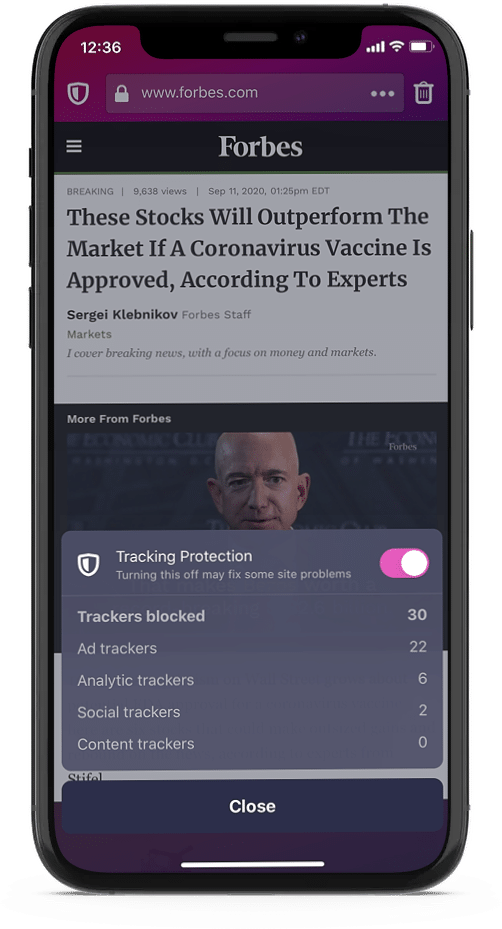 3. Opera Touch
An upgraded version of Opera Mini, Opera Touch is a light-weight, fast and secure web browser app for the iPhone. I've tested it against many web browser apps on the iPhone and I can confirm that it provides the fastest web browsing experience; thanks to its native ad blocker and built-in web 3 support.
The following are some of its features worth mentioning:
Native ad-blocker
Cryptocurrency mining protection – blocks malicious websites from using your iPhone's resources to mine cryptocurrencies.
Block cookie dialogues
Its iPhone app currently lacks the feature to block online trackers. I hope it is included in subsequent updates.
4. Microsoft Edge
Who doesn't know Microsoft? A private browser brought to you by a brand name like this is surely worth a try. Although built on the same chromium software, Edge provides quite better security and privacy features than Google Chrome. Here are some of its features worth mentioning:
Built-in integration with Ad-Block Plus to block ads on your iPhone
Tracking Prevention – on a scale ranging from Basic, Balanced to Strict.
Blocking of third-party/all cookies
Blocking pop-ups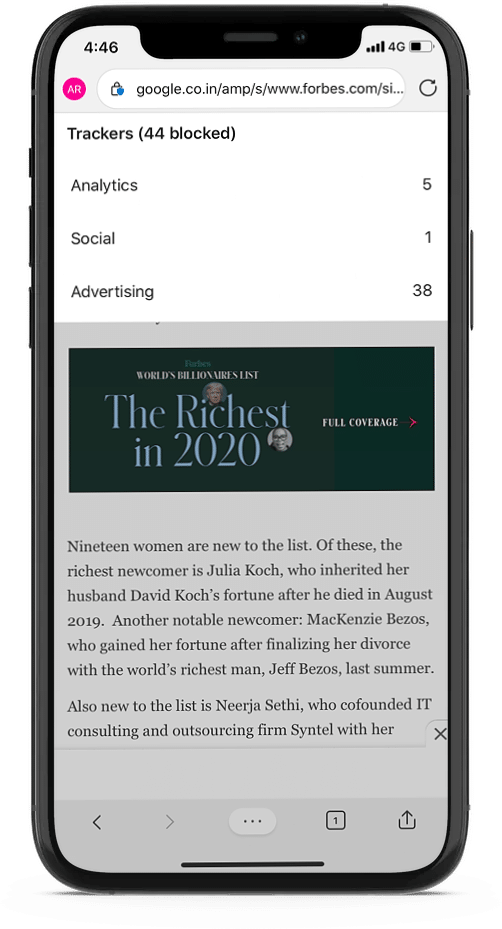 When you visit a web-page with Edge browser on your iPhone, you can check how many trackers it has blocked on that web-page. The more the number of trackers blocked = the better your privacy!
5. Brave Browser
A relatively new name in the web browser community, Brave browser takes internet security and privacy on your iPhone to the next level. Unlike other web browsers where you have to turn individual settings for security and privacy, Brave takes a default approach to block all ads and trackers.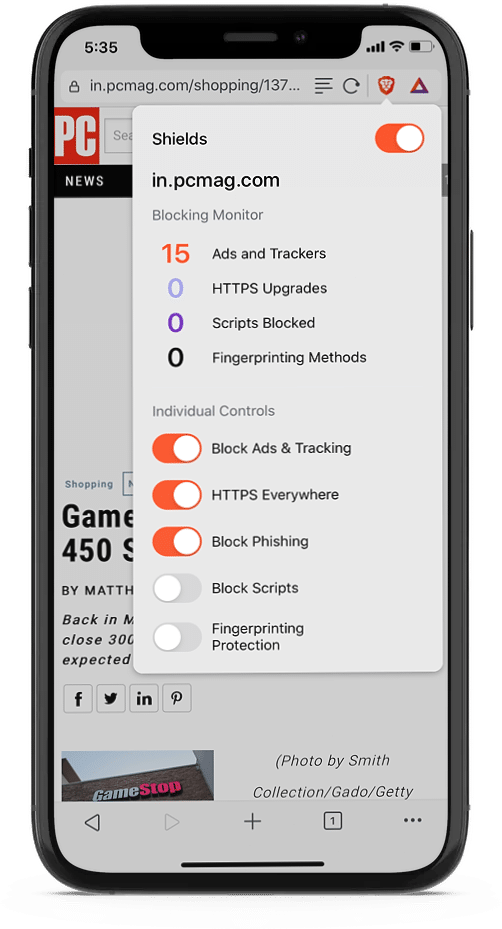 Here are some of its striking features:
On its homepage, Brave browser also provides a cool summary of how many trackers it blocked and how much time it saved you!
Want to upgrade your private browsing experience on iPhone even higher?
All these private browsers do a great job of blocking trackers and scripts, making it difficult for websites and advertisers to track you. But they don't protect your online activities from your Internet Service Provider. Your ISP can still track which websites you visit and what you do online. They don't usually do this. But then why even leave a trace?
Using a VPN app on your iPhone in tandem with a good private browser can provide a rock-solid foundation to your online privacy.
How do you browse privately on your iPhone?
The best private browser for your iPhone will depend on your individual needs and preferences. If you're looking for a simple and easy-to-use private browser, DuckDuckGo is a great option. If you're looking for a more powerful and secure private browser, Brave Browser is a good choice. And if you're looking for a private browser with a lot of features, Opera is a good option.
I'd love to hear your thoughts on how you browse privately on your iPhone and how you manage your privacy and security online. Please share your thoughts in the comments below.