YouTube is undoubtedly the number one destination for watching and uploading videos online. It's perhaps everyone's favorite place to enjoy entertainment videos and to even learn a new skill every day! But this doesn't mean that we should stop looking for alternatives to the YouTube app. In my experience over the past several years, YouTube has degraded in terms of user experience. Those annoying ads on YouTube now have become more frequent than ever. And also, from creators' point of view, it's now even more difficult to grow and monetize your YouTube channel (even more so if you're just starting as a newbie). So, in this post today, I will share 6 best alternatives to YouTube app for Android and iOS.
1. Dailymotion
Almost as old as YouTube, Dailymotion can be considered a decent alternative to the YouTube app. It's a video sharing and hosting website which delivers videos across 4 major verticals – News, Sports, Music and Entertainment. However, on popularity scale, it's less popular than YouTube as it attracts only 300 million average monthly visitors compared to 2 billion monthly visitors at YouTube.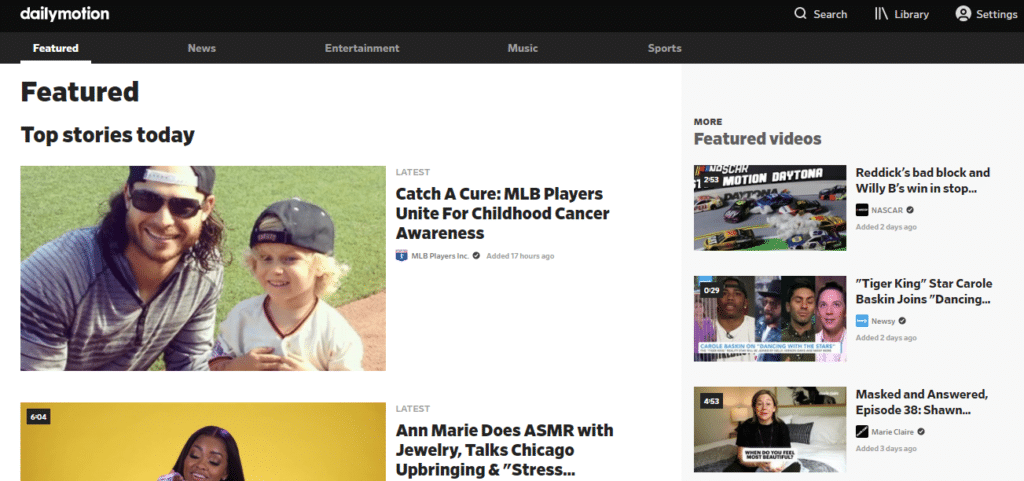 To upload video on Dailymotion, you first need to sign up for a Partner account with them. As a Dailymotion partner, you are eligible for:
Uploading of videos (you can upload only 10 videos of maximum 60 minutes duration and 2 GB in size per day)
Live broadcasting
Detailed video analytics
Ability to monetize your uploaded videos
However, Dailymotion lags behind engagements. Except views count, Dailymotion doesn't display the number of likes/dislikes or even comments on its videos. So, there's no way to tell how people are reacting to the videos. In a nutshell, there is no feedback mechanism on Dailymotion. So, if you are someone who is conscious about likes/dislikes and prefers no comments on your videos, then Dailymotion is the alternative to look for!
2. Vimeo
Vimeo is the neatest and ad-free alternative to the YouTube app. There are 16 categories of videos you'll find on Vimeo:
Now you might wonder: how are videos monetized on Vimeo when the entire platform is ad-free? Vimeo makes money by offering subscription-based add-on and services. For example, with a basic lifetime free Vimeo Account, you are restricted with a 500 MB of upload space per week (limited to 10 videos upload per day) and 5 GB account storage space. To overcome these restrictions, you must subscribe to Vimeo Plus/Pro/Business versions. This is how Vimeo makes money.
Now, as far as creators are concerned, Vimeo Pro provides the opportunity to monetize videos by directly renting or selling your videos through Vimeo on Demand program. This works well for documentary, video series and movies type of content. The best part is that Vimeo lets you keep 90% of the revenue after transaction fees.
What's more? As a Vimeo subscriber, you can also go live ad-free and simultaneously stream your live video across a variety of social channels like Facebook, YouTube, LinkedIn, and Twitch. This works great for events like live performances, online classes, webinars, company announcements, and product launches.
Wrapping it up, Vimeo is a clutter-free and ad-free alternative to YouTube app that is worth giving a try!
3. IGTV
Instagram TV is a video sharing and hosting application by Instagram – the world's favorite photo and video sharing social network!
IGTV allows you to enjoy videos, clips, shows and vlogging content from your favorite Instagram creators. Unlike short duration of videos in Instagram feeds and stories, IGTV allows you to upload long duration videos of up-to 10 minutes. And if you're a verified user, you've the privilege of uploading videos of up-to 60 minutes of duration. Cool. Isn't it? The best part is – it's ad free!
4. Plex
Plex is another great alternative to the YouTube app. It's a free app that lets you enjoy Live TV (with 80+ channels), free movies, web series, shows, news and podcasts. What's more? It also lets you curate your own media library by uploading your favorite photos/music/videos to the Plex media server, with the ability to stream it on the go across all your devices!
With free on demand movies and web series on Plex, I bet you won't even miss Netflix.
5. Twitch.TV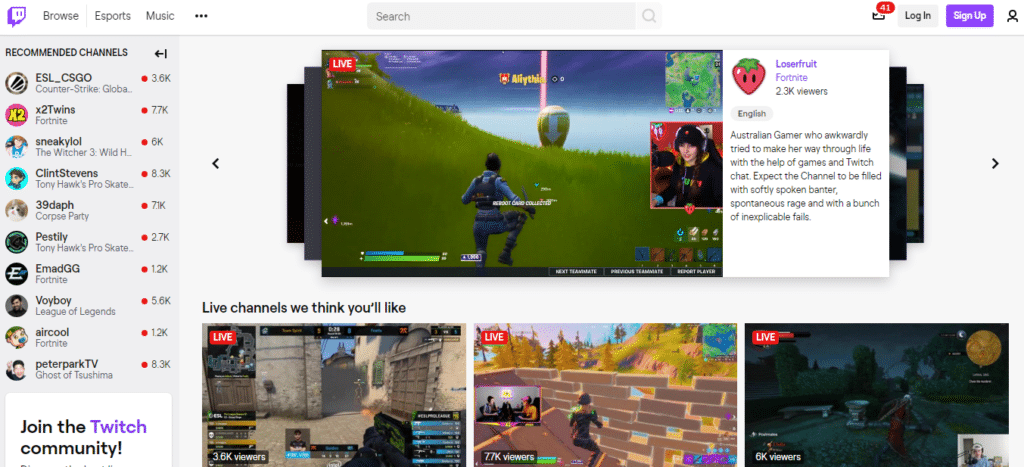 For those who are more into playing online multiplayer games and love to broadcast their screen live with fellow enthusiasts, Twitch.TV will be an excellent alternative to the YouTube app. Twitch.TV forms a dedicated community of gamers around the world. And… with your audience cheering up through live audio comments, you'll feel the adrenaline rush to perform even better 🙂
6. Vidyard
If you own a business and want to succeed through the power of videos, then it's time to look beyond YouTube as your professional communication channel.
Vidyard helps businesses host and share videos for marketing, sales, and corporate communications. Here are some interesting features of Vidyard that make it a good alternative to the YouTube app (for professionals and businesses):
Record screens or your own personal videos
Directly embed recorded videos in your emails – so no need to worry about attachments and downloads
Create call to action buttons on videos (for example, you can invite viewers to visit a webpage or contact you directly from your video share page)
Password protect your videos
Integration with all the popular tools like Gmail, Outlook, Google Analytics, Salesforce, etc.
Automatic transcriptions
Get notified when your prospects or team watch your videos
With the free version, you get unlimited recording, bandwidth, uploads, and an ad-free experience. However, to access more controls like password protection, personalized videos and call-to-action buttons, you will need to upgrade your plan.
Have you replaced YouTube?
What's your favorite alternative to the YouTube app? Please share your experience in the comments below.
---
Disclosure: This post may contain affiliate links, which means I may receive a commission if you decide to click through and make a purchase, at no additional cost to you. Read more about this disclosure