Digital privacy is a topic of significant concern today. No one likes their digital footprints to be tracked online. It violates the fundamental right to privacy. Apple's iPhone and iPad are unarguably the most secure mobile devices in the world. A secure system software tightly integrated with its hardware leaves little scope for anyone to compromise your data. Still, someone can easily track your online activities when you connect online. How can you prevent this from happening? The answer is simple – by using a Virtual Private Network (VPN). In this post today, I will review the 6 best VPN for iOS devices to help you efficiently protect your online identity.
What is a VPN? Why do you need it on your iOS device?
A Virtual Private Network (VPN) protects your identity. It helps you connect to the Internet through a secure private server, which is hosted in some other geographic location. Technically, a VPN connection masks your original IP address, making it difficult for someone to snoop on your data packets. This makes it impossible for anyone to track the online activities on your iPhone and iPad.
5 Benefits of using a VPN on your iOS device:
Unblock websites which have been blocked by your government or Internet Service Provider (ISP).
Unlock country-restricted content on websites.
Protects sensitive data against theft when you connect your iOS device to any public or unsecured WiFi network.
Encrypts all your mails, messages, and chats.
Hide all online activities from your ISP.
What are the best VPN Apps For iOS?
Now that you've a good idea of what a VPN is and how does it work, I will now review some of the best VPN apps for iOS devices:
1. Nord VPN (Paid)
App store feedback: 4.6/5, 95.4K Ratings
Nord VPN is one of the best and most trusted VPN apps for iOS devices. It's a paid app with a free 7-day trial. Nord VPN comes with the following features and advantages:
A vast network of virtual private servers – 5100+ servers in 59 countries!
Unlimited data and bandwidth (no capping of data. Browse as much as you want at high speed)
Connect up to 6 devices with just one account. That means you can secure your Mac, iPhone, and iPad all at once with just one Nord account.
Dedicated personal IP address.
Double VPN encryption.
NordLynx – Nord's WireGuard®-based VPN protocol ensures a stable and high-speed connection.
CyberSec – blocks ads on your iPhone and avoids malware/phishing threats.
Kill switch – If your VPN connection accidentally drops, the 'kill switch' blocks your device (or apps that you've specified) from accessing the internet.
No log policy (i.e., no tracking, collection, or sharing of your personal data)
30-day money-back guarantee.
24*7 support.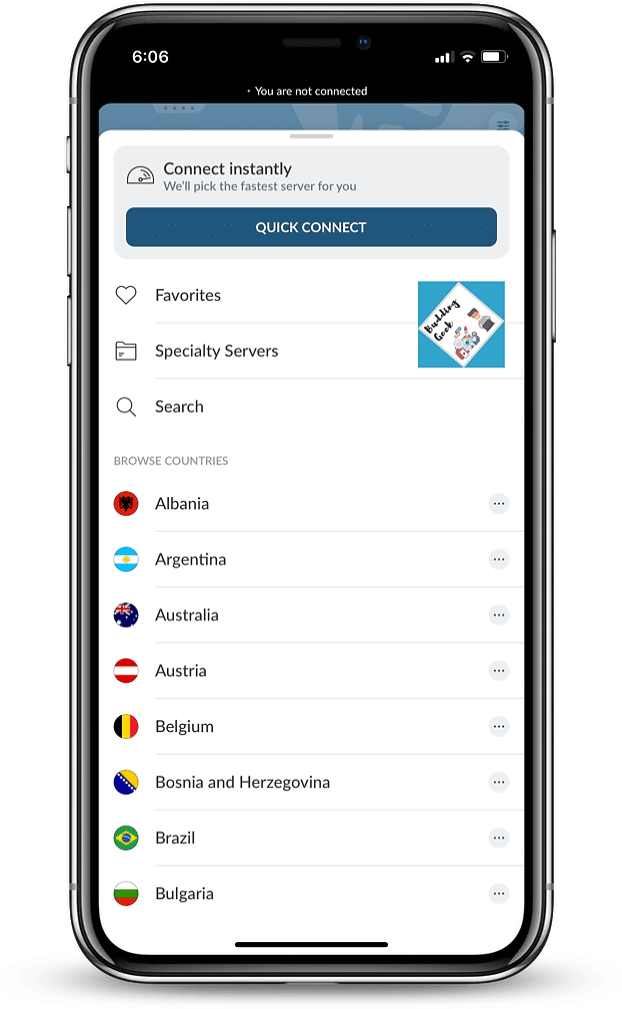 Once you have downloaded the app, sign up with your email address. For all new users, Nord offers a free 7 day full-feature trial. Once your trial period ends, and you keep the subscription active, they will charge you around $84 for a one-year plan (that's $6.99 per month). And… for a limited time period, you can get the 2-year plan at just $3.71 per month. That's a steal deal for a VPN of this quality and performance!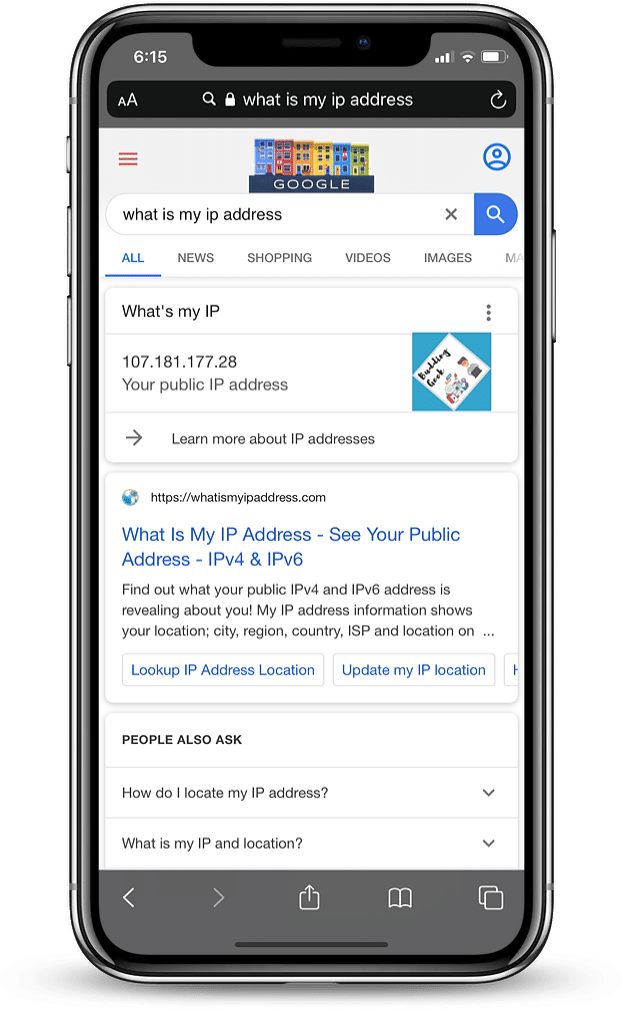 You can confirm whether your VPN connection works as expected either by doing a quick google search or by visiting the official homepage of Nord VPN.
View the Privacy Policy of Nord VPN.
2. CyberGhost VPN (Paid)
App store feedback: 4.1/5, 25.8K Ratings
Another powerful VPN app for iOS is CyberGhost. What makes CyberGhost unique is its ability to provide a secure VPN shield for activities like streaming videos, torrenting, and advanced privacy. Let me explain these benefits:
Streaming videos – The content on some streaming video apps such as Netflix, Disney, Hulu or even YouTube may differ across countries. Some countries may even put restrictions on certain types of streaming content. In such cases, a reliable and streaming optimized VPN like CyberGhost will be your best choice.
Torrenting – It's a popular Peer-to-Peer based file sharing system. While torrenting is legal, it's unsafe to download/share copyrighted files or media which is prohibited in your country. That's where you must rely on CyberGhost VPN. It provides fast and secure torrenting servers and thus helps you hide your digital footprints.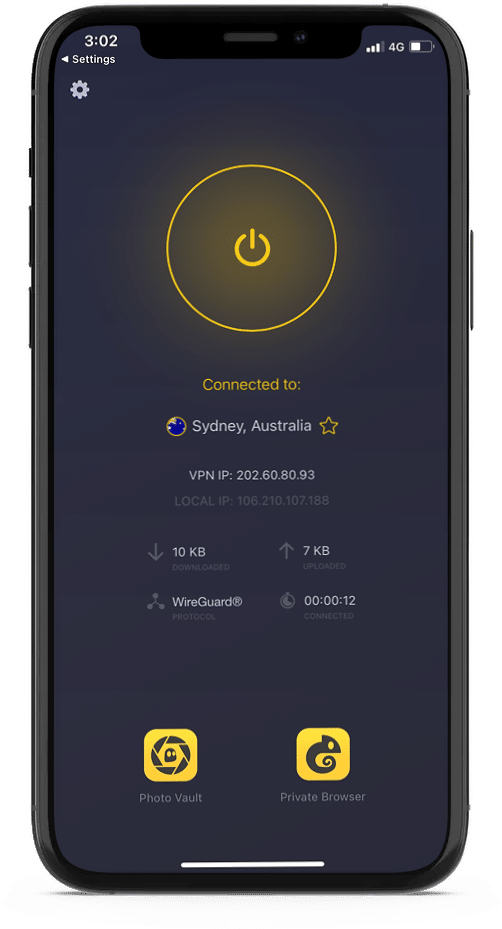 Here is the complete list of features provided by CyberGhost VPN app for iOS:
Over 6900 Servers Worldwide
Protect up to 7 devices simultaneously with one subscription
Dedicated and optimized VPN servers for streaming and torrenting
Unlimited bandwidth and traffic
256-bit AES Encryption
Strict No Logs Policy
DNS and IP Leak Protection
Automatic kill switch
24/7 live Customer Support
Up to 45 days money-back guarantee
The icing on the cake is that with the same subscription of CyberGhost you can enjoy full access to its secret photo vault app – an app to securely hide all the private photos/videos on your iPhone from prying eyes.
View the Privacy Policy of CyberGhost
3. Vypr VPN (Paid)
App store feedback: 4.5/5, 7.4K Ratings
The next best VPN app to consider is Vypr VPN. It's a paid app with plans starting from $45 for 1 year, $60 for 2 years, and $12.95 if you opt for monthly basis. The iOS app, however, provides a 3-day free trial, so you can test all the impressive features before subscribing to one of their plans.
With a paid Vypr account, you get:
Access to 70+ global servers
Unlimited high-speed bandwidth (i.e., browse as much as you want at high-speed connection)
Access to 4 types of VPN encryption protocols – WireGuard, IKEv2, Chameleon & OpenVPN
5 simultaneous connections (i.e., connect up to 5 devices at a time)
Strict no-log policy
30-day money-back guarantee
Setting up Vypr VPN on your iOS device is very easy. You first grant it permission to add a VPN profile on your iPhone/iPad, then you either select 'Fastest server' to let it automatically connect to the nearest high-speed server OR you manually select any server location of your choice. That's it. Once connected, you can test your VPN connection by doing a simple Google search as shown earlier in this post.
View the Privacy Policy of Vypr VPN.
4. Tunnel Bear (Free + Paid)
App store feedback: 4.6/5, 35.9K Ratings
The fourth best VPN for iOS is Tunnel Bear. Unlike Nord VPN, Tunnel Bear offers a forever free account, but with one restriction. You get 500 MB of secured browsing data per month.
I think that's ok for someone with light usage. For example, someone occasionally using the VPN service for doing online transactions or transferring sensitive data. However, if you still want more data on the free plan, Tunnel Bear offers 1 GB of bonus data when you:
Tweet about TunnelBear (valid once per month)
Ask a friend to join TunnelBear
Install TunnelBear on your computer
In case you run out of free data, you can also subscribe to an unlimited paid plan with priority support by paying just $120 for 3 years (that's $3.33 per month). The best part is that the 3-year plan includes a 3-year RememBear password manager subscription for free!
So, with a paid plan, you get:
Unlimited data
Connect up to 5 devices at a time (comes with free plan as well)
256-bit AES encryption (comes with free plan as well)
Strict no-log policy
Remembear password manager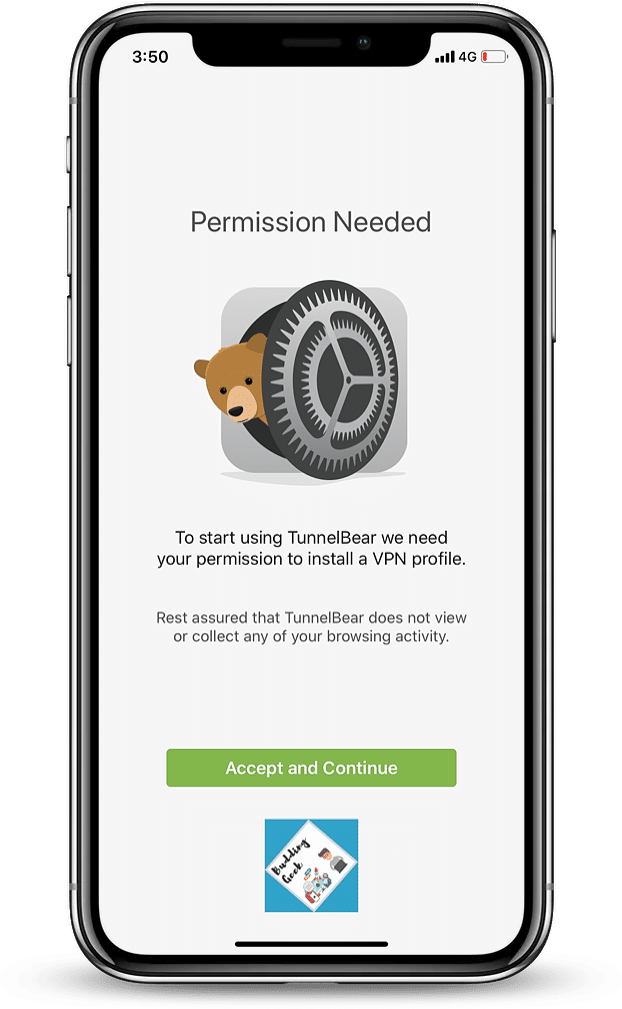 As far as the app experience is concerned, it is a very user friendly and straight-forward app. You first sign up using your email id, then you grant it permission to add a VPN profile on your iOS device, and then you start tunneling from as many as 23 countries. It's as simple as that.
When you select your favorite location, the bear will take a flight to that country and will start coming out of a honey pot (virtual server). This entire experience on a colorful map looks so beautiful and amazing 🙂
View Privacy Policy of Tunnel Bear.
5. Windscribe VPN (Free + Paid)
App store feedback: 4.7/5, 9.6K Ratings
If you are looking for a free yet trustworthy VPN for your iOS device, then look no further than Windscribe. The most remarkable feature of Windscribe is that it lets you use its VPN service even without signing up, unlike most of the other VPNs do. However, there is a quota of 2 GB if you do not sign up using your email ID. Otherwise, if you sign up for a free account, you are eligible for a quota of 10 GB per month with access to up to 10 global server locations. Tell me, which trusted VPN service is so generous with free data and virtual locations? None.
Windscribe is also very flexible with subscription options when you decide to unlock its full potential with a paid account. There is a plan which costs flat $9.00 per month, then there is a yearly plan with costs just $49, and there is one custom plan which is billed at $1.00 per location, per month!
With a pro account, you get:
Unlimited bandwidth
Access to 63 countries and 110 cities
Access to 3 types of VPN encryption protocols: OpenVPN, IKEv2 and SOCKS5
Blocking of Ads, trackers & malware
View the Privacy Policy of Windscribe.
6. Hotspot Shield (Free + Paid)
App store feedback: 4.5/5, 114.8K Ratings
Hotspot Shield by Pango is another trusted VPN for iOS in the freemium category. A free account with Hotspot Shield comes with the following benefits:
Data limit of 500 MB per day (that's around 15 GB per month)
Up to 2 Mbps speed limit
No browsing activity logs
Military-grade encryption
Access to only 1 virtual location (U.S.)
I think that's more than enough for someone looking for a secured and free VPN. However, there are two major limitations: a) Speed limit of 2 Mbps and b) Access to just one virtual server location (i.e., US). If you are fine with these limitations, then this is the plan for you. However, if you want access to all the awesome features, consider upgrading to a paid plan which costs $7.99 per month (billed annually). With a premium account you have access to:
Unlimited data and bandwidth
80+ countries and 35+ cities
Malware and phishing prevention
Connect the VPN with up to 5 devices at a time
24*7 live chat support
No browsing activity logs
Military-grade encryption
Free access to 1Password (a secure password manager), Robo Shield (a spam call blocker), and Identity Guard (for identity theft protection)
45 days of money-back guarantee
View the Privacy Policy of Pango HotSpot Shield.
The issue with free VPNs on the App Store
You might have noticed that when you search for the keyword "VPN" on the App Store, you will find many "free VPN apps" which top the chart. These free VPN apps offer unlimited data, bandwidth, and access to all the virtual locations in the world. But at what cost? It's at the cost of your own security and privacy. Many of these apps do not offer industry standard encryption protocols, many do not have 'no-log' policy. And… You will be surprised to know that many don't even have a simple privacy policy page on their websites!
Therefore, if you are serious about your privacy, consider using at least trusted VPN apps on your iPhone like the ones I've reviewed in this post. If you do not want to spend even a single penny on a VPN app, consider using TunnelBear, Windscribe, and Hotspot Shield. And if you don't mind shelling out a few bucks for top of the class security, performance, and features, look no further than Nord VPN and CyberGhost.
Which one is your favorite?
I hope you enjoyed reading this post. So which VPN app for iOS won your heart? Please share your experiences below 🙂
---
Disclosure: This post may contain affiliate links, which means I may receive a commission if you decide to click through and make a purchase, at no additional cost to you. Read more about this disclosure