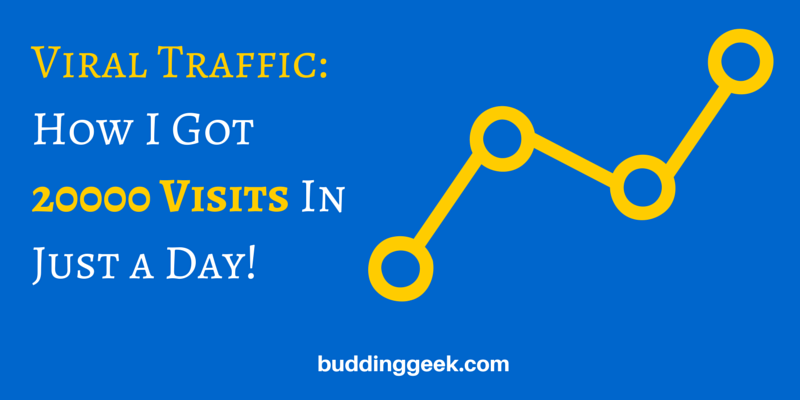 Hi friends. I believe that "happiness and joy" when shared, gets multiplied. There is no happiness in achieving a success (no matter how big it is) when you can't even share it with people who you love and care. I love my readers, and that's why today I'm sharing my happiness with you all. As a blogger, what can bring more happiness on my face than a huge surge of visitors to my blog? Traffic levels that I have never seen ever before? Traffic that is crazy and unstoppable? Yeah, for the first time in my life, I experienced what a "viral traffic" actually looks and feels like!
How did this viral traffic start?
It was the morning of 7th June 2015. I drafted a post titled – Why I love my nexus so much than any other android device. With all my love and heart, I wrote the post and hit the publish button. Believing that it might be of great interest to nexus users throughout the world, I decided to share my post with the Nexus community at Google plus. Guess what happened next? My post triggered so much interest in the community that it received more than 100 +1s and 39 comments, some appreciating the points I made, some disagreeing, and some fighting among themselves over the nexus vs. non-nexus war. Overall, the post led to a very healthy discussion. Statcounter was showing me a good stream of visitors landing on my post via Google plus. Okay, that was cool and expected, until I saw a HUGE surge of visitors landing directly on my post (without any referral URL). Honestly, I was very excited, yet confused on seeing such a heavy traffic which was hitting directly on my post.
I was like – wooooah…how the heck is this happening? OMG! That day, my blog (for the first time) crossed 1000+ hits in a day.
I was on cloud nine. Little did I know that this was just the beginning: The next morning, I woke up to even a huger surge of direct traffic. By 10 am in the morning, the visitor count had already crossed 5000+ hits.  By the day ended, almost 20000 hits were recorded by statcounter! That was almost a 6754% rise as compared to the average traffic levels before.
I was overwhelmed as I never saw such huge traffic ever before in my life. I immediately logged in to my Google Analytics account and what I saw was seriously jaw dropping – 128 people were online on my blog, all at the same time! I made my site as light as possible – by keeping only the essential plugins activated, removing all unnecessary java-script ad codes and turning on the cache. And luckily, my shared web-server survived 🙂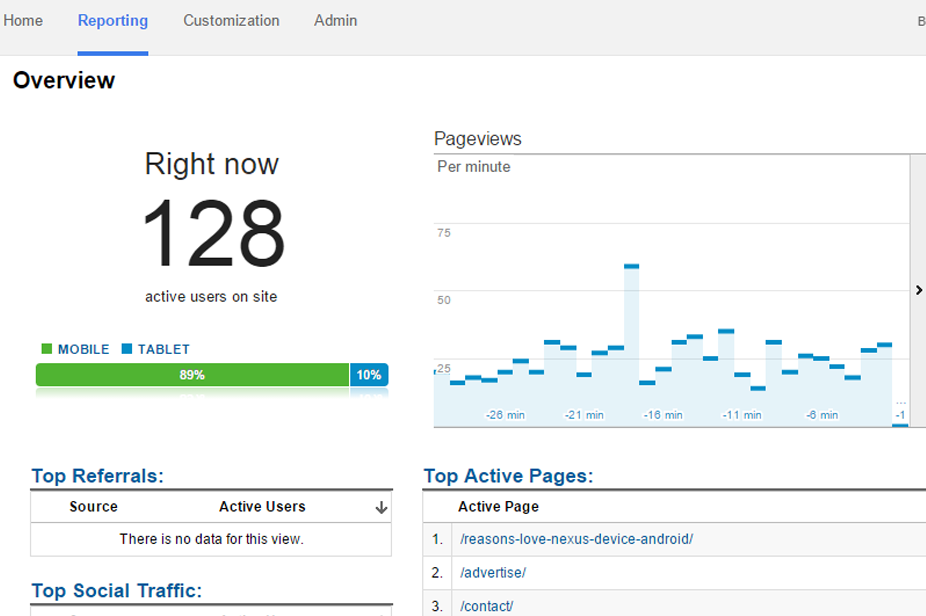 Google itself sent me this viral traffic. Yes, I'm not joking. Read this…
I honestly had no idea as who was sending this huge direct traffic, until one of the readers commented on my article that Google Now sent him (including many others) to this article! I guess, as my post grew in popularity on Google+, the Google Now widget started suggesting my post to all the android devices worldwide that had the widget installed. When that visitor told me that Google Now sent him to this article, I immediately opened Google Now on my nexus 4, and this is what I saw – my post being suggested as a news article on the cards. I love you, Google!
Those who do not know what Google Now is, let me explain this to them:
Google Now is a personal digital assistant developed by Google as a part of its google search mobile app. It's like Siri on Apple devices. It is a voice interactive app that gets activated as soon as you speak the magic hot keyword–"Ok Google". In the form of cards, it shows you what matters to you the most, like upcoming flights, trips, alarms, reminders, news related to your search history, the list is endless!
Lessons learnt
Never underestimate the power of Google Plus. As I've mentioned, in my case, it all started with the sparks that my post initiated at Google Plus!
If you are on a shared web-hosting plan, and you experience a viral traffic of this kind, make sure that your site is as light as possible. To prevent your site from crashing, enable caching of webpages and minimize the use of java-script/CSS codes. In a nutshell, do whatever it takes to minimize the load on your web-server.
Have you also experienced any viral traffic on your site?
Having shared my experience and joy, now I would like to listen to you. Have you also experienced any viral traffic on your site? How did it generate? And how did you manage that? Please drop your comments below 🙂