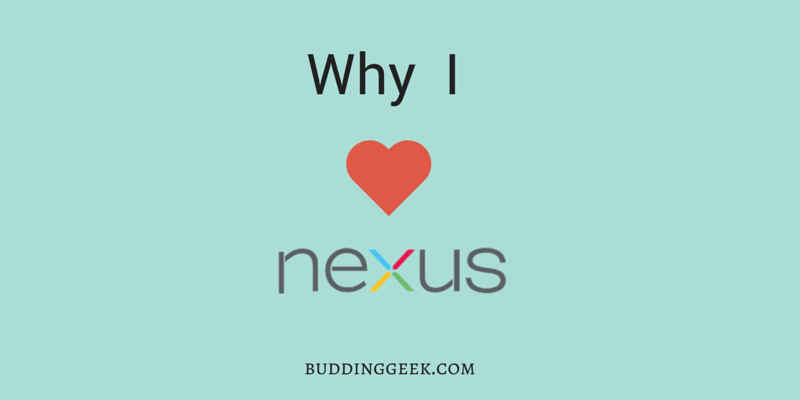 I'm a die-hard fan of nexus (perhaps nexie?) devices. My first ever android phone was the little HTC wildfire. The poor little device had inferior specifications – tiny screen size, low internal storage, low RAM, and was stuck with the outdated gingerbread by HTC. Then I purchased the Nexus 4, and it completely changed my perception about android. I've been so badly addicted to the nexus love since then, that even the latest flagship Samsung Galaxy and HTC devices have failed to arrest my attention. Here are some of the reasons why I refuse to settle for anything other than a nexus device!
1. We are always the first to receive the latest android updates. Yeah, that matters!
It certainly feels great to be always the first one in the queue to taste the latest android desserts. New android versions bring a host of new exciting features and performance improvements. My nexus 4 initially came with version 4.2.2 (Android Jellybean). On the third day, it got updated to version 4.3, then came the 4.4 (Android KitKat) and now it is running the latest version of Lollipop (android 5.1.1). The best part is, unlike Samsung and HTC users, we don't have to wait for months to get these awesome updates. Within a few months of announcing a new android version, Google starts working on the factory images for nexus devices and starts rolling out the Over-The-Air (OTA) updates soon after the factory images have been uploaded on its developers' site.
2. Stock android UI "blows away" all custom OEM skins
Nexus devices give you stock android experience. Stock android means – android OS, the way it has been originally designed by Google, with no modifications at all. With stock android, you'll experience "absolute zero lag" while opening and closing apps. It's lightning fast. On contrary, OEM manufacturers like Samsung, Sony and HTC first modify the stock android UI by putting their own skin and themes on top of the stock UI, and then start sending the updates to their devices. This takes some time, and that's why even the last year flagships take months to receive an update.
3. Dead easy Unlocking, Rooting and un-rooting
Since nexus devices are meant for android development, it's very easy to unlock your device, root it and apply modifications with custom ROMs. What's more? In case you feel that you've spoiled your rooted device by tinkering too much, you can easily re-flash the factory images provided by Google to bring back your nexus to the original shipped state.
4. Awesome developer support
Since nexus devices are meant for android development, they enjoy a very solid developer support. That means, if Google decides to not to update your nexus device after it has crossed the traditional 18 months update window, custom ROM developers like Cyanogenmod and Paranoid Android can always help your device taste the latest android version. For instance, last year, Google dropped update support for Galaxy Nexus and decided not to update it officially to android KitKat. Still, the phone was able to taste KitKat unofficially. Thanks to the awesome developer support by Cyanogenmod and Paranoid Android.
5. Nexus is a Google brand. And we take pride in that!
The fact that Google is behind the nexus brand brings a sense of pride, reliability and security to die-hard fans like me 🙂 One google account seamlessly integrates all my vital apps and data – syncing Contacts, Calendar events, notes taken on Keep, App data, there is so much that integrates very well effortlessly and appears magically whenever I setup my phone afresh after a factory reset or after changing ROMs. It's a Google phone! 🙂
What's your opinion?
Which android phone are you using? Whether you agree with me or not, I would love to see what you think about this post. Feel free to express your feelings in the comments below.