Do you want to breathe life to your android device? Do you always wish to do more in less time? If your answer was yes, then you need to install these 12 best productivity apps for android on your device!
Evernote is the best note-taking app on android. You can take notes, format them the way you want, add any number of files and attachments, sync your notes across all your devices, and what's more? You can even add handwritten notes to your notebook. You can't ask for more! The free version comes with an upload limit of 60MB per month (I believe that it's more than enough for a regular user). The free version can be upgraded to the premium version at the cost of around 4$ per month. The premium version comes with the following additional benefits –
Optical character recognition
Upload limit of up to 4GB per month
Pass code lock facility Priority support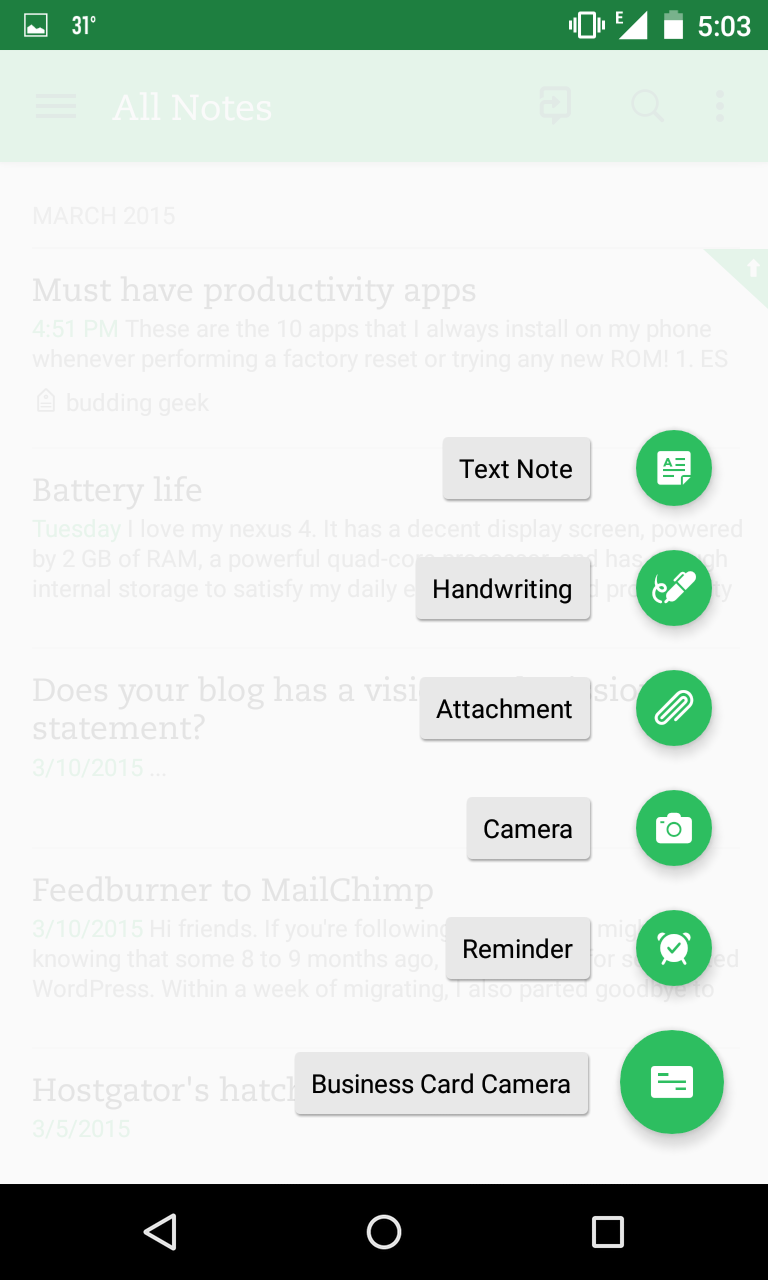 Keep is yet another note taking app. But it's backed by Google. So what's so special about keep? Here's what I found unique with keep –
Very lightweight.
Gentle on your phone's resources
Seamless syncing using your Google account
You can add colors to your notes to make them easily distinguishable
My advice – Use Evernote as your primary note taking app, and google keep as your secondary notes app!
Having a good file manager app installed on your phone is important, if you wish to see and manage what's there occupying your storage space. When it comes to file managers, no app comes even closer to ES file explorer. Here's what I find unique for Es file explorer –
Very user-friendly UI
Easily encrypt, hide and compress your files
Built in root explorer
Built in download manager
Built in app manager (lets you take backup of your installed apps)
Ever found yourself in a situation where you came across an interesting article but you didn't have enough time to enjoy reading the full article? This is where the pocket app enters the picture! It lets you save web articles in a mobile friendly and clean format on your android device, so that you can enjoy reading them later, as per your own convenience. What's more? The app also lets you tweak display settings like fonts, text alignment and the ability to switch between white and black theme.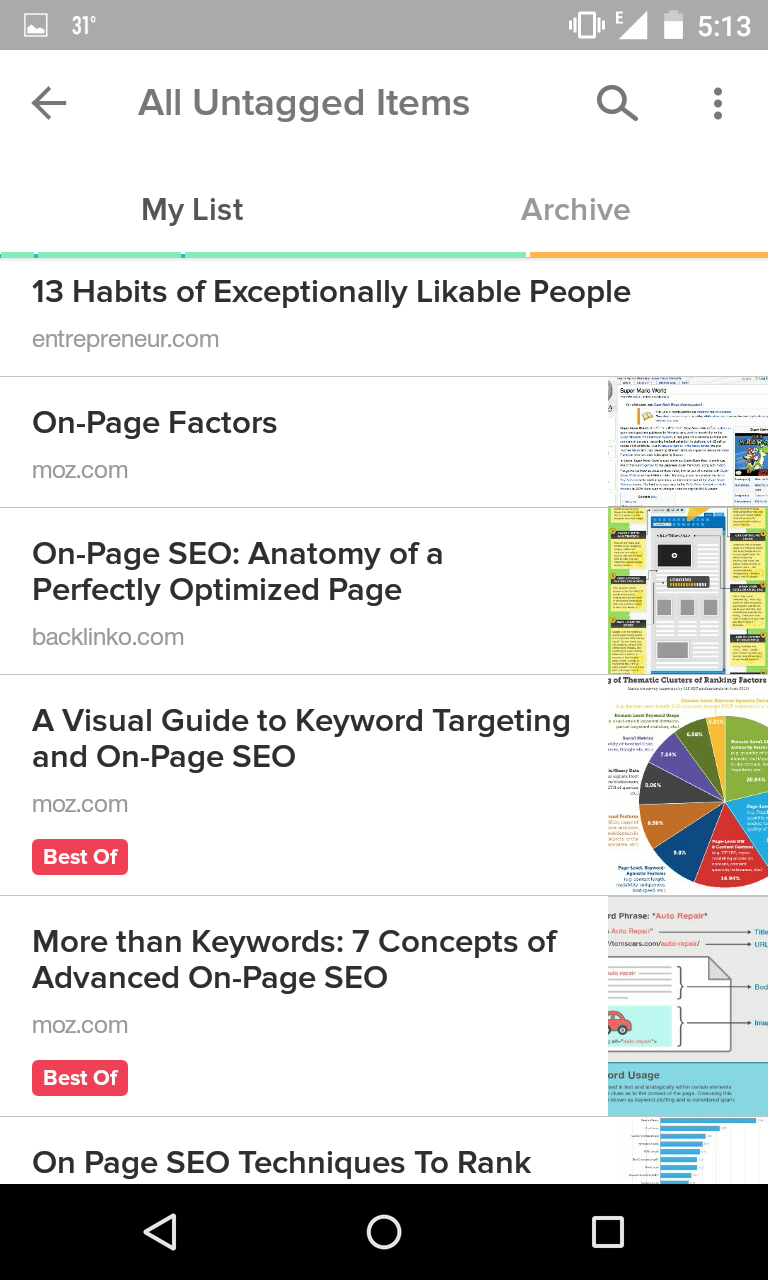 Any.do is the best "to-do list manager" on the play store. The any.do moments is one of the best features of this app – it helps you plan your day every morning at 9am. You can set priorities with due dates and time to your entire list of tasks! And when you're done with a specific task, just slide your finger over it , and it's gone! What's more? You can also attach files to your tasks and collaborate the list with your friends/peers. It's so minimalistic, and yet beautiful 🙂
While the free version is all that you'll ever need for day-to-day tasks, there's a premium version as well, with these additional goodies –
Attach files of any size
Unlimited collaboration
More themes
Location based reminders
Pass code lock &
Priority support
Do you often run to the nearby xerox shop to get scanned copies of your documents? Perhaps you should stop doing this from now and act smart. CamScanner lets you convert the images on your phone into PDF files of scanned quality. So, from next time, just snap the pictures of the paper documents with your phone, and let CamScanner do its work! Reading a properly compiled scanned PDF file is a lot more convenient than reading a bunch of snapped photos on the phone.
This is the most comprehensive and authentic English dictionary app available on the play store. And yeah, don't worry, it runs offline.  The size of the app is around 20 to 40 MB. In addition to showing you the word meanings and definitions, it also let you explore the related synonyms, antonyms, audio pronunciations, voice search and example sentences! What else can you ask from an offline English dictionary app? And did I mention that it's free? 🙂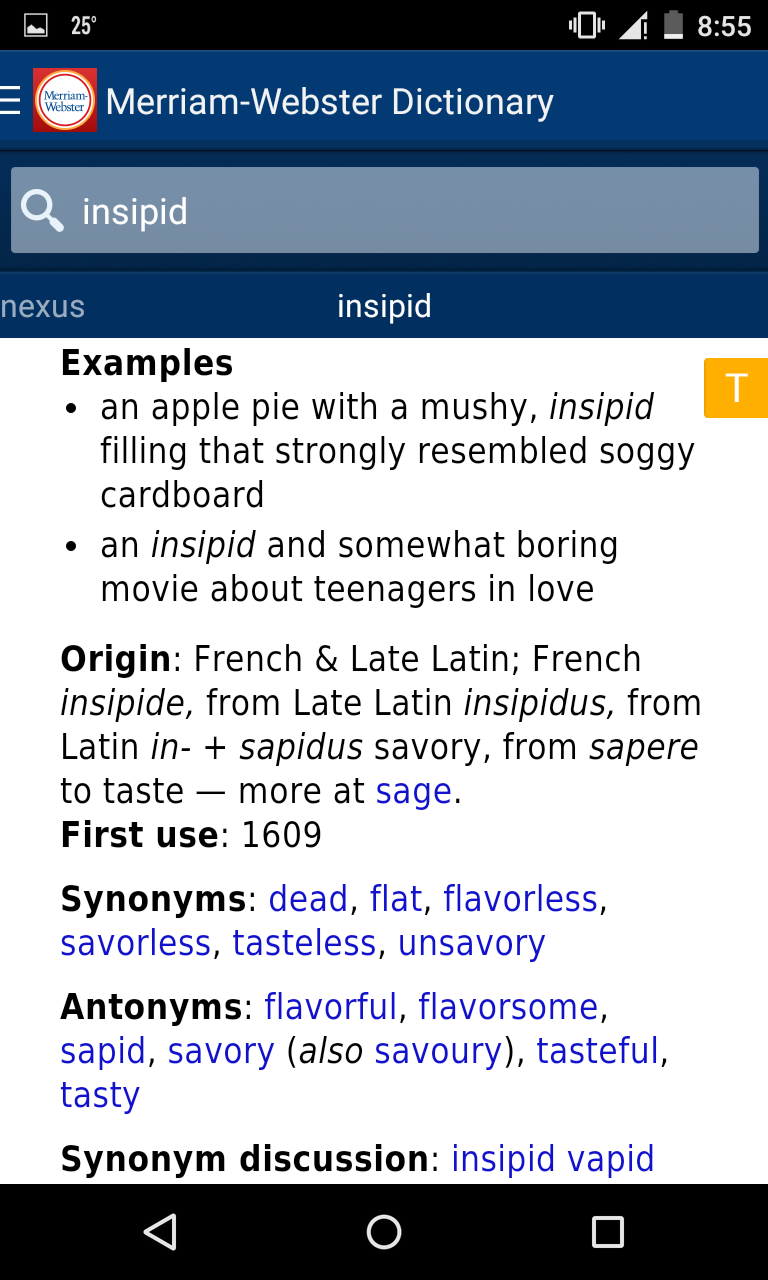 There is a premium version as well. Here are the additional goodies offered by the premium version –
No ads (the free version is ad-supported)
Full Thesaurus
Over 1000 graphical illustrations
Over 20,000 additional entries covering people, places, and foreign terms
Biographic and Geographic entries
If there's "one" video player that your android device needs, then MX player is the one. Throw a video file of any format, any dimension, any size; MX player will play it effortlessly on your android device. What's more? You can also stream online videos on the app, provided that you have the video URLs copied to your clipboard.
The world of entertainment is not just limited to MX player. If you're a sports fanatic with Amazon FireTV in your home, then you must try these top six apps for unlimited sports fun on your FireTV.
Do the photos taken by your phone's camera lack that liveliness? Do they look dull? It's time to revive those photos with the best photo editor on the play store. Snapseed, developed by Nik Software, was so good that Google itself acquired the company in September 2012. From cropping, straightening, to adding brightness, contrast, saturation, ambiance, HDR, selective focus, funky effects and adding borders; Snapseed lets you retouch your photos just the way you want!
Facetune is the perfect companion to Snapseed. While Snapseed works best for reviving landscape and scenery type of photographs, facetune lets you retouch and revive your portrait shots and selfies. Facetune is the only app that you'll ever need to retouch your face and achieve magazine level edits. The app will literally blow you away. Here's a comprehensive review of the facetune app on my digital photography blog. The app is however not free. It costs around $4 on the play store, but it's worth every penny!
Greenify is one of those few apps on the play store that 'actually' saves the battery life on your android phone and makes your phone run faster. It hibernates all those apps on your phone that run unnecessarily in the background and cause wake-locks. If you wish to know how this app actually works, here is a good tutorial on how to geek that explains it all.
History eraser, as the name suggests, is an app that cleans your phone of all the traces of internet browsing history, call logs, SMS and app caches. So, if you don't want unnecessary junk items to fill your phone's internal storage, then this is the app for you. History Eraser also includes an auto-clean mode that lets you decide how do you wish the app to automatically clean your phone. The app is a life-saver for phones with low internal storage!
What's your's favorite list of the best productivity apps for android?
This was my list. Do you also love these apps? Great! Or do you have a slightly different taste than mine? Please feel free to share your favorite list in the comments below 🙂