Plagiarism is a harsh reality of the internet. Putting it in straightforward words: It refers to a theft of intellectual properties such as a blog articles, research papers, essays, photos, graphic designs or even music and videos. It is so discouraging for a publisher to see that someone has copied/republished his or her work without even bothering to cite the original work. The even harsher reality is that plagiarism is here to stay. When something is up online, you can never be 100% sure that someone will not copy or redistribute it. The best that you can do is to regularly check for plagiarism and take some intelligent steps so that all instances of plagiarism can be avoided in the first place itself. Today I will share 5 solid tips to avoid plagiarism and protect your work from being copied by unscrupulous offenders.
1. Disable copy-paste & add watermarks (if applicable)
If you regularly publish blog posts, disabling text selection on your blog or website is the first line of defense to avoid plagiarism. If you blog with WordPress, you can easily disable text selection & even right clicks on your webpage by activating this free plugin called – WP Content Copy Protection. What's more? It protects your images by disallowing right clicks so that no one can save even images from your website.
Disabling right clicks on images is not enough. You must make sure that the images even if saved are of no use to those copycats. You guessed it right – I am referring to Watermarks!
What is a watermark? And how to apply one to your images and videos?
A watermark is your copyright stamp. It's usually a small logo image or branded text that is imposed upon an image or video to avoid plagiarism attempts from content thieves or copycats. There are many ways to add watermark on an image. The easiest and free way is to use Canva app. This is how it will work:
Visit the Canva desktop app and create a free account.
Upload your image (which you wish to protect) and logo (which you wish to superimpose as a watermark)
Now add either your branded text or the logo to any suitable location on the photo. This works as a watermark. You can also fine tune the transparency settings to make it subtle, yet prominent.
Also read: How to watermark your YouTube videos.
2. Avoid plagiarism by adding a copyright notice on your website
Another good way to avoid plagiarism and keep copycats at a distance is to display that the entire content on your website is copyrighted, and that they should not copy it/re-distribute it in any form without seeking your prior consent.
You can do this either by displaying a simple message in some prominent section of your website, such as footer or sidebar (check mine). You can also display copyright information in form of banners. The US Copyright Office recommends that your copyright notice should comprise 3 elements that appear in a continuous line –
The Copyright Symbol ©, followed by
The year of publication of the work (like 2012 – 2017) &
The name of the copyright owner
Once you've created something, you are naturally the copyright owner of that unique content/art-work. It is therefore your moral duty to showcase that you are the copyright owner of the material & that someone should not copy the content without citing your original work or seeking your prior approval.
3. Register your work with the US electronic Copyright Office
If you are serious about your copyrights and want to avoid plagiarism at all costs, then I will recommend you to get your creative work registered with the US electronic Copyright Office. On the registration portal, select the appropriate category your work falls into:
Literary work (poetry, fiction, non-fiction)
Performing Arts (music, sound recordings, scripts)
Visual arts (artworks, illustrations)
Other Digital Content (programs, database, apps, blogs, websites)
Motion Pictures (movies/TV shows/video games/animations)
Photographs
There are two modes to get your work registered: Offline (paper forms) & Online. Offline registrations cost $85, and applications are processed in 8 to 10 months, while online registrations cost $55, with a processing time of 6 to 8 months only.
4. Setup Google Alerts to check for duplicate content
Another proactive approach is to set up Google Alerts to periodically monitor duplicate content. This is more useful for bloggers, freelance writers, and authors. When you've published a new post, select a few lines of some paragraphs and setup Google Alerts to get periodically notified whenever the exact copy of your original article is published on other websites.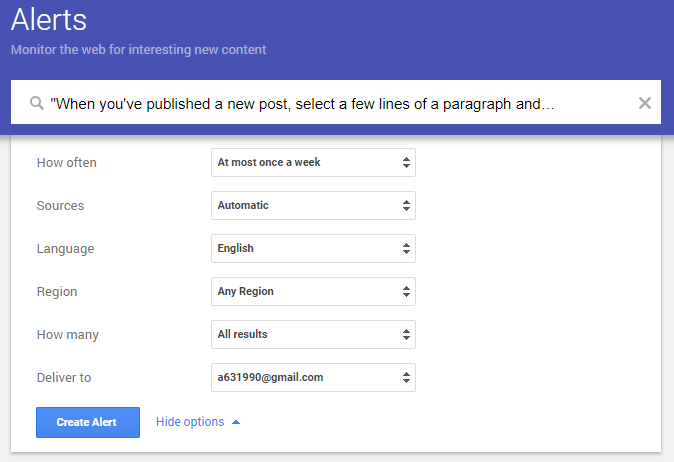 What's next? You can follow the below mentioned steps to get the unauthorized copy of your creations removed from the web:
You would not want to get hit by Google's duplicate content penalty. Therefore, first and foremost, file a DMCA (Digital Millennium Copyright Act) complaint with Google, asking to pull down the web pages from its search results.
Next, contact the website owner & request him politely to take down the content and that you are the copyright owner of the original creation.
If this doesn't work, you can complain to its web hosting company and advertising partners who are funding the illegal work. You can find details about the web-host by looking up the website URL in the whois search directory.
5. Keep proofs of your ownership
Once you discover that your work has been plagiarized, the road to justice may or may not be comfortable. You may either end up successfully taking down the plagiarized content or you may also end up investing your time, money and energy in litigations if things turn nasty. It is therefore recommended that you preserve some supporting evidences that clearly establish your ownership over the disputed creations.
Examples of such evidences may include – unfinished drafts, revisions, rough sketches, posters, etc. This all serves as a proof that your creations have gradually progressed over a period of time rather than being copied from anywhere else.
When you're making a DMCA complaint either with Google or the respective web hosting companies, supplementing your complaint with such ownership proofs can fortify your ownership claims & expedite the process of bringing the offenders to book.
Your thoughts?
Have you been a victim of plagiarism? What steps did you take to avoid plagiarism? Leave your thoughts in the comments below.