Pinterest is an amazing platform used for various purposes: You can find visual inspiration there, try one of the many DIY tutorials, upload your own pictures, and share your creativity with the world. However, few people actually know that Pinterest is also one of the most powerful platforms to promote your blog for free. In this post today, I will share easy tips to help you drive traffic from Pinterest to your Blog or website.
While it might seem that most people only look at images there, it might surprise you to find out how many people do so. According to this year's statistics, Pinterest already has over 30 million active users. That's not a number that can be easily ignored when it comes to using Pinterest to drive traffic to your blog.
So how exactly can you use it? What do you have to do to get traffic from Pinterest and make it work for you?
Well, here are the 10 best Pinterest tips that you can use to drive traffic to your blog:
1. Install the official Pin It button.
This Pin-it button is a convenient tool to quickly add images from any blog/website to one of yours Pinterest boards. It also increases the chances of your content appearing in Pinterest search results. When Pinterest users add content directly from your website, this content becomes more and more valuable and starts appearing in its search results more often, organically. This helps even more people to discover your content and re-pin your images on Pinterest!
2. Create your own board.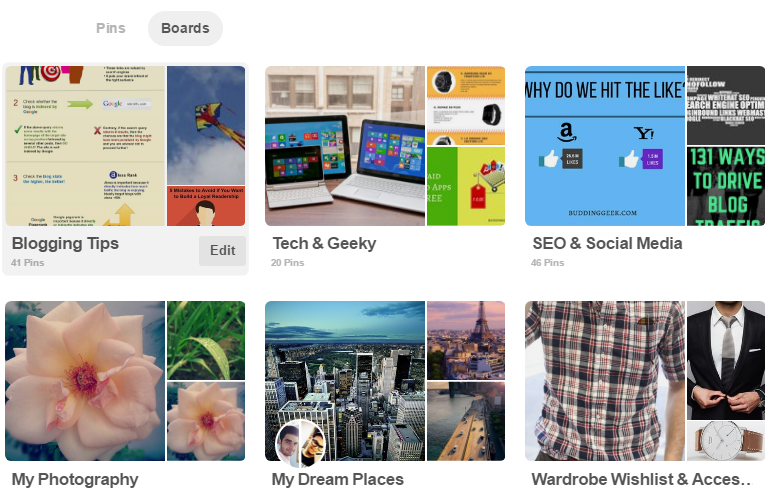 Of course, that's great when other users add your content to Pinterest–but you shouldn't solely rely on that. Another good way to make yourself visible on Pinterest is to create your own board for your blog or website and share all the new updates with the help of this board. When you share your latest blog updates through images, make sure that you are pinning high quality images of recommended dimensions (1000 * 1500 px) to your board.
3. Name your account right.
You have to make sure that your account is associated with your business. That's why you need to include the name of your business or brand both in your profile name and in your username on Pinterest. This will already make it look more authentic and official–and then you have to follow the next tip.
4. Verify your Pinterest account.
This is the easiest thing, which gives you so many benefits. First, a verified profile will make your Pinterest account look more professional. Second, it will give you many extra options such as access to the Pinterest analytics and the ability to create a clickable link to your blog/website in your profile.
5. Use relevant keywords in the "About" section.
The "About" section not only allows users to know more about your business–it is also indexed by the search engines. That's why you have to make the most out of it by choosing the right keywords and carefully placing them in the text description. Don't forget to add other social media handles too: this will allow users to find you there and you to share your Pins in other networks.
6. Make the descriptions appealing.
While it might seem that Pinterest is all about the images, the descriptions of these images actually matter too. You have to make them as appealing as possible to increase the number of Pins and shares. You are free to use keywords (actually, it would really benefit you). Hashtags can also be used, but I keep in mind that they aren't as popular on Pinterest as they are on other social media. When it comes to driving traffic from Pinterest to your website, a nice and catchy text description can do more wonders than a bunch of hashtags.
7. Remember about the time of posting.
The more your content gets pinned, re-pinned, and saved, the more you will drive traffic with Pinterest. However, in order to get the most re-pins and shares you have to share this content at the right time–and that's where the tricky part begins. It could be quite hard to identify the right time for you: it depends on your audience, on their activity, and so on. Some users visit Pinterest once a week, some visit it every day–and you have to make sure that both these categories will notice your posts. At the same time, you have to be careful because too many posts could scare the audience away. Sounds complicated, doesn't it?
While it might take some time to find out the perfect time for you, there is some general advice you can use right now. Usually posting during the workday is a definite "no", while posting on Saturday morning can be an excellent idea. According to Neil Patel of QuickSprout, the best time to post on Pinterest is between 8pm to 11pm on Saturdays! However, as a general rule of thumb, try to choose the time when your audience doesn't work and has some time to spend on social media.
8. Pay attention to the quality of the links.
It isn't hard: Just make sure that the links are relevant and offer valuable content to the audience. Moreover, the links have to include an image or a video from your Pin–otherwise, the audience will be disappointed and the service might flag that content as inappropriate or mark it as spam.
9. Find your niche.
Sure, if you already have your own business, you most likely know what your niche is. However, it might be a bit different when we're talking about Pinterest. There are some niches that are very popular and while this might seem good at first, this also means that it would be harder for people to find your content among all these Pins. In this case, try focusing on something still related to your niche but much smaller. For example, if you have a travel website, try promoting specific tours (for example, a honeymoon tour) instead of simple tours to other countries.
10. Interact with the people.
Just like any other social media, Pinterest is all about communication. If you want people to notice you and your content, notice them first. Like, share, and comment on other Pins–this way you will definitely make yourself more visible and will eventually drive more traffic from Pinterest to your blog.
As you see, driving traffic from Pinterest isn't is hard as it seems. If you are ready to present your profile right, specify your niche, create a board, and spend some time on promotion and communication, you will be able to use Pinterest as a powerful tool to promote your blog for free. I wish you good luck with that!
Meet the guest author:
This was a guest post by Richard Nolan. He is a writer and a private tutor who loves sharing his experience in spheres of writing, blogging, entrepreneurship and psychology. Richard writes for numerous blogs and gives useful tips to bloggers and students. Richard works as a general blog editor for ProWritersCenter. You can connect with him on twitter.