Whether you're a blogger or a professional writer, you'll agree that "good writing" must has been an indispensable part of every successful piece you've ever delivered. But, here's the problem: You probably can't write with the same energy and love every time. Sometimes you are ebullient with fresh ideas but you don't have just the right platform to start writing and saving the creative pieces on the go. And…sometimes when you've all the tools you need, you are just bored and distracted of writing on the same word processor on your PC every-time. If you're looking for a neat, elegant and distraction free writing app that allows you to jot-down all your creative pieces of screenplays and novels on the go, then here's an app you seriously need to try – Jotterpad.
Please note: This is not a sponsored post. This is my own personal review of Jotterpad which I'm writing because I'm this impressed using this elegant app since the last several weeks.
Here are the top reasons why I will recommend Jotterpad than any other writing app, any day!
1. Distraction free Writing
Unlike other writing apps that obscure the writing space under various user-interface elements like toolbars, tags and categories, with Jotterpad you'll experience what full screen and distraction free writing actually feels like. The larger the screen size of your smartphone/tablet, the more enjoyable your experience will be!
2. Neat File Management System
Jotterpad – file management (1)

Jotterpad – File management (2)
I've tried many popular writing apps including MS Word & Evernote, but the file management system of none of the apps has impressed me. MS Word doesn't have any, while Evernote's file management feels a bit chaotic under tags and categories. The way JotterPad deals with files and folders is pretty neat and simple. The distinct folder directories and notes under them makes it easy for you to navigate to a particular note. Have a look below:
3. Night Mode
The developers have provided a night mode that makes sure that the screen light doesn't strain the eyes of late late night writers. I didn't find this useful feature in any of the other potential writing apps including Evernote and Microsoft's very own MS Word.
4. Inbuilt dictionary
If you ever get stuck figuring out the right usage of a word, you can always find out more about its grammatically correct usage along with examples using the research feature provided right within the app. In my opinion, the provision of an inbuilt dictionary is a must in any promising writing app.
5. Renders Markdown Syntax
The markdown syntax provided by Jotterpad take care of all your text formatting needs like making your text appear in bold, italics, inserting bullet points, external web links, and images – all without cluttering the user-interface, and without compromising full screen writing experience with tons of options in its toolbar.
6. Indulge In Your Own Writing Style
They aptly call it – "The writing app for the creatives". Jotterpad helps you unleash your creativity by providing you with plenitude of pre-formatted writing styles like Newspapers, Novels, Essays, Lyrics, Poems and Screenplays. Each one of these presets is pre-formatted with unique fonts, margins, line-spacing and alignment to suit your customized writing needs. Like for example, if you're in mood to write a story, you can switch to Novels preset and dive into an entirely unique writing experience!
7. Typewriter Mode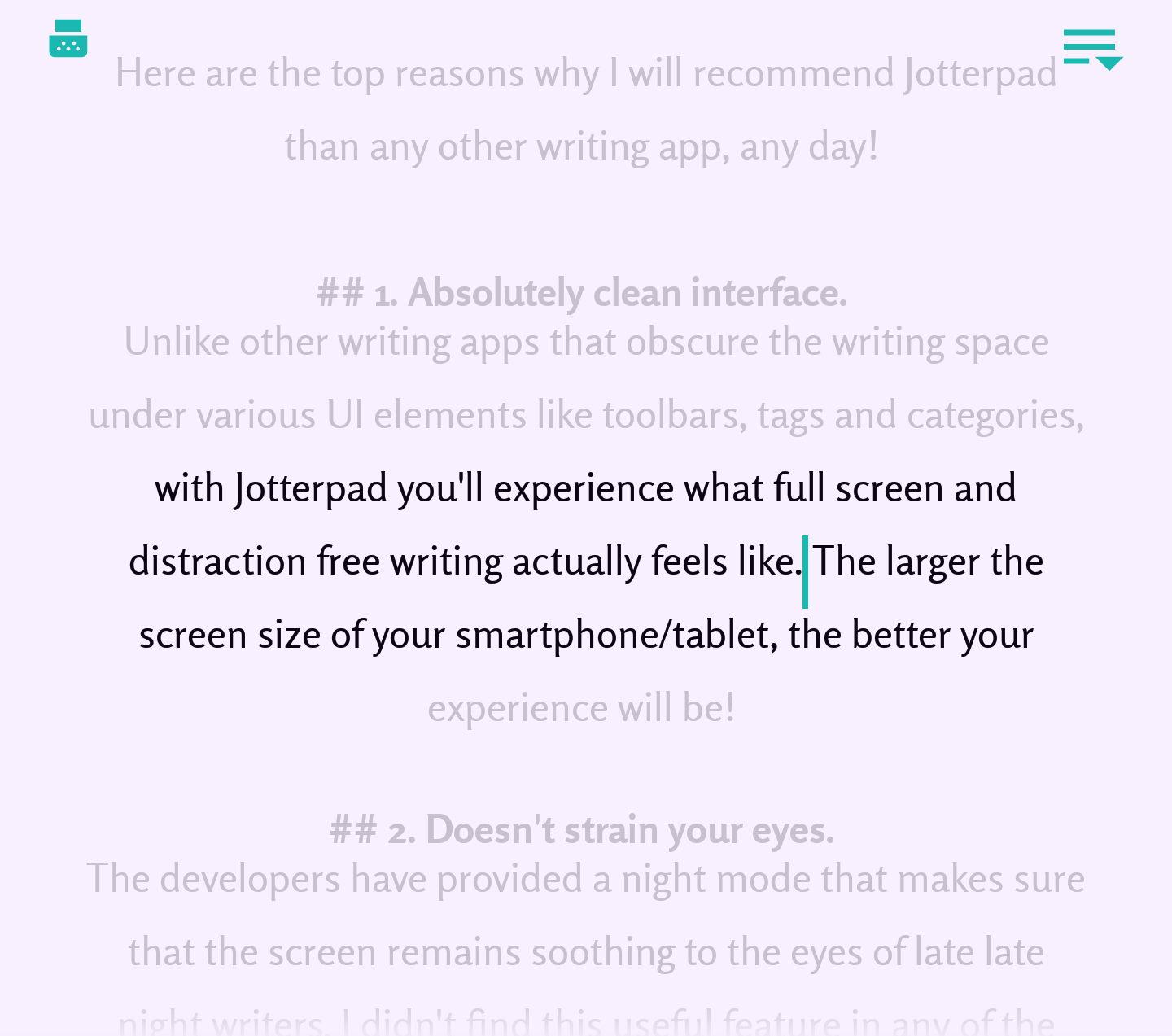 To help you stay creative and focused, Jotterpad incorporates a vintage style of writing – the typewriter mode. With this mode activated, the active text always remains in the middle of the screen, facilitating an even better distraction free writing experience and thereby helping you stay more focused and productive with the usage of words.
8. Sync Your Creations
With subscription to it's cloud+ feature at $1 a month, you'll be able to sync your creative pieces across a host of cloud services like Google drive, Dropbox and OneDrive. This way you potentially cut down on chances of losing your precious creations should anything goes wrong with your device. However, if you wish not to spend a dime on its cloud+ services, you can always choose to sync your creations to any one of your favorite cloud services that you choose to connect with your Jotterpad application.
9. Reader's Glass
Once you've given the final strokes to your draft along with full markups and formatting, you can view what your final post actually looks like to your end readers. This not only helps with proof-reading, but also helps in figuring out areas of improvement in the presentation of overall content.
10. Export your creations in multiple formats
The app makes it easy for you to share your final documents by providing multiple file export formats – PDF, docx, RTF, txt and HTML.
---
Final Review of JotterPad:
The app may be the best one in its category, but there is always some room for improvement. If I were asked to give an overall rating to the app, I would rate it a 9/10, without giving any second thought.
What's your experience with JotterPad?
I've just finished covering my personal thoughts and a comprehensive review on JotterPad as a creative writing app. What are your thoughts on this app? Please share in the comments below.