So it has been almost like a month now ever since Google took the curtains off its newest OS flavor – Oreo!
Being a Nexus device owner, I had this privilege of tasting this flavor within the first week of its launch. I couldn't wait for two to three weeks for the official OTA notification to drop on my 6P. So I downloaded the official factory images & flashed them right away on my Nexus 6P. Although this is the first version of Oreo, and I'm sure Google will be ironing out known issues/bugs with a series of update patches, in this post I'm covering the initial impressions of my overall experience with the stock Android 8 so far. So here we go…
1. Revamped Settings
The settings have been completely redesigned in Android 8. All system settings have been intelligently organised into categories. Under network & Internet, we have all the networking settings like Wi-Fi, Mobile-Data, Hot-spot & VPN.  Like-wise under System, we have all the system specific settings like Updates, Backup, Factory Reset, Date/Time & Input Language.
What's more? We can now be assisted through an intelligent search option in the settings menu to navigate to the very specific setting we are looking for.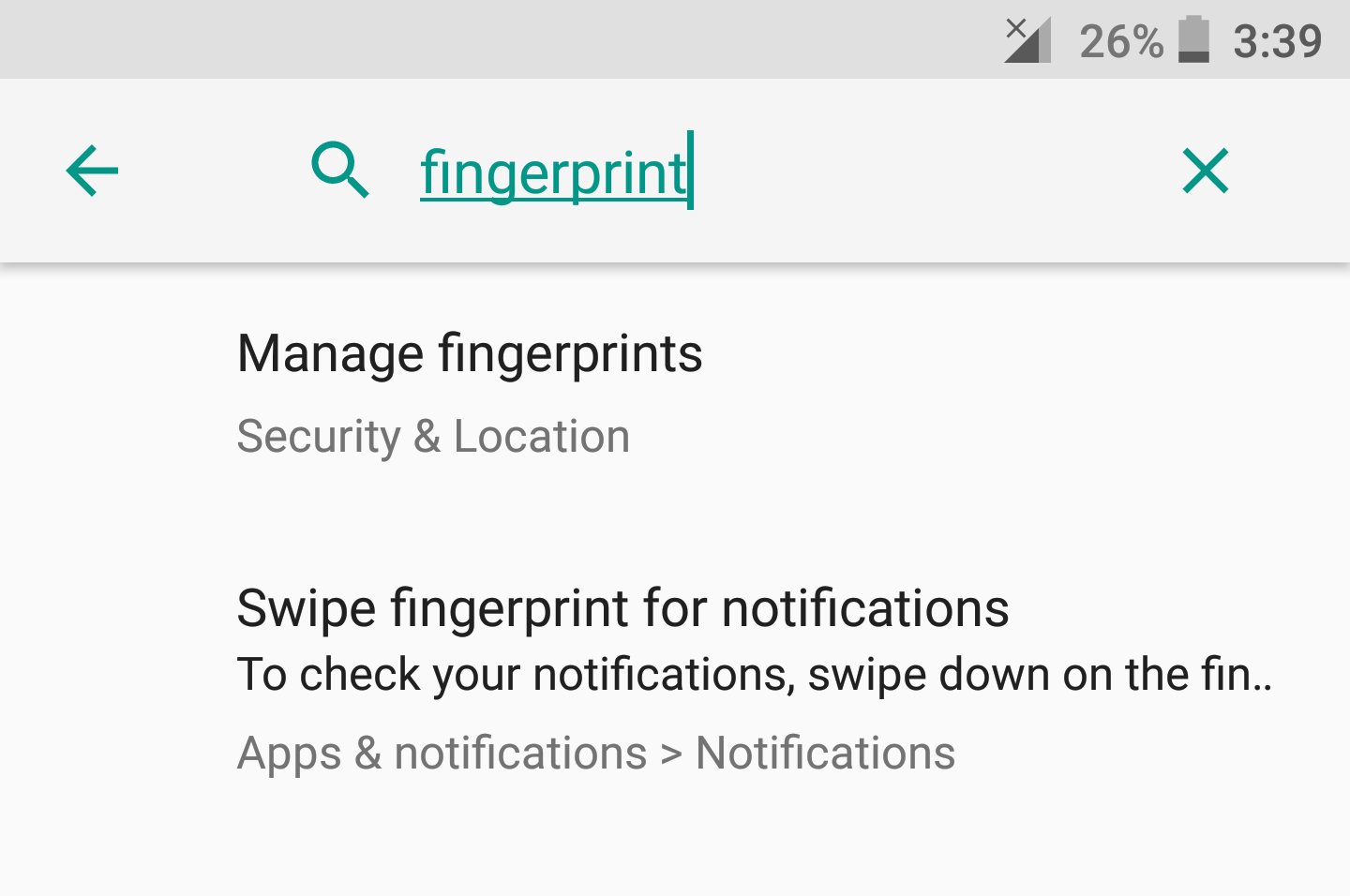 For example, if I wish to manage my fingerprints on my Nexus 6P running Android 8, I'll simply go to settings and search for – 'fingerprints'. It will then straightaway open the particular setting for me, instead of having me to hop through several menus and sub-menus.
2. Better control on notifications
Android Oreo brings with it improved control on notifications. We can now snooze, and even block notifications from a particular app right from the notification pull down menu. Snoozing a notification seems helpful in several cases. Imagine that you are right now busy in a meeting or suppose that you're out on a shopping spree. You receive an important email notification but you don't have the time to get into it and read all the details. Here you can simply snooze the particular notification for suppose an hour so that you don't miss it later. It will appear again right after an hour (or any time you set it to).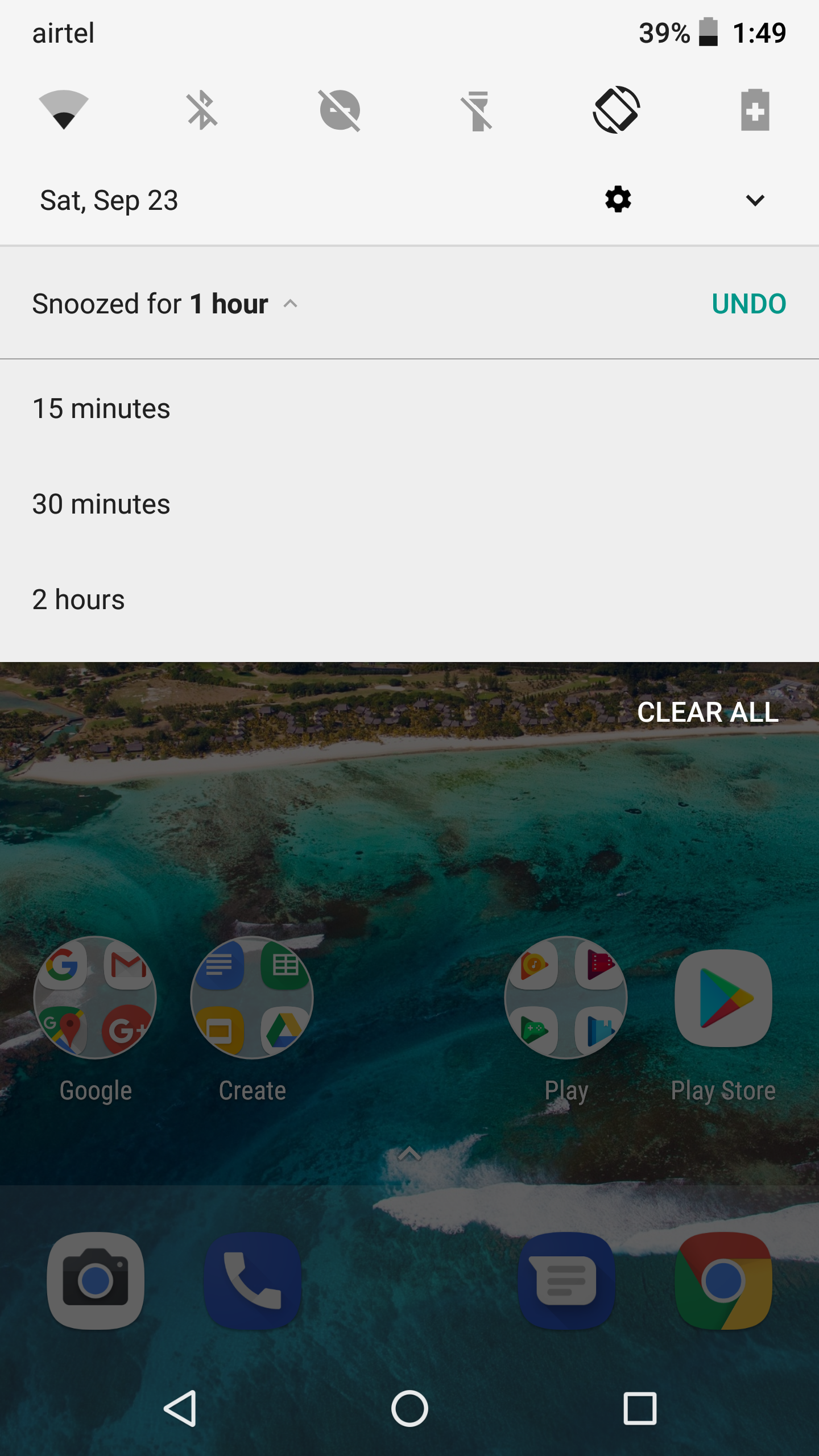 Similarly, pesky notifications like those coming from online shopping apps can be easily blocked right from the notification pull down menu. In my opinion, with this new android update, Google has done a remarkable job with managing notifications in android OS!
3. Finally – Battery percentage on status bar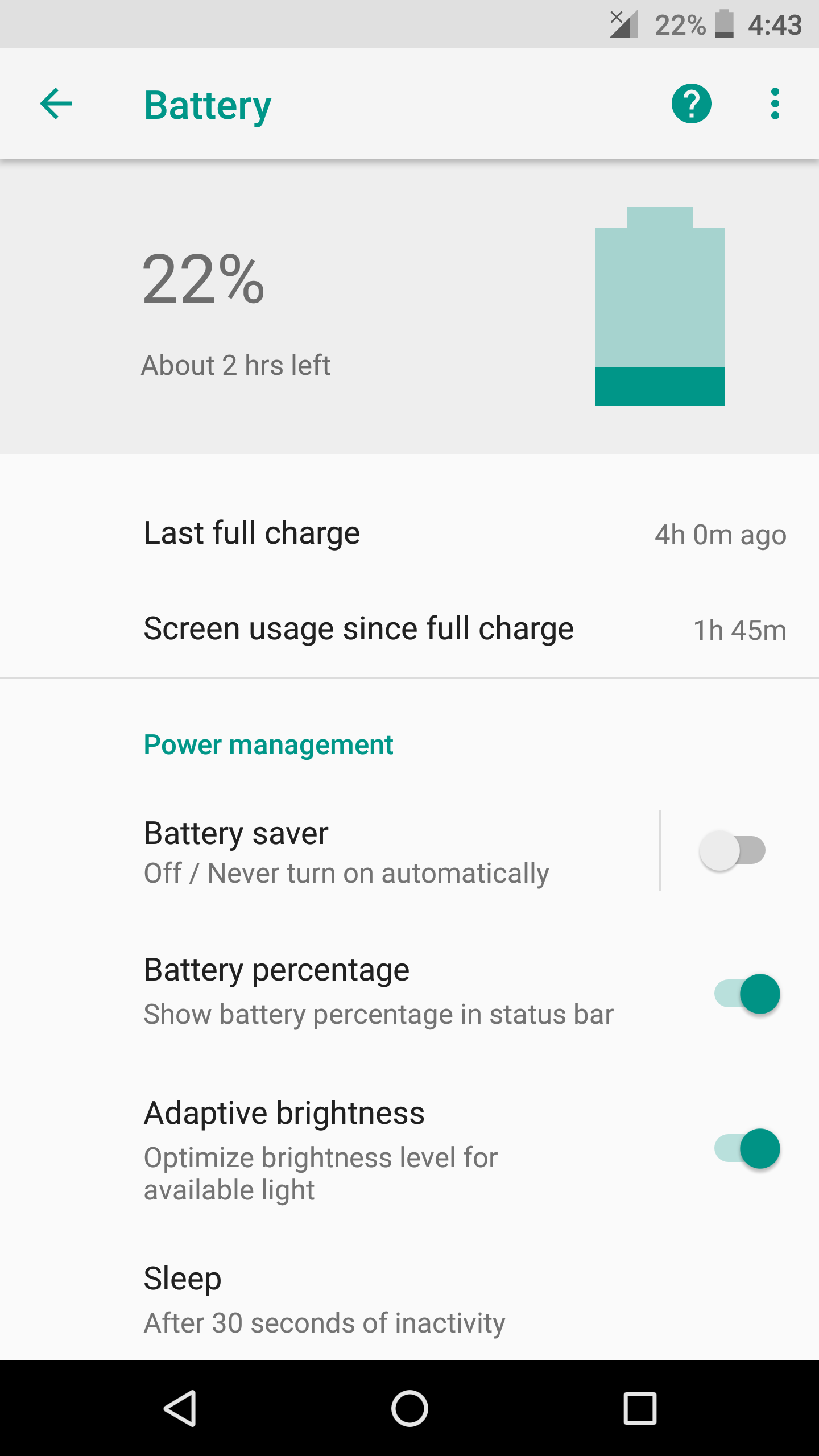 This was one of the several reasons why I used to root my previous devices. Apple's iOS apparently had been displaying numbers right next to battery icon on the notification bar since many years. But, stock android has missed this visual treat since the last 7 iterations of its OS. Finally, with android 8, it is here!
4. Autofill By Google
Of one of the several handy features in Android Oreo, one is – 'Autofill by Google'. We all have seen autofill in action, especially while filling form fields in Google chrome. But this time, autofill service has been extended to your installed apps as well. Once we login to our favorite apps for the first time, we can now let Google remember the login credentials, and let it fill the details automatically when we open the apps again.
To turn on this service, open the settings and search – 'Autofill'. Under the input assistance, you'll find the settings for autofill. There you'll see an option that says – 'Autofill by Google'. Select the option, and that's it 🙂
[su_note note_color="#ffff8c" text_color="#000000″]Note: If the 'Autofill by Google' option doesn't appear or show up, then you need to backup your data and factory reset your phone. This trick worked for me. [/su_note]
5. Smart-Text Selection
Android has probably got more intelligence with this latest flavor of android. It now knows the distinction among a URL, an email address, a phone number and location address. Earlier it used to be painful to first copy a phone number and then paste it in the dialer app to make that call. Now, you just have to long press to select the number and android automatically recognizes it as a phone number. Likewise, it can also recognize a selected email address, URL and location address.
6. Under-the-hood improvements
These were some of the conspicuous visual treats and features that I have come across with Android Oreo on my Nexus 6P so far. But besides these visuals, Google claims to have improved a lot of code in the background. Here are some of the under-the-hood improvements:
An improved battery life with restriction of background services of dormant apps (although, I didn't notice any improvement so far)
Over 60 new emojis 😮
2 times faster boot time (It actually booted noticeably faster than nougat on my Nexus 6P)
Google play protect which intelligently scans all your installed apps in the background for any malicious activity
What has been your experience with Android Oreo so far?
I've personally liked the little performance tweaks and added features, especially the Autofill and Smart Selection. But frankly, I disliked the way Google has colored everything 'white' from notifications pull-down shortcuts to settings. In my opinion, the black colored notification pull-down shade that we used to see in Nougat looks a lot more cleaner and soothing to the eyes. Rest everything looks great to me! Being a nexus fanatic, it has always been a joy for me to upgrade to the latest versions of android and spend hours testing out new features and visual treats. Did you get a chance to get your hands on android 8 (Oreo)? What has been your experience so far?