Do you think someone might have copied or stolen your Instagram photos without your explicit written consent or approval? You are probably a victim of Image Plagiarism! Though Instagram doesn't allow users to download photos directly, but the flagrant misuse of 'screenshot-and-crop' trick by various image thieves has been infuriating all the photographers and publishers on Instagram. In this post today, I will share tips on how you can easily search and trace out your stolen Instagram images by using a simple technique called Reverse Image Search. So let's start learning how to do a reverse image search for Instagram (with examples) and track the offenders.
Basics First: What is Reverse Image Search?
Before we learn the tips and techniques to do a reverse Instagram image search, let's quickly understand how a Reverse Image Search works?
Reverse Image Search refers to submitting a visual search query to a search engine such as Google, and then the search engine analyzes the visual patterns, colors, pixels, detailed shape and geometry to return the exact same or visually similar images published on various websites online. It's useful to find out the original source of an image and is often very helpful to track image based plagiarism. Reverse image search on Instagram works on the same principle.
I'll also encourage you to read my recent post on reverse image search. Not only you will understand the basics but also methods to track image plagiarism. Now, let's discuss how we can track plagiarism by doing a reverse Instagram photo search by image.
Can You Reverse Image Search an Instagram Photo On The Insta app?
I will answer this clearly: No. As of now, there is no way you can do a reverse Instagram search on the official app. Unlike Google Images and TinEye, Instagram as a social media app cannot perform reverse image queries. So if you think you can search Instagram by an image just like the way you do with a text query, that's not possible even in the wildest imaginations. So how will you do that? You must rely on third party search engines like Google Images, Yandex, TinEye & Pixsy to do a reverse image search for your Instagram photos. Let's quickly see how to do this easily:
4 Ways To Do a Reverse Image Search For Instagram (with examples):
If you believe that your Instagram images have been illegally downloaded by someone without your prior consent, use any of these 4 proven ways to do a reverse Instagram search and track the offenders.
1. Google Images (works on desktop only)
Visit Google Images website and there you'll see a small camera icon right on the search bar. You must click on this icon and upload your Instagram photo that you wish to search and track for possibilities of plagiarism.
Here is an example: How does a reverse image search for Instagram work?
Suppose someone is following the official account of NatGeo Travel on Instagram. NatGeo Travel posts a very beautiful photo of Banff National Park, Canada. Now a person saves that photo from Instagram (using screenshot-and-cut technique) so that he can re-post it somewhere else under his copyright/name. Now how will NatGeo find who is using their copyright photos, and where are they being used? The answer is a quick Reverse Image Search! Here is the sequence of events explained through step-by-step screenshots: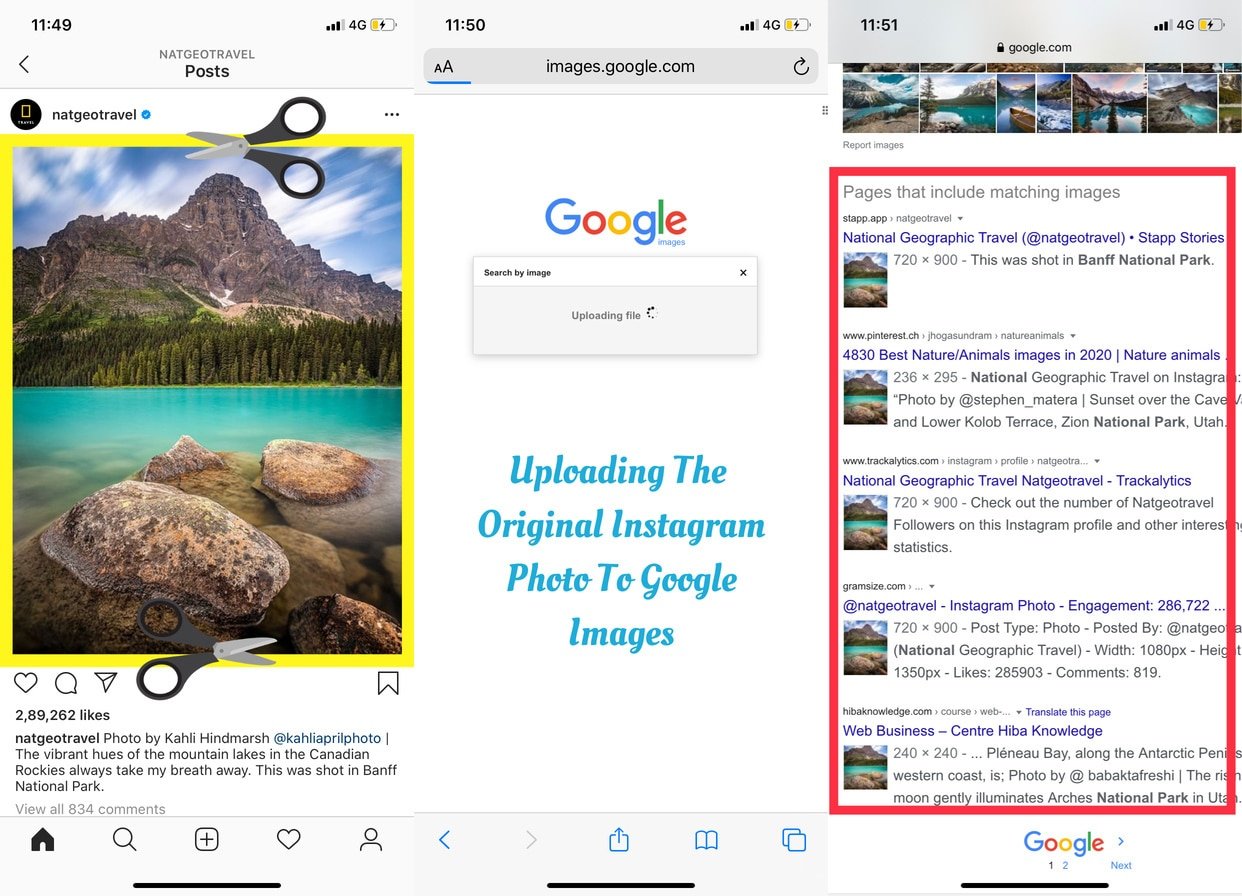 This is a basic example of how you can reverse search your Instagram photos using a capable search engine like Google. However, if you are unsatisfied with Google results, here are 3 alternative and equally capable search engines…
2. Yandex Images
Yandex is a popular Russian search engine. Now you might wonder why am I recommending Yandex when there is Google? It's because of Yandex's superior reverse image search capabilities. Yandex does an even better job than Google where finding an exact or visually similar face in social media profiles is concerned. Here is how you can do a reverse image search for an Instagram photo with Yandex:
Visit Yandex Images, translate the web page and then click on the small camera icon next to the search bar. And then upload your Instagram image that you wish to search for plagiarism. That's exactly how we did with Google Images. Right? Here is a screenshot to help you get started: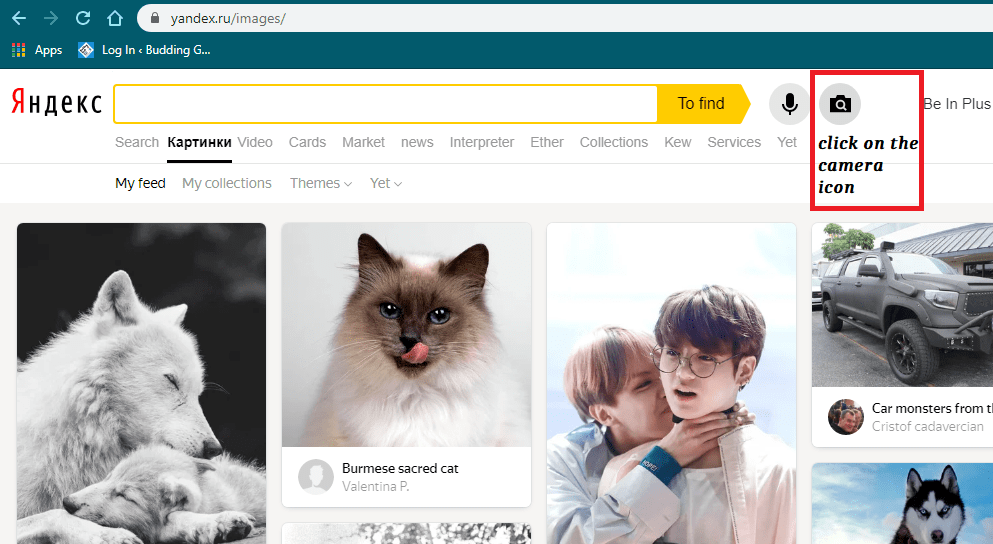 Instagram blocks all the search engines from indexing the photos and videos of its users. However, it is still a possibility for Google or Yandex to index your Instagram photos and videos if you grant it access to Instagram API while using the web version of Instagram.
3. TinEye
TinEye is another reverse image search engine which directly relies on image detection technology rather than other image-embedded attributes like keywords, metadata and EXIF information. Visit TinEye, upload your desired Instagram photo, and hit the search button. That's it. TinEye will show all the sources where your Instagram photo has appeared on the web.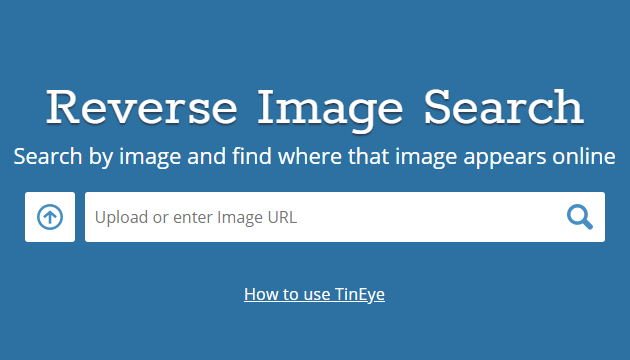 4. Pixsy
What makes Pixsy a little different from other utilities of this category is that not only does it perform a reverse image search but also helps you take appropriate action against the offenders. Here are a few screenshots of Pixsy at work:
How are your Instagram photos plagiarized?
Now let's understand the root cause of the problem: Why did the need for reverse image search on Instagram arise? How are your Instagram photos plagiarized at the very first place? Well, there can be two direct causes behind such plagiarism:
Someone directly copies your images from your Instagram profile. Though Instagram doesn't allow one to directly download photos, someone may take a screenshot and then later crop/edit if he/she has such a burning desire to re-use those pictures.
Search engines/third party apps indexing your Instagram photos. Once indexed, the photos are no longer private. They are visible to everyone on search engines. Thus leaving them vulnerable to unauthorized use.
In the digital world, it's always better to review your privacy settings than to feel sorry when things get out of control. You can avoid such problems with Instagram by following these tips:
Always watermark your photos before publishing them online. Watermarking is a way to claim your full copyrights.
Make your Instagram account private, so that your photos/videos appear only to those followers who you have approved. However, this implies less exposure to your work because even with hashtags your photos will appear to only approved followers.
If you're using the web version of Instagram, do cross-check the list of authorized applications which have access to your Instagram API. Immediately revoke access to any suspicious app.
How to report image theft on Instagram?
Instagram has its own copyright policies. Once you've caught the offenders either directly or by using any one of the above-mentioned methods, you can request him/her to remove the copyrighted images immediately. If this attempt fails, you can report the violation directly to Instagram. The app provides a very convenient way to report this through a copyright report form. Alternatively, you can also directly contact the Instagram designated agent for protection of copyrights here:
Instagram, LLC
Attn: Instagram Designated Agent
1601 Willow Road
Menlo Park, California 94025
650.543.4800 (phone)
ip@instagram.com
Frequently Asked Questions:
⭐ Can you reverse image search on Instagram?
No. Instagram is not a search engine. As a social media app, Insta cannot handle reverse image search queries.
⭐ How do I find someone on Instagram with a picture?
Short and sweet answer: It is not possible at all on the official Instagram app. Third party apps/websites which claim to offer these features seem shady and are usually not trustworthy. (So use them at your own risk)
⭐ Is it possible to search Instagram images on Google?
Your Instagram profile is very much likely to be indexed on the web, but search engines like Google or Yandex aren't allowed to index your photos as Instagram as Instagram blocks all the search engines from indexing the photos uploaded by its users. However, it is still a possibility for Google or Yandex to index your Instagram photos and videos if you grant it access to Instagram API while using the web version of Instagram.
More interesting articles:
I hope that this article helps you understand the basics of reverse image search for Instagram. If you find this article helpful, please do comment and share. Still have some questions/queries? I'll be more than happy to address your concerns in the comments below.