Have you ever tried searching for your own name on Google? Well, now don't say that 'only jobless fools do it' (that's a blithely ignorant comment I saw on a post at Facebook). It's a part of 'personal branding' and something important to pay attention to, especially at a time where you will find hundreds of thousands of individuals mutually sharing a very personal identity with you –  Your Name! Want to stand out? You gotta read this post!
If you ever happened to Google your name or someone else's, you might have noticed that the first few pages are often dominated by social media profiles like LinkedIn, Facebook, Twitter and Google plus (of course you might also find some wiki pages and blog entries if you are searching for someone eminent like Matt Cutts or Larry Page)
So all that you have to do is to increase the number of positive pages (talking about you) and perform some basic SEO stuff to maximize the visibility on Google. It's not easy(it takes time, a lot of patience plus the results fluctuate very often!) but at the same time it's something not impossible. In this post, i will be sharing 5 practical tips to dominate the search results for your own name…
1. Exist on all the major social media networks
Having an active profile on major social media networks (especially LinkedIn, G+ and Twitter) is fundamental to the process of personal branding. Your Google plus profile is even more important because Google often displays G+ profile pictures in its search results, thus giving you direct exposure! As an example, below is a screenshot of how my G+ profile got displayed when i searched for my full name on Google…
2. Build your 'personal' profiles
Apart from having an active profile on various social media websites, you should take advantage of all those websites that allow you to build your personal profiles for free. Aboutus.org and About.me are two classical examples of such websites. Having these additional profiles is important to increase the number of positive pages that talk about YOU!
3. Interlink all the positive pages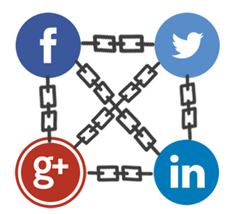 The next step involves interlinking all these pages together. I mean, try including a link pointing to your LinkedIn or Google plus profile from your twitter bio, similarly from your Google plus profile to your twitter, LinkedIn and other personal profiles and so on…
Why is interlinking so important?
Good links are the foundation of search engine optimization(the process of increasing the visibility of a page on search engines). They basically act as votes. The more the number of good links (positive votes) pointing to a webpage, the higher goes the importance of that webpage in the eyes of search engines.
4. Start writing guest/freelance articles
Being a blogger/freelance writer is always a top advantage. The reason being you can always link back to your social media profiles from within your author bio! As an example, this is a screenshot of my 'author-bio' that links to my G+ profile at Basic Blog Tips…
But, while linking, please make sure that you use your full name as the anchor text. For example, if your name is Matt, link back to your Google plus profile using 'Matt' as the main anchor text!
Bonus Tip: Add the tag – ?rel='author' right after the ending URL of your G+ profile to take advantage of authorship!
Update: Google Authorship is official Dead, But it may return in future!
5. Pay attention to PageRank!
I have analysed that profile pages (especially Twitter and G+) with high PageRank generally tend to rank high in the search results (since PageRank is one of the factors Google considers while ranking webpages). To increase the PageRank of your profile pages, you need to obtain do-follow links from high authority sources. Now this is where the goodness of guest blogging or freelance writing comes into play 😉
Please note: Search results are never permanent. Rankings generally keep on fluctuating due to a number of abstruse and profound factors (My own Twitter and G+ profile slipped by 2-3 positions since the past two days. Don't know why? :P) So don't get panic if you ever see a drop in positive results against your 'name' queries on Google. Have patience and keep on doing things the right way and you will surely see the good results back on the track very soon. All the best 🙂
What do YOU think?
Do you really care about personal branding? OR are you also one of those happily ignorant fellow? And if no, then how good is your visibility on Google right now? I'm eager to look forward to your thoughts 😉