It is difficult to stand out in a digital world where everyone is trying to make an online presence. We live in an internet era where millions of blog posts are published every day. With this amount of information overload, it is easier to lose your voice and feel lost in the crowd. Freelance writers who rely on their writing skills to make a living online are not an exception. Creating a strong writing portfolio is the only way through which freelance writers can establish their trust, reliability, and authority. Today, I will share how to build a writing portfolio that will drive you more work by impressing potential clients and customers.
Why should you build a writing portfolio?
As a freelance writer, your writing skills are like what swords are to warriors. If you want to make a living online, it's even more important to let this skill shine bright. Building a writing portfolio lets you shine this skill to potential clients and customers. Here are the benefits of having a portfolio for a freelance writer:
It acts as a collection of your best works. This satisfies a client that you can deliver the quality that you've promised.
You can use a portfolio to showcase your reviews and testimonials of clients you've previously worked with! It's an impressive way to show your skills and establish how you are unique from your competitors.
Having a well-designed portfolio helps you quickly impress the clients in a unique way. After all, what's seen is sold!
Best tools to create a writer's portfolio
Confident to create your writing portfolio? Great. I will now share the best tools and strategies to help you build an outstanding portfolio…
The first thing that you need is to decide whether you would want to create your own dedicated portfolio website or you would like to build a portfolio on other third-party websites.
Create your writing portfolio with WordPress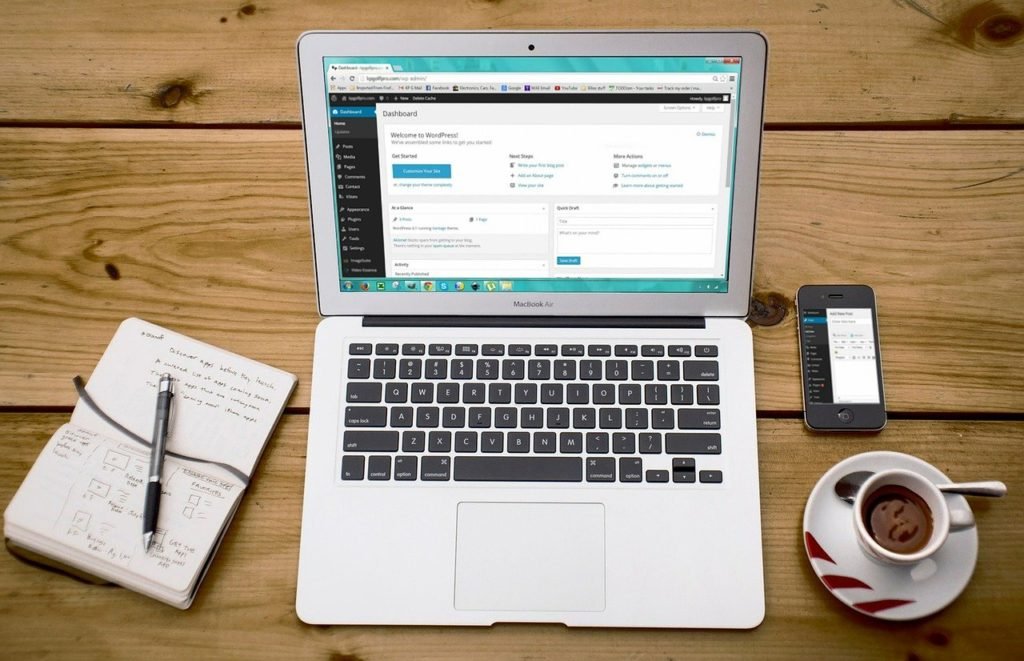 If you want your own dedicated portfolio website, I will suggest you to go with WordPress. No doubt, it is expensive as it involves buying a domain name and a web hosting space. But it's a powerful and flexible platform that probably has all the tools that you will ever need to create a stunning portfolio. When you create your portfolio with WordPress, the feeling of owning this professional space is always superior to the feeling when you create your writing portfolio on other third-party tools and websites (which you do not own). Here is a good tutorial on WPExplorer that walks you through various steps required to build a portfolio with WordPress.
Other tools/websites to build a writing portfolio
If you believe that creating a writer's portfolio on WordPress is not worth your time, money, and efforts then there are still many online tools and websites that can help you build a writing portfolio for free! Let's discuss the best of those tools, one-by-one:
1. Clippings.me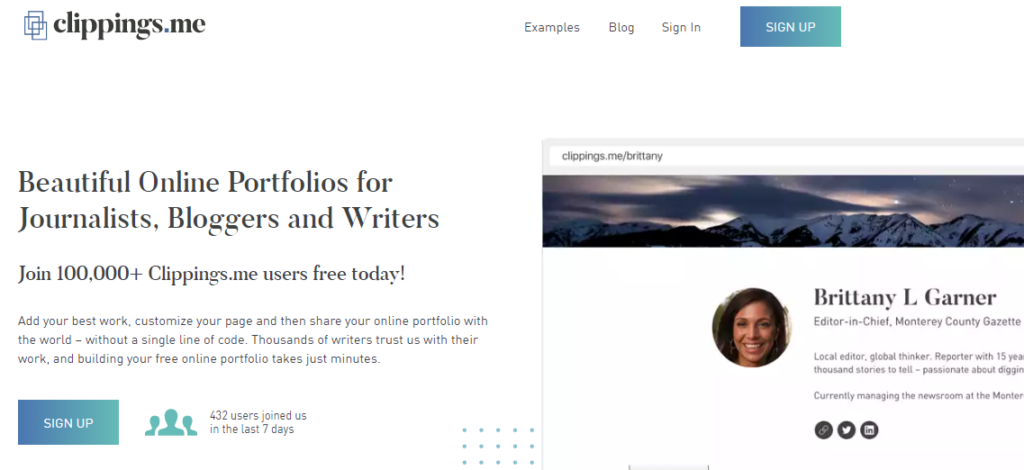 Clippings.me is a trusted online portfolio builder which is especially designed for journalists, bloggers and freelance writers. You can clip your best works either as PDFs or links to online articles. The free version allows you to clip up to 10 best works. However, when your portfolio grows in size, you can consider upgrading to a premium account which costs $9.99 per month. Benefits of upgrading to their premium account:
Host unlimited clippings to your portfolio
A contact form for visitors to get in touch
Integration with Google Analytics to see the demographic and usage details of your profile readers.
Use your own custom domain name
2. Contently
Originally, Contently is not a portfolio builder. It is a content marketing solution that connects brands with bloggers/freelance writers. However, when you sign up as a freelance writer, Contently offers you to build a portfolio by allowing you to add a biography and some of your latest and greatest work samples. You can either upload PDFs of your work samples or directly add links from your client's website.
The best part is that unlike Clippings.me, there is no limit on the number of work samples that you can add to your portfolio. And you will also get a portfolio URL of your own choice. Here is a sample portfolio that I've created using Contently:
3. Muckrack
Muckrack is a PR software platform that connects companies with journalists / freelance writers. It allows journalists to create a free portfolio where they can add all useful like their biography, social media profiles, and their best work samples.
The best thing about using Muckrack is that their editorial team works behind the scenes to automatically create and update your portfolio page with all your latest work samples, clips and outlets, regardless of where they have been published. Sounds smart, right?
4. Writer Folio
Writer Folio is a straightforward portfolio builder app that lets you create a basic portfolio for a flat fee of $4 per month. It includes:
10 portfolio themes
Integration with Google Analytics
Inclusion of your portfolio in their freelance directory
Your preferred portfolio URL (yourname.writerfolio.com)
That's fair enough for the price paid. However, I will any day prefer Contently/MuckRack/Journo to Writer Folio because the former are free to use and offer a much better user interface (both inside and outside)
5. Journo Portfolio
Journo is another promising portfolio builder tool tailored for freelancers and journalists. Once you sign up for a free account, Journo asks you to select your favourite theme and background image depending upon the type of industry experience that you may have. In the next step, you'll be asked to upload a profile picture, write a short bio, and add some URLs of your best published work to your portfolio. The free version limits the number of URLs in your portfolio to ten. Here is a sample portfolio that I created on Journo: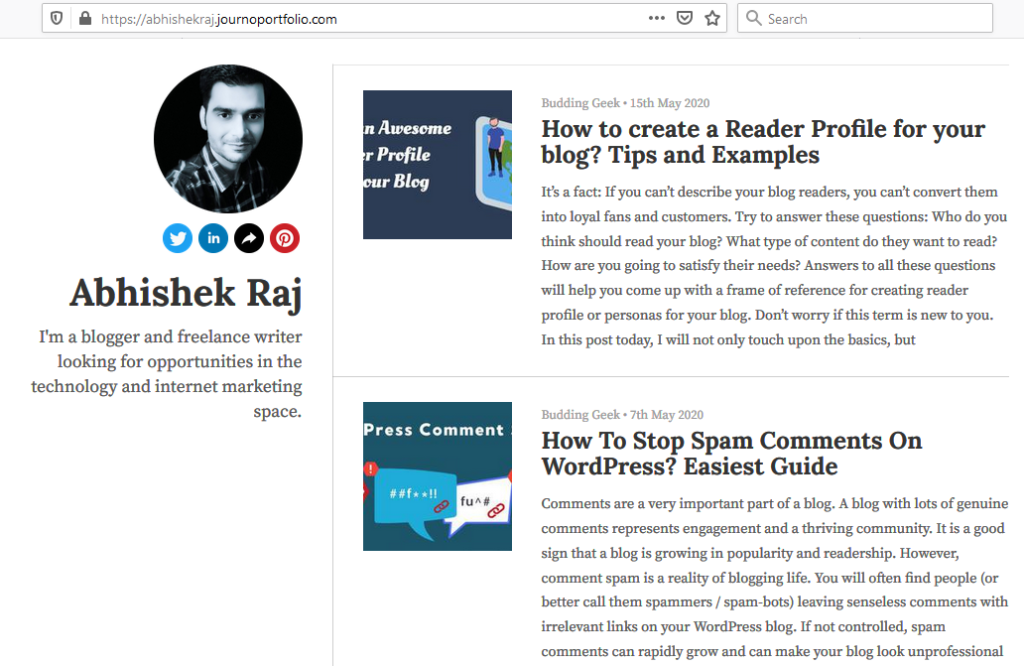 That's sufficient for a beginner. But when your portfolio grows in size, you can anytime consider upgrading to their premium plans, which cost only $2.0 to $5.0 per month.
Additional features included in their paid plans include:
Clip unlimited URLs to your portfolio page
Custom domain name
Unlimited pages (like Contact page, About page, or any other page which you wish to add)
Password protected portfolio
Backups
Guidelines to build the best writing portfolio
With the help of above tools, anyone can easily build a writing portfolio. But do you know what makes a portfolio stand out from rest of the others? It is your unique way of presentation. Here are some guidelines that can make your portfolio win the hearts of potential clients and customers:
1. Write a clear biography
Your biography is the first thing that potential clients will notice in your portfolio. Make it short yet memorable. Your biography should essentially capture your current position, industry skills and experience in not more than 200 words. Since you are creating a writing portfolio for professional pursuits, avoid including anything personal like your hobbies and interests.
2. Include only the best of your works
While building your portfolio, it is tempting to include almost everything that you've ever written in your freelance writing career. Including everything under the sun is not a good idea because your every article is not your best article! Your best articles are those which generate a lot of comments and social media buzz. You have got to identify such articles. These are the ones that are worth displaying in your portfolio.
3. Pay attention to your portfolio design
The next important thing is design. Few characteristics of a good portfolio design are:
It prominently highlights your writing samples
Bold, yet easy on the eyes of the reader – with no fancy fonts, colors, and vibrant background images
Easy to navigate
Responsive, i.e. it looks equally good on all the devices (PC/tablet/smartphones)
A good writing portfolio is one thing. But how do you improve your conversion rate? What would you want your clients to do when they visit your portfolio page? Contact you, right? That's only how you will land up with new projects and assignments. It is therefore important to make it easy for them to contact you right from your portfolio page. Include vital contact details like your email address and link to your active social media accounts like Twitter, Facebook, and LinkedIn.
5. Update your portfolio frequently
To keep your writing portfolio relevant and interesting, you have to make sure that you are updating it frequently with samples of your new best works and assignments. Update it as often as possible!
I hope you can now create outstanding writing portfolios in a matter of minutes. Which is your favourite portfolio software? What additional tips would you like to share? Please share in the comments below. And if you already have designed a writer's portfolio, please share it as well so that our readers can draw some inspiration.