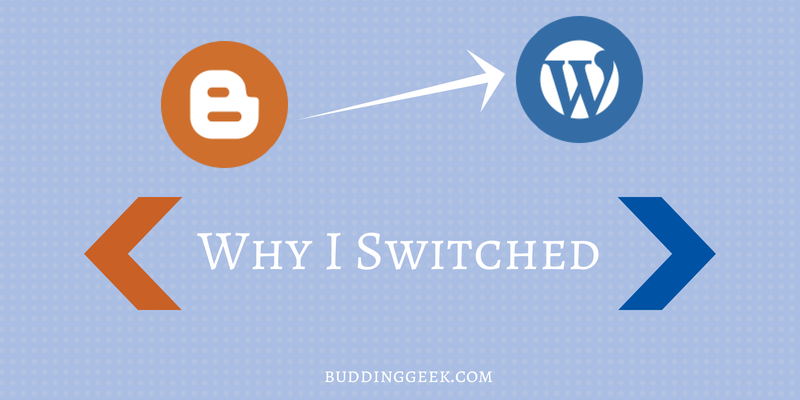 If you're regularly following my blog, you might be aware that last month I made an informal announcement of moving my blog from blogger to self-hosted WordPress! Today it has been more than 30 days since I switched, and I'm so happy with the move that now I can't even imagine going back and working on the old blogger platform.
Before I proceed ahead with my post, I would like to provide a brief description of blogging platforms for those new to blogosphere (It's a fancy word used by bloggers all over the world, denoting "the world of blogging" 🙂 )
OK, so you've got great ideas to post and publish online through your blog. But how exactly are you going to create this content? I mean, where are you going to write all the good stuff? How will you add beautiful images and videos to make your posts look attractive? How are you going to manage the look and feel of your blog? This is where blogging platforms enter the picture! Think of blogging platform as a piece of online software that helps you create and manage a blog effortlessly.
WordPress (by Automattic) and Blogger (by Google) are two of the most popular and widely used blogging platforms in the world. While both of them have their own pros and cons, WordPress is hands-down far superior to Blogger.
[su_note note_color="#fefeb6″]Please note – In this post I'm comparing self-hosted WordPress (i.e. WordPress.org) with Blogger. WordPress is a free software – It was free and it always will be. However, unlike Google, since WordPress does not provide any free hosting service of its own, it requires you to purchase separate hosting space from third party web-hosting providers. Hosting refers to uploading/storing of your blog and all its content on a virtual hard-disk (web-server). Whenever a visitor tries to access one of the pages of your blog, your web-host starts retrieving that web-page from its server and finally delivers it to your client's web-browser (your visitor). I'm sorry if I was too technical explaining all this :p) [/su_note]
In today's post I'll be sharing the reasons why I made this switch.
1. WordPress is the industry standard
WordPress is being used by some of the finest folks on the internet. Look at the top blogs in your niche. You're most likely to find majority of them on the WordPress platform. Do you know that even some of the greatest fortune 500 companies are using WordPress to connect with their customers? Yes, that's the perceived quality and reputation of this full blown content management system!
2. WordPress is backed by tons of awesome themes and plugins
When I was using Blogger, I used to spend a lot of time digging into the html code of my template to add this feature and remove that feature. Things also used to break quite often. There were only a few useful widgets (some 10 or 12 to be precise) provided by blogger.
One of the biggest benefits of being on a self hosted WordPress is that it is backed by a huge developer support. Visit its official themes and plugins directory and you'll be amazed at how many beautiful and productive things it has got to offer!
Another awesome benefit is the support for theme frameworks – Genesis and Thesis! A theme framework works as a skeleton of your main theme (called child theme). All your needs for customization, flexibility, productivity and SEO are feature packed under a single theme framework. That's the beauty. You won't find any of these theme frameworks on Blogger!
3. WordPress is SEO friendly out of the box
Yes, that means – even if you run your blog without any SEO plugin or theme framework, WordPress can still take care of your basic SEO needs effortlessly. Here's are some of the most basic SEO needs that WordPress can handle out-of-the-box –
Changing the basic permalink structure across your blog
Heading tags (They are important for your on-page SEO)
Your mobile site will not have a different URL
On blogger, this was a big headache. All my mobile URLs used to end with ?m=1 tag. Google treats blogger's mobile and normal URLs as two different URLs and hence the SEO value attached with them is different. Suppose a person, after reading your post on his iPhone, decides to share it on a forum. OK, that's cool, but this can mess up your SEO. The link that he has shared on the forum ends with ?m=1 tag. The SEO value attached with this URL will not be passed to your normal URL.
On WordPress you have a clean and uniform post URL across all the devices 🙂
4. It's a complete blogging software and CMS
Blogger is good enough to just write and publish your posts. That's it. There's nothing more exciting that can be done on Blogger. WordPress on the other hand is a full blown content management system (CMS). Here's how it puts blogger to shame –
[table id=1 /]
Which blogging platform are you on?
Is it Blogger? Free WordPress? Self-hosted WordPress? Something else? Share your experiences with your blogging platform in the comments below…