So you've just finished setting up your new blog. You've chosen a good name for your blog. You are motivated to get started, but there is still one more thing you need to work upon – blog taglines! These short one-line phrases help your readers quickly understand what your website is all about. Blog taglines have been existing for a very long time, but unfortunately, they also have been one of the most neglected parts of a blog. Today, I'll be sharing 5 awesome ideas along with examples to help you write good and catchy blog taglines.
What are blog taglines & why are they still important?
Taglines are usually a short one-line summary of what your blog is all about. They usually appear just below your blog name/title. No wonder, they are one of the first few things that your readers will see on your blog. A good tagline will help your blog readers quickly understand the contents and purpose of your blog. It is therefore important that you write a good blog tagline to communicate your blog's topic/niche to first-time visitors effectively. Here is why they are important:
A good tagline will quickly help your visitors understand the topic or niche of your blog.
It directly communicates your blog's style and branding ideology.
Search engines index them and therefore they form a part of your blog's listing in search results. For example, here is a screenshot of my blog's tagline that appears in Google search results:
Taglines can be edited or updated any time, without adversely affecting your traffic or search engine rankings. So if you are new to blogging and have just started out, I encourage you to read this post carefully. On the other side, if you've been blogging for some time and now you're reconsidering the purpose of your blog tagline (which you might have neglected), it's now better late than never!
Characteristics of good blog taglines:
Good taglines should have the following features:
Short and precise, yet descriptive
They directly communicate your niche/blog topic
Good taglines are different
They are focused on your readers
The perfect taglines reflect your blog's mission and vision statement
How to write a good tagline for a blog?
Before I start with the tips to write good taglines for a blog, let's see if you can answer the following questions (confidently):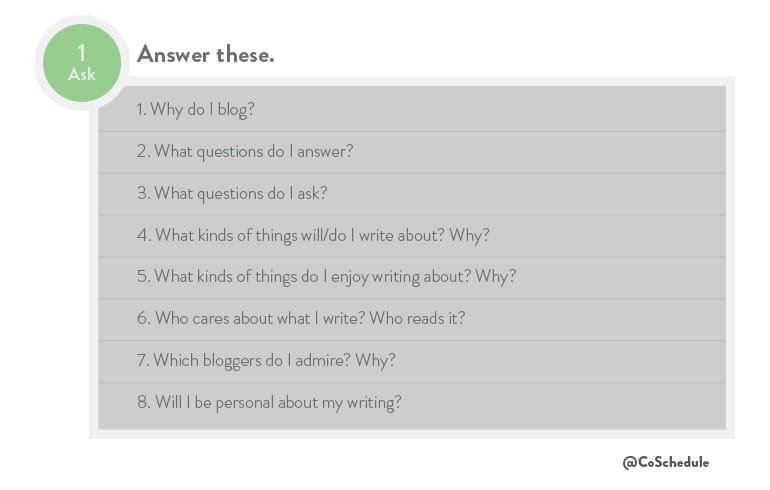 If you can confidently answer 'Yes' to all these questions, then congratulations! No one can stop you from creating the perfect tagline for your blog. However, if you had to pause for a moment to think for the right answers / or in case you had qualms about the purpose and objective of your blog, then please stop right here. We will first have to explore our passion and correspondingly align our purpose with that passion before we can write a good tagline for our blog.
Here I would like to share a video by Jay Shetty, one of the world's most popular self-help coaches. In this video, he walks you through a workshop to help you align your passion with purpose. I believe this will surely help you tighten your 'competence circle' and eventually to come out with all the answers to the questions I've asked at the beginning of this section.
5 creative ideas to help you write best blog taglines (examples included)
Here are some creative ideas and tips to help you write the best blog taglines:
Tip No. 1) Use a short and simple summary
In a few words, explain what your blog is all about. What topics does it offer? What niche you are into? The benefit of using this approach is that being simple and straightforward, it quickly conveys the objective and ideology of your blog to your readers. Here are some examples of blogs/websites using this approach:
Budding Geek (my blog): Tech How-To & Digital Marketing Blog
TechCrunch: Startup and Technology News
Backlinko: SEO Training and Link Building Strategies
Problogger: Blog Tips to Help You Make Money Blogging
Tip No. 2) Write your vision and mission statement
In one line, write down your vision and mission statement, reflecting your blog niche and target market. These types of blog taglines reinforce trust and loyalty with your readers. They are perfect for personal brands. Here are some of the best examples:
Neil Patel: Helping You Succeed Through Online Marketing!
HealthLine: Medical information and health advice you can trust.
Tip No. 3) Get creative with foreign words
This tip will help you create a catchy and unique blog tagline. There are many popular foreign words which are in trend these days. For example – a la carte, Bon appétit and Voyage. You can use these French words/phrases with your main niche keywords to create some unique and catchy blog taglines. One of the best examples is the tagline used by Digital Inspiration blog: Tech, a la carte. Another good example is the tagline used by Themeisle, a popular WordPress theme website: WordPress themes for yer voyage. Similarly, the use of French phrases like a la carte and bon appétit can be used for writing awesome taglines for food or fashion blogs.
Tip No. 4) Use catchy slogans in blog taglines
Another awesome tip to help you create memorable and unique taglines is to use catchy slogans that reflect your niche/branding style. These are perfect for branding your blog/website. Here are some examples:
The New York Times: All the News That's Fit to Print
Nike: Just do it
Gillette: The best a man can get
Apple: Think Different
WordPress: Code is poetry
Jay Shetty: Making wisdom go viral
Tip No. 5) Get creative with metaphors
Intelligent use of metaphor or 'figure of speech' along with your main keywords can also be used for writing good blog taglines. Here are some of the best examples:
Tropicana: Your daily ray of sunshine
Nokia: Connecting people
Blog taglines generator: Is it worth your time?
I tried the top three blog taglines generators – Shopify, Oberlo and Designhill, only to discover that most of their results are foolish with no application of mind and creativity. These online tools generate thousands of slogans/catchphrases based on your target keyword. Most of these algorithmic results are so weird that you'll burst out laughing at the non-sense. Here is a screenshot of the results I got from Shopify (for the target keyword: geek)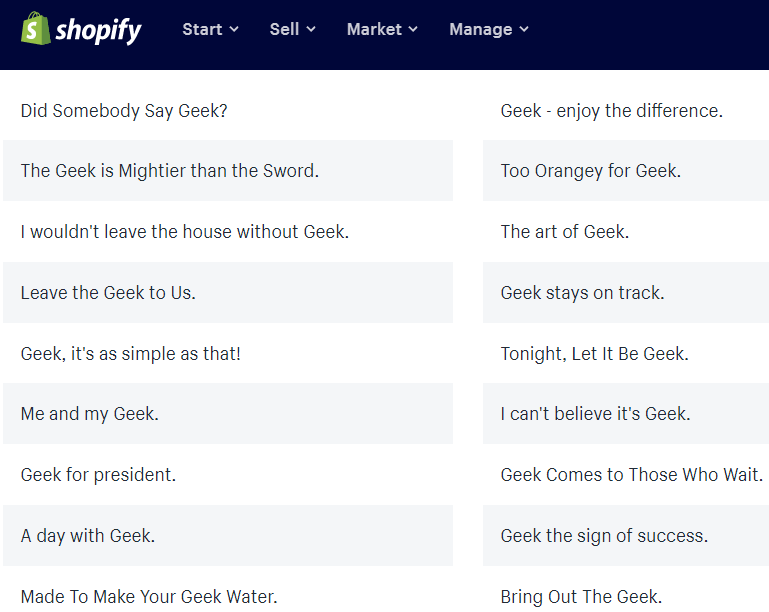 However, I do not deny the possibility to find hidden gems. I therefore recommend you to skim through such results very carefully if you decide to take the services of these tagline generators.
Frequently Asked Questions:
⭐ What is a blog tagline?
A tagline is a short one sentence summary of your blog/website. It usually reflects your niche and branding style.
⭐ What do you write in a tagline?
You should write a one-line summary statement about your brand in a tagline. You can summarize the statement either in the form of a catchy slogan or a mission statement. The objective of a tagline is to reflect your niche and branding style.
⭐ How long should a blog tagline be?
Blog taglines should ideally be of only one (1) line, with not over 30 to 35 characters.
What's your experience?
What tips, tools, and strategies did you use to write the perfect tagline for your blog? Please share your thoughts in the comments below.