We often have to deal with a lot of emails at work. While that's a usual part of our work routine, nothing can be more unproductive than having to type the same emails for common queries, over and over again. For example, someone handling the administrative department of a college might have to send the same emails to every student who enquires about course material, fee, or results. Similarly, a marketing manager might have to email hundreds of (almost the same) proposals to many clients in a day. Manually typing such repetitive emails is not only stressful but also unproductive. That's where email templates come to your recourse. In this post today, I will share how to create an email template in Gmail and Outlook.
Benefits of using email templates
Let's discuss the important benefits of using email templates in your work schedule…
It saves a lot of time — No more manual repetition of emails.
Automation improves accuracy and leaves very little room for error
Enhances your email response rate. Thus, improving your brand image!
Less stressful for employees. If employees are happy, they will be more productive and engaged in their work.
Saves money for organizations
How to create an Email Template in Gmail — Step-by-Step guide
A) Creating a plain-text email template in Gmail
1. Open your Gmail account
2. Click on the Quick Settings icon (⚙️) on the top-right corner
3. Click on 'See all settings'
4. Navigate to 'Advanced tab' on the top
5. Enable the 'Templates' option
Once you have enabled the Templates option in your advanced settings, you just have to go back and compose a new email.
Draft an email message. Then click on more options (three-dot) menu at the bottom. Click on 'Templates', then 'Save draft as template', and then finally click on 'Save as new template'.
Please refer to the screenshot below…
B) Creating an HTML Email Template in Gmail
Although Gmail supports HTML email messages, it doesn't have a feature rich HTML editor. So, follow the instructions below to create an HTML Email template for Gmail…
1. Visit HTMLG website – a free online HTML Editor
2. Use all the available tools on HTMLG to create your desired email message

3. Once you are done, click on 'View' and select 'Preview'
4. The preview window will show how your HTML message looks like on a web-browser.
5. Copy all the contents of this message and paste it in the email compose window on Gmail.
6. Click on the three-dot menu at the bottom and save it as a new template in Gmail.
Please Note: You must upload the images/videos somewhere else (like Google Photos or any other image hosting server) before you can use them in your HTML email template. This is because the HTML code makes use of "img src" tag and you need to paste the image source link in order to show images or videos in your template.
Bonus tip: Use MailMunch's free HTML email templates if you want to save both time and effort in designing email templates in Gmail.
C) Creating an email template with attachments in Gmail
Wondering how to save an email template with attachments in Gmail? The process is not that straight-forward as it seems. Try composing an email message in Gmail with attachment and then save it as a new template. No problem, the template will get saved. But when you insert this template again, your attachment will not be there.
So, what's the workaround?
You have to first upload the file on to your Google Drive or any cloud storage service. Get a shareable link and then paste it in your email message.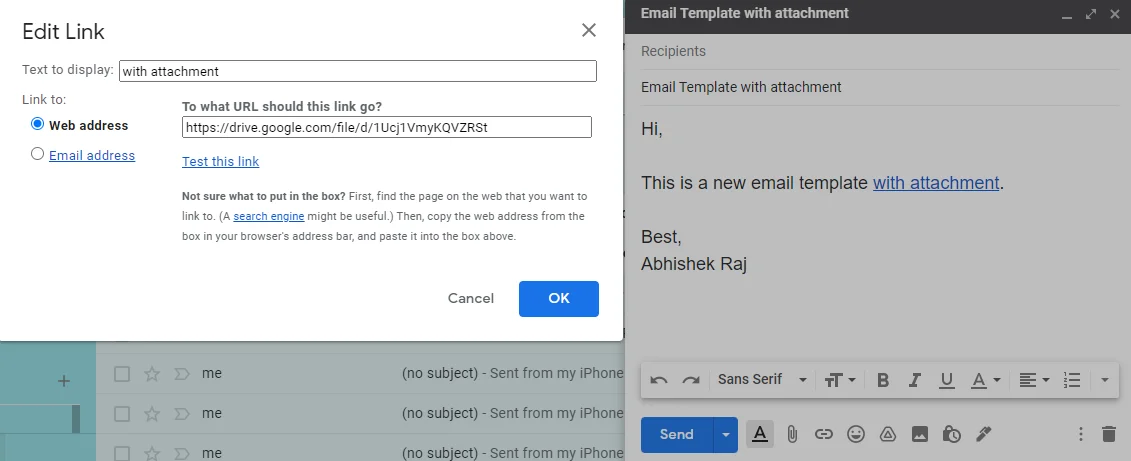 Then you can save it as a new email template in Gmail and re-use it with your attachment as many times as you want.
How to create an email template in Outlook?
Creating an email template in Outlook is quite similar. Let's get started…
1. Login to Outlook (web)
2. Click on 'New Message'
3. Just right to the Send and Discard buttons in the new message compose window, you will see a document like icon – called 'My Templates'. Refer the screenshot below…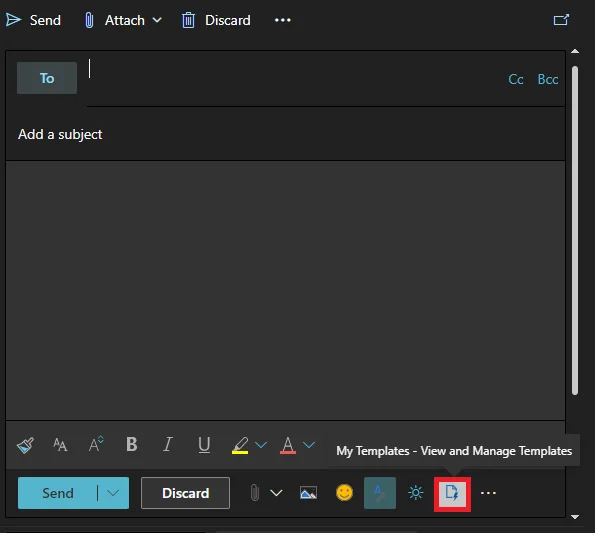 4. Clicking on 'My Templates' icon will open up a new window where you can add a new email message and save it as your template.
Sadly, there isn't an option to draft rich formatting or HTML based templates inside 'My Templates' in Outlook. It just appears as a plain text-based template manager.
Don't worry. You can still add formatting rich email content in 'My Templates' using the below mentioned steps…
1. Draft an email in outlook (web) with all the formatting/HTML elements, as per your requirement
2. Copy all the contents of the email (Ctrl+C) and paste it (Ctrl+V) inside a new template in 'My Templates'. Give it an appropriate title for your own convenience so that you can easily recall its email contents
3. Your HTML template in Outlook is ready for use
Unlike Gmail, Outlook supports full HTML/rich text formatting. So, you can easily add any element of your choice in your email — tables, images, videos, text highlights, etc.
Secondly, if you wish to add attachments to your Outlook email template, you have to follow the same process that I explained for Gmail in the post above.
More email tips:
Have questions?
I hope you liked reading this short tutorial. If you still have questions regarding email templates in Gmail and Outlook or in case something didn't work, feel free to reach out to me using the comments below.