The wallpapers set on your iPhone reveal a lot about your personality. Not only do they reflect your personality, but also play a pivotal role in setting your mood for the day. Your wallpaper is the first thing that catches your attention every time you unlock your iPhone. However, it's very disappointing that there are a limited number of stock wallpapers on iPhone. So, in this post today I will share the best iPhone wallpaper apps that you must try in 2023.
How often should you change your iPhone wallpapers?
What wallpapers are to your iPhone is what clothes are to You! That's the best kind of analogy I can think of. Now that doesn't mean that you have to change your iPhone wallpapers daily, just like you change your clothes. Haha. But I feel that a week's time is good enough for you to consider changing your iPhone wallpaper.
Review of the best wallpaper apps for iPhone:
Ok, so now let's review some amazing iPhone wallpaper apps…
1) Wallcraft
In my experience, Wallcraft tops the chart of best iPhone wallpaper apps. The app hosts thousands of HD wallpapers spread across various categories like Nature, Art, Minimalist, Space, and so on…
The best thing about Wallcraft is that it automatically detects your iPhone model and serves the highest resolution wallpapers that can best fit your screen!
While most of the wallpapers at Wallcraft are free to download, there are a few curated and exclusive wallpapers (including double wallpapers) which you can purchase either through Wallcraft coins or upgrading to its premium version.
That being said, if you are looking for an app with thousands of free HD wallpapers for your iPhone, I am confident that Wallcraft won't disappoint you.
2) Vellum Wallpapers
Vellum is one of the unique wallpaper apps for iPhone. Rather than offering wallpapers by categories (like Nature, Holidays, etc.), Vellum offers an assorted collection of high-quality wallpaper packs inspired by various digital artists, photographers, and themes.
What's more? Vellum also offers a custom blur tool for blurring the backgrounds and achieving the desired gradients as per your need. This is perfect when you want to set a custom gradient wallpaper for your iPhone home screen. It enhances readability of fonts and display of app icons on your home-screen.
3) Clarity Wallpaper
Another great wallpaper app for iPhone is – Clarity Wallpapers. Like Vellum, Clarity also offers curated pack of wallpapers inspired from various photographers and digital artists. However, the limited number of free wallpapers is a slight disappointment. Still, it is an amazing wallpaper app. If you are looking for unique and high-quality wallpapers for your iPhone, you must try Clarity Wallpaper app today.
Tip: For accessing free wallpapers, you must scroll the top navigation bar in the Clarity app and look for the 'Free' option.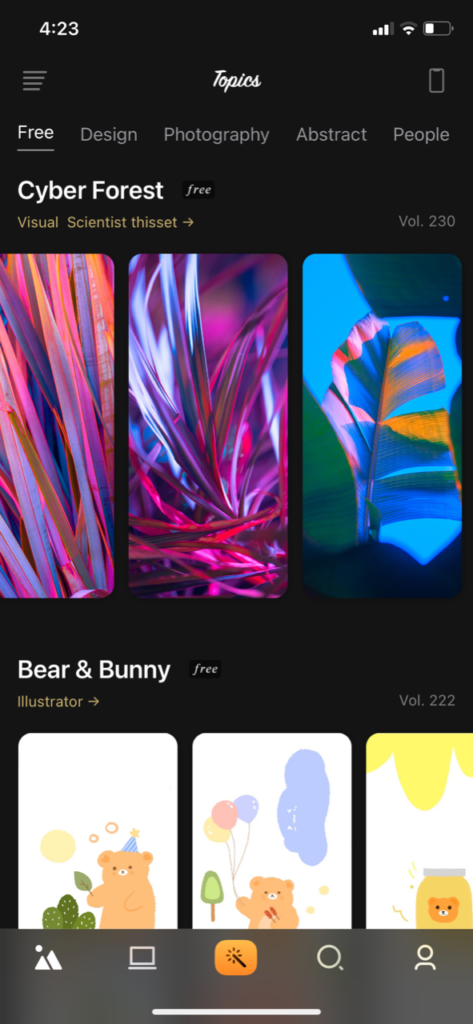 Another interesting feature of this app is that it provides wallpaper editing options as well, such as – blur, gradient, frames, masking, and the ability to write a custom text on your wallpapers.
4) Papers.co
Papers.co is actually a website that caters to wallpapers for iPhone, Android, and Desktops. Good thing — it has an exclusive app for the iPhone.
The app is very light-weight and minimalistic in looks. As on date of writing this blog post, Papers.co has more than 15,000 free wallpapers for iPhone. Like all other apps, it also organizes wallpapers into several categories like Nature, Art, Sports, Abstract, etc…to help you choose wallpapers as per your tastes and preferences.
5) Unsplash
Unsplash is the world's largest library of open photography. It is a platform powered by a huge community of vibrant photographers who have, so far contributed over 2 million high resolution photos and art-works for free.
Its target users are small business owners who can re-use these millions of photos for free on their blog, website, or social media campaigns.
However, it is equally good to be used as an iPhone wallpaper app. You can download breath-taking backgrounds of any resolution and set them as your default wallpaper. If you are specifically looking for wallpapers in portrait orientation that fit perfectly on your iPhone, then you can either search using the keyword "iPhone wallpapers" OR try the various filters available.
More awesome posts to get the best out of your iPhone:
What are your favorite wallpaper apps for iPhone?
Which wallpaper app do you like the most on your iPhone? Please share your thoughts in the comments below.