Having an awesome logo design is important for any brand. After all, it's the first thing people see about your company! That's why professional logo designers are in high demand right now. But what if you don't have a lot of money to spend on a custom logo design? Thankfully, there are many online logo makers that can help you create an affordable and unique logo without needing to hire someone on Fiverr. Let's take a look at the 8 best online logo makers to design an awesome logo in 2023.
Why an online logo maker?
A business's logo becomes central to its entire marketing campaign. The logo is included on all advertisements and promotions, and also on non-marketing materials such as letterhead. A well-designed logo will therefore become synonymous with the business name.
Online logo makers use specialized software (and sometimes artificial intelligence) to help business owners create their own logos. The software provides some initial logo options based on business name, industry, preferred design, and other inputs. Each option can then be customized to suit a particular business.
While there are many online logo makers available, not all are created equal. That's why in this post, I'll share the 8 best handpicked online logo makers to help you get started in the right direction.
List of 8 best logo makers online
Logomaker.com is an entry-level online logo maker. It doesn't have all of the features that some others do, but it also doesn't have a price that's equivalent to others.
The process of designing a logo on Logomaker.com begins with some basic questions, such as business name, tagline (optional) and industry. The software then has you choose a preferred icon and a preferred font.
Several logos are generated based on your answers. Each design will be quite basic, but you can customize them to make something that's unique and noticeable.
The most important feature of Logomaker.com is its one-time fee of $39.99, which is significantly less than subscription-based logo makers. If you're on a budget, this is one of the first online logo makers to try.
The Tailor Brands Logo Maker utilizes artificial intelligence to create high-quality logos that are tailored for individual businesses.
The process likewise begins with questions, including those that Logomaker.com asks and others. Tailor Brands also asks what product or service a business offers, checks whether you want a business name, business initials or only a graphic, and suggests more extensive font options.
An advanced AI algorithm uses all of this information to generate more detailed logos that are highly relevant to your business. Relevancy reduces how much manual customization is needed, although everything can be altered if you want.
Tailor Brands charges anywhere from $3.99 to $12.99 monthly, but also has a free option. The advanced software and range of prices make this logo maker one of the first ones that every business owner should try.
Brandmark helps both with the creation and use of a business logo. The online logo maker takes business owners through the steps of making a logo, and then adjusts that logo for different uses.
The logo creation process is a little different with Brandmark. The maker's artificial intelligence relies more on keywords than answers from drop-down lists. It also emphasizes color choice — business owners can select from a variety of color schemes (e.g., organic, vibrant, soft, dark, etc.).
The keywords and colors are used to generate relatively basic logos, but the logos have an appropriate color palette and can be customized.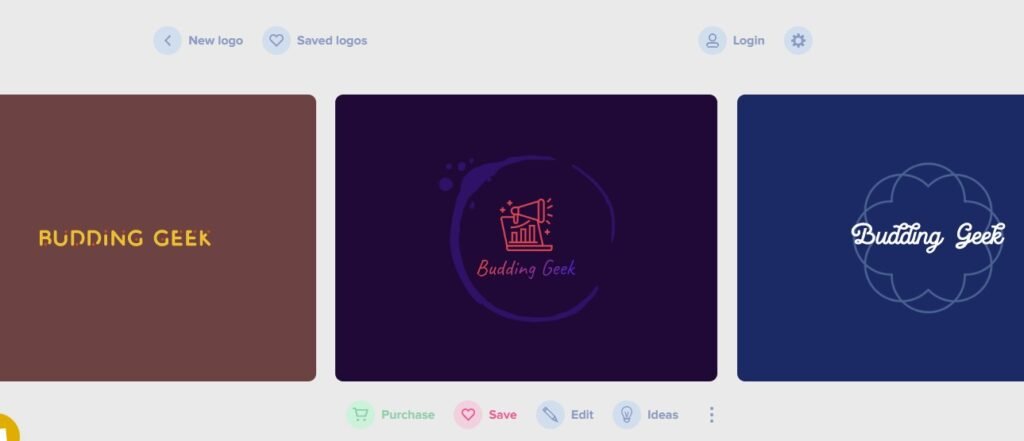 Within the editor, an "ideas" feature shows how different logos might be customized. Additional features also show how the customized logo can be adjusted for use on social media, messaging apps, websites, and other digital media.
If you don't have much graphic design aptitude, the color choice, ideas, and other features make this a user-friendly tool. It's easy to create visually enticing logos even without much art knowledge.
GraphicSprings has a user interface that'll be familiar to anyone who's used Shopify or Wix to build a website. Although designing a logo is a different process, business owners are guided through the drag-and-drop method of these website builders.
Creating a logo involves a simpler process, as you simply provide a business name and select an icon from a drop-down (or searchable) list. The software doesn't popular artificial intelligence-created suggestions. It merely combines the business name and icon.
Despite being fairly simple software, GraphicSprings can be used to quickly check a few logos. The drop-down menus are on the left side of the tool, and every change is instantly displayed in the center of the screen.
Prices for more advanced logo files (e.g., vectors) are higher, but all logos can be purchased for a flat fee between $20 and $200.
VistaPrint is more known for its business cards, but it has a solid logo maker too.
The VistaPrint Logo Maker asks for an industry and some keywords. The industry list alone is one of the most extensive of any online logo maker, and the keywords provide further specifications.
Artificial intelligence software creates highly relevant logos based on this information, and they all come with suitable icons and colors. Each design can be customized, of course.
This logo maker is an especially good option if you need business cards or other print materials with the logo on them. The logo is free if you purchase print materials, or otherwise it's $20. You obviously don't have to upload a file in order to use the logo on print materials.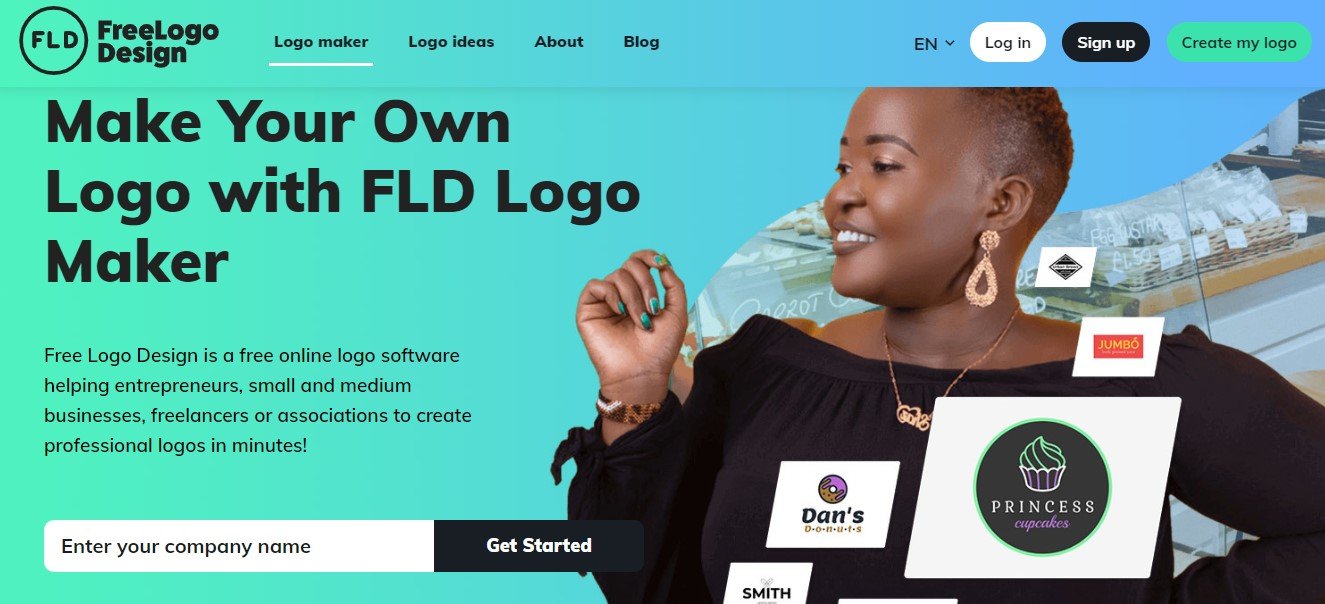 FreeLogoDesign is a logo maker based on the utilization of existing logo templates made by their team of graphic designers.
First, you need to enter your business name to access their large number of logo templates (they have more than 2000!). Then choose 'Create a logo yourself', choose your desired template and start using your creativity to design a logo for your business. They have logo templates for every type of business, whether it is for a lawyer, an accountant, or a dentist.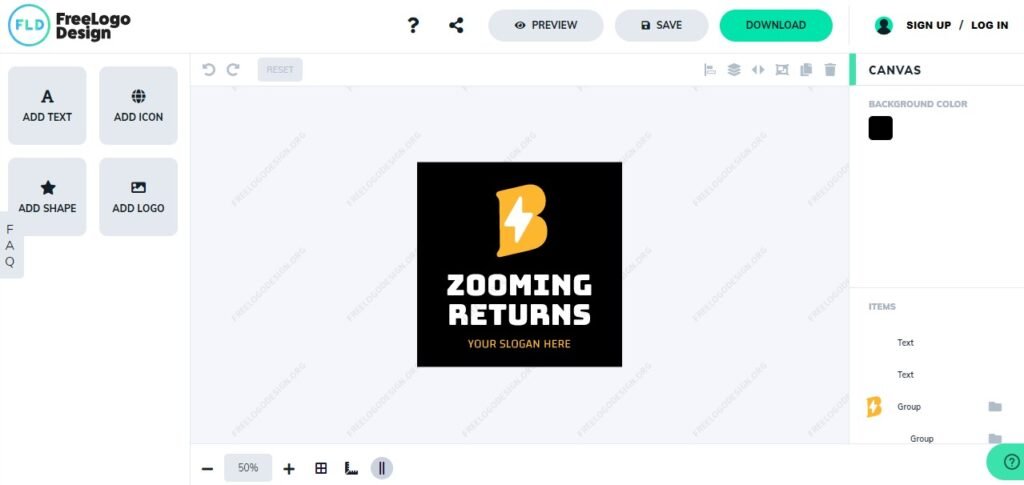 Their logo editor is quite intuitive. You can change the icons, fonts, colors, and texts, and move, duplicate or delete elements. You just need to click on it. And once you are done, there are different package options. As its name suggests, you can still create and download a free version of your logo.
FreeLogoDesign has two one-time paid plans. The high-resolution package ($40.95) includes many versions of your logo including a vector SVG file. On the other hand, the premium package ($69.99) includes all the files of the high-resolution plans and many interesting add-ons: business card templates, email signatures, brand guides, invoice templates, and much more. You have everything in hand to create a complete brand with FreeLogoDesign.
Zyro makes it possible to create a business logo in just one minute, although a quickly generated logo might be a bit simple.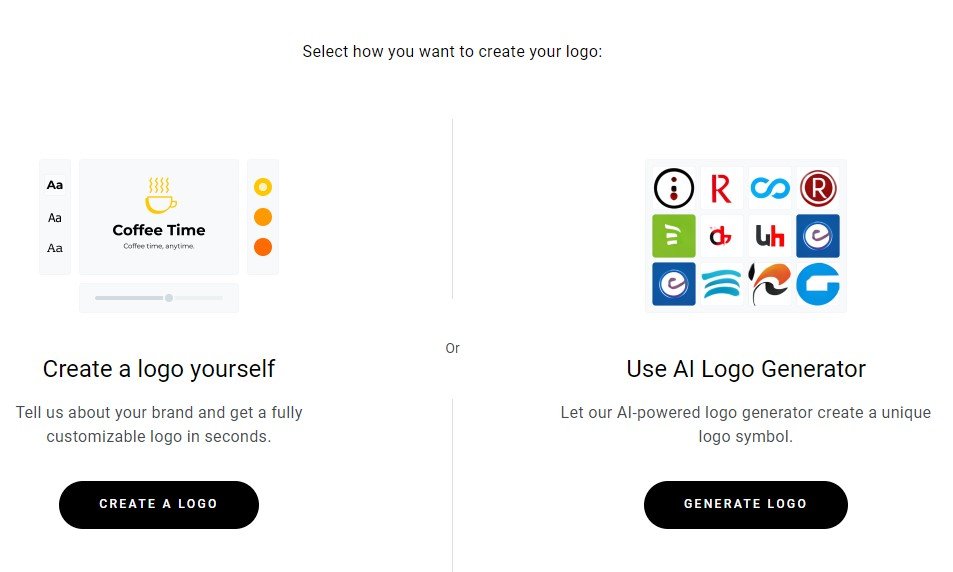 The process with Zyro is a bit different. You first select a logo, a color, and a shape, from which your logo is generated. There are many options for each item that you choose. Only about 15 options are shown at a time, though, which can make cycling through everything time-consuming and cumbersome. You provide the business name when customizing your logo.
If you just need a quick logo for a website or microbusiness, Zyro is an easy tool to use.
Ucraft is perhaps the most basic logo maker on this list, but it's also the cheapest. A scalable vector file that can be resized to any size is just $7, and that's not a subscription.
You'll manually create every aspect of your business's logo if using Ucraft. The tool has some basic icons (think Microsoft Paint icons) and shapes that can be moved around. You can select the color of each, and add a business name. The software doesn't automate anything.
Again, this is much more basic than any other tool listed. If you want a scalable logo that's cheap, though, few logo makers offer a vector file for the price of two coffees.
Conclusion
With these online logo makers, you can create a logo that'll be great for your business. Choose the logo maker that sounds best suited for your needs, and see what design you come up with. There are plenty of tools to try and a virtually limitless number of potential designs. Play with the possibilities until you find the perfect one.