In order to have a successful search engine optimization campaign, you need to have a solid keyword strategy. This means putting in the necessary time and effort into coming up with relevant keywords that your audience is going to use when searching for your website. The more specific your keywords are and the more varied they are, the better your chances of coming up on top of search engine results pages (SERPs). Unfortunately, it's not as easy as throwing a bunch of random words at the wall and hoping one sticks. Keyword research can be challenging, especially if you're new to SEO or don't have much experience in digital marketing. But you don't need to worry! Here are some of the best tools to help you do keyword research for SEO in 2022 and beyond…
Basics First — What is Keyword Research?
Keyword Research refers to the process of finding out what keywords people use on the Search Engines. Keywords are nothing but a fancy term for words/phrases people use to search information on Search Engines. The aim of any successful keyword research is to find out high volume, profitable, and relevant keywords. Let's break down these terms, one by one.
Keyword Volume – It usually refers to the average monthly searches performed against a particular keyword. The higher the search volume, the higher is the competition.
Keyword Profitability – It refers to the average cost per click that an advertiser is willing to pay for a particular keyword. The higher the keyword profitability, the higher is the competition.
Relevancy – How relevant are those keywords to your blog / website? Targeting high volume and profitable keywords, with little to no relevancy is not a good idea.
Bonus tip – Learn how to find out a niche for your blog?
Why is keyword research so important?
Keyword Research is the first step of any on-page SEO strategy. It's important because:
It helps you give a direction to your blog / website. When you know what keywords you need to target, your chances of success improve drastically
It helps you attract free organic traffic from search engines, as long as your website continues to rank for your targeted keywords.
When you rank for profitable and high-volume keywords, it automatically increases the worth and popularity of your website.
Best online tools to do keyword search for SEO
This is one of the best tools out there, and it's completely free to use. All you have to do is plug in your main keyword and see what suggestions Google's Keyword Planner gives you.
Once you click on the 'Get Results' button, you will see how many average monthly searches each keyword has, and how profitable those keywords are looking at the average CPC data (Top of page bid). What's more? You can also narrow down your keyword results by region, which is helpful if you want to focus on a specific target audience.
For example, check the below screenshot for keywords — "financial planning" and "personal finance" for the United States selected as my target location.
And… You can also download all the keyword related data in excel (.csv) format or in Google Sheets for more control on refining and filtering out your best keywords.
Another useful feature is that you can filter your keywords by category, making it easy to see which ones will be easiest to rank for. This is a very helpful tool because it also gives you some suggestions for related keywords that you might not have thought of yourself.
This is one of the most comprehensive keyword research tools out there, and it's 100% free to use. What I liked the most about using WordStream is the speed of its website, neat UI, and how fast the keyword results are displayed on the screen.
Using the tool is easy – just plug in your main keyword and you'll see a bunch of suggested variations that you can choose from. The tool will show you the Monthly average search volume, keyword profitability metrics, and also the level of competition among the advertisers for particular keywords.
WordStream also allows you to download all the keyword research data for free, straight in your email.
SEMrush is a powerful marketing tool that's designed for digital marketers and SEO specialists, but it also has a free keyword research tool with a limited amount of data.
The keyword research tool is easy to use – just plug in your main keyword and see the suggestions it gives you.
Keyword Volume, Keyword Difficulty Index (0-100%), and CPC (Cost-Per-Click / Profitability Index) are three important metrics that you should look for while shortlisting your desired keywords.
You can also click on the "Questions" and "Related keywords" tab to see even more suggestions. One thing to note is that this tool is primarily designed for commercial marketers, so you might come across a lot of other marketing research data that you may find overwhelming. However, it's still a very useful tool that can help you come up with a solid keyword strategy.
The free version of SEMrush only gives you a very limited amount of data, so it's not ideal if you're trying to track your progress over time. However, if you just need some quick keyword suggestions, this tool can help. Nevertheless, if you could upgrade to its paid plan, you will gain access to an unlimited number of keywords and your competitors' vital data.
Keyword Surfer is a Google Chrome extension which enables you to check important keyword metrics like average search volume and CPC right in the Google search results, in real-time, just as you type in your search keywords.
In the right-hand side of your search results, you also get to see a list of related keywords with details on average search volume and similarity score with your main keywords.
Keyword Surfer is 100% free. It's fun and quick to use as you get to see all keyword research data in real-time. However, the only drawback is that it doesn't include information on keyword difficulty and level of competition.
This is another good keyword research tool that will help you come up with a decent keyword strategy. However, it offers only 10 free keyword searches per month. Still, the quality of keyword research data is reliable and sufficient for someone managing a small blog or someone who is just starting out.
Using Moz keyword explorer is very simple. All you have to do is to feed in your main keywords and see the detailed results that follow. Like all other major keyword research tools, Moz allows you to see average monthly volume and search difficulty. This allows you to filter keywords with decent search volume and which are easier to rank for.
Ubersuggest is a complete digital marketing toolkit developed by Neil Patel. It allows you to do keyword research for free, but only a limited amount of data can be accessed.
To take full advantage of this tool, I will suggest that you upgrade to their premium version. And the good thing is that it doesn't cost much when compared to its competitors. There are lifetime plans starting from just $120 to $400 depending upon the scalability of your online business. Each plan comes with a 7-day free trial.
Using Ubersuggest for keyword research is easy. On the left hand, you will navigate to Keywords Overview under the Keywords section. Then just type in your desired keyword, select language, target location, and hit Search. That's it.
You will see important keyword research metrics like Search Volume, SEO Difficulty, Paid Difficulty, and Cost-Per-Click. Go for keywords which are easier to rank (i.e., Low SEO difficulty), have good Search Volume, and a higher CPC.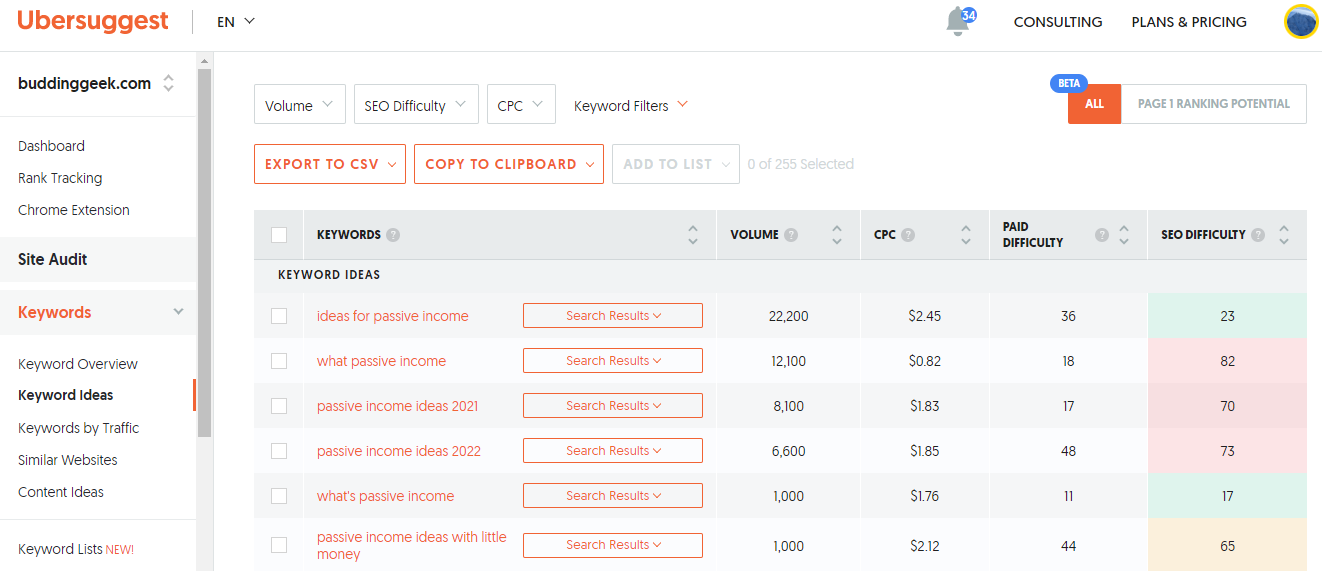 Ubersuggest also helps you find more keyword variations based on your main keyword. Navigate to Keyword Ideas on the left-hand sidebar and you will be able to find a lot of other keywords based on suggestions, related keywords, keywords based on questions and comparisons. You can also filter these keywords based on Search Volume, SEO Difficulty, and CPC.
Wordtracker is another good keyword research tool that you can use for free. You can plug in your main keyword and see a list of related keywords that you can choose from.
However, like Moz Keyword tool, it also shows a very limited amount of data for free account. There is a limitation of just 12 free keyword searches per month. Also, there is a cap on the number of keyword variations / suggestions that you can see. Still, this tool is good enough for someone who is looking forward to some quick keyword suggestions on the go.
What's your favorite keyword research tool?
There are plenty of keyword research tools online. I just shared the list of 7 handpicked keyword tools. Now, I want you to share which keyword tool do you like the most and why? Please share your thoughts in the comments below.