When it comes to marketing for SaaS companies, things are a bit different from other businesses. SaaS models involve recurring revenue streams, subscription-based billing, and frequent updates. As a result, the usual marketing strategies don't always cut it. Even with these unique challenges, there are some great marketing strategies that you can implement as a Saas company to boost your sales and reach new audiences. In this article we'll take a look at 6 effective SaaS marketing strategies proven to deliver results in 2023 and beyond, so you can grow your business in an effective way. Read on to learn more!
Understanding SaaS Marketing
"Software as a Service," most commonly known as SaaS, is a kind of technology that allows enterprises to deliver cloud-based applications to end users online.
SaaS technology abstract concept vector illustration. Software as a service, cloud computing, application service, customer access, software licensing, subscription, pricing abstract metaphor.
At this point, it is also important that you do not confuse Saas with IaaS (Infrastructure as a Service) and PaaS (Platform as a Service). I encourage you to read this blog article on IaaS vs. PaaS vs. SaaS for better understanding of the concept.
SaaS provides unique and distinctive intangible products. Consequently, SaaS marketing strategy goes above and beyond the initial paid purchase to develop a long-lasting relationship with the customers.
In short, the ultimate goal of SaaS companies is to find and retain long-term customers.
Six Best Marketing Tips for SaaS Companies
SaaS companies may succeed if they use critical marketing methods. From the professionals, here are six tips to follow.
Content Marketing
Online Community
Incentive Referrals
Paid Media (PPC Campaign)
Registration Flow
Call to Action (CTA)
1. Content Marketing as a Growth Strategy
Many companies that promote SaaS now take a more systematic approach. For instance, you could better coordinate your material to respond to customers' most common questions at different stages of the purchasing process.
A SaaS company's content strategy must center on producing high-quality, timely, and engaging content. In addition, the content must be attractive to the intended readers and solve their problems. Making your content search engine friendly is a surefire way to increase traffic.
Consistently producing high-quality, persona-driven, keyword-optimized content will set your SaaS marketing mix apart. Furthermore, your organization must deliver value to prospective clients so they can convince their managers to use your SaaS platform.
2. Online Community to Engage Real Clients
Creating a private group on a social networking platform might let your present and potential consumers network and discuss your product. Several studies have concluded that it is among the most effective after establishing a significant user base.
Current customers can use this platform to brag about your services, demonstrating to prospective clients how they could profit from purchasing them. In addition, this is the ideal area to expand your brand's platform by collecting customer feedback.
From here, you may develop more significant modifications to your SaaS product. But, again, people in the online community are your best source for improvements.
3. Incentive Referrals Encourage Product Utilization
Referral programs play significant roles in digital marketing strategy. Building a referral network, however, may seem like an overwhelming process if you are new to the SaaS industry. But, creating a referral program will help you increase your customer base and expand your business.
A long-term customer should be thrilled with your SaaS platform and ready to recommend it to others. Find ways to reward your current SaaS customers for referring new customers by offering subscription discounts, free premium features, or a full-fledged SaaS referral program.
4. Pay-Per-Click (PPC) Campaign for Organic Traffic
Another excellent marketing plan for a SaaS firm is considering a PPC campaign. Reach your target audience more successfully with the use of paid media. By clicking the ad, the advertiser pays the publisher; this is why it's called "pay-per-click."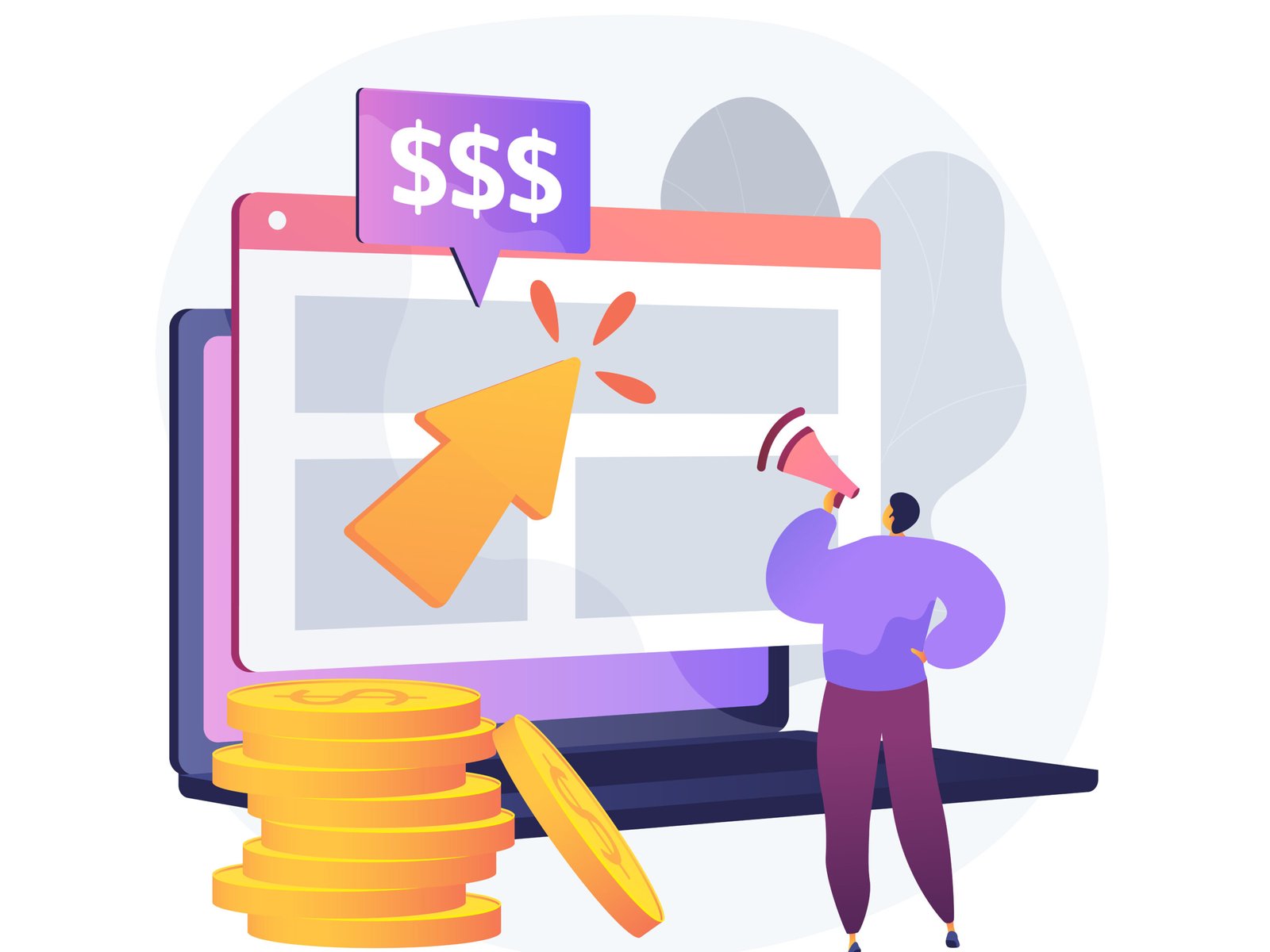 PPC campaign abstract concept vector illustration. Pay-per-click model, internet marketing tools, PPC ad campaign, search engine advertising, driving traffic, website SEO abstract metaphor.
PPC has the potential to transform SaaS companies completely. However, PPC for SaaS requires more than just setting up a campaign and letting it run; you also need to test your campaigns, make wise choices, be strategic, and employ a cross-channel strategy.
Additionally, it is crucial to use organic search to bring in traffic and leads. SaaS providers must reach their target market. Consequently, you should constantly be keeping an eye on your ad quality score.
5. Registration Flow with Simple Format
SaaS companies should create a well-designed registration process. It can significantly influence how successfully your best marketing channels for SaaS perform. Get your SaaS registration flow developed and operational quickly to shorten your time to market.
Enhance the user experience by creating an intuitive, streamlined signup process that adheres to best practices. Make it simple for users to join up for your SaaS product and get started right away to increase conversion rates.
To prevent people from giving up and switching to a rival in creating an account, ensure to make it straightforward. Review your signup process and look for ways to make it shorter or more effective. Simplicity is crucial if you want users to start using your product as soon as feasible.
6. Call To Action Must Be Strengthened
Understanding what your users want to do is the first and most crucial step in creating a great call to action. Every component of your website or landing page should serve a specific purpose. It is essential to advance your ultimate objective of turning visitors into leads or customers.
Consider how you can place your call to action to encourage individuals to take action. To capture their attention and persuade them to act, be explicit about what you want them to do and utilize an action verb. In addition, make sure the call to action considers the user's place in the purchasing process.
Conclusion
SaaS companies must have effective marketing techniques to top the list. Therefore, it is crucial to comprehend what SaaS marketing entails—the main strategies to help you accomplish your objectives. If you want to advertise your SaaS products or services efficiently, the tips and strategies mentioned in this article are a smart move to follow.
SaaS companies must also create a solid online brand presence and offer their target market interesting content if they want to last. However, crucial SaaS marketing techniques include offering straightforward registration and incentives and creating a solid community to interact with potential customers.