What strikes your mind when you hear the word 'root' in the droid world? I'm sure, most of you will associate it with voiding of manufacturer's warranty and with the possible risk of bricking your phone. Right?
Well, stop being a craven anymore. It's time to get out of your comfort zone and hook into your phone's true power. Rooting has become a necessity today and in this post, i will share 7 reasons why you should root your Android device today, in fact, right now!
1. Ad-Free World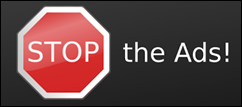 I guess most of you must have installed some sort of ad-blocker on your favourite desktop browser. Then why should your Android device be an exception?
Ad-Free and Ad-away are two brilliant root apps that keep your Android device completely clutter free. Not only do these apps remove ads from your web browser, but also from all the ad-supported play store apps! Isn't it great?
Please Note: Google has taken the two ad-blockers off from the play store. Don't worry! I have the apk file of Ad-Away. You can download it from here.
2. Shake To Screenshot
Want to take a screenshot? Just shake your phone, that's it. 'Screenshot-It' is a root app that has made taking screenshots such a fun activity. It runs quietly in the background and whenever a shake is sensed, it automatically gets activated and takes the screenshot!
3. All Apps To SD
This is a boon to all those phones with low internal memory –-> With Link2SD (a root app), you can move almost all the apps to your large sized micro SD card! So, worry less & install more 🙂
4. Goodbye To Bloatware
Just like the way you can move all the apps to the external storage with link2SD, you can also uninstall all the crapware that came pre-installed on your device (which is obviously impossible to do with an un-rooted one)
5. Custom ROMs
This is one of the most common reasons why people root their Android devices. On a rooted device, you can try different third party OS flavours of your own choice!
My phone runs on gingerbread 2.3.5 (quite obsolete these days) , so i decided to give the latest Android version a try. Here are some of the screenshots of my phone running JellyBean 4.1.2 🙂
6. Your Phone ~ Your Style!
You can customize a rooted android device very easily. I'm not talking about installing themes and launcher apps, rather, I'm talking about adding features/effects to your ROM like over-scroll glow, custom battery, changing your default boot-screen animation and much more! UOT kitchen, as the name suggests, is an online utility for rooted android devices to cook(create) flashable packages(in .zip format) so that such types of custom features and effects can be seamlessly integrated in your ROM 😉
7. Access More Apps
There are many productivity apps developed specifically to cater to the needs of rooted android users. Like – Screenshot It(shake phone to screenshot), ROM Manager(to flash and backup ROMs), Link2SD(to move/uninstall/freeze apps) and many more…Having root access enabled, opens up your android to such a plethora of exclusive root apps!
So, what are you waiting for? Go ahead and root your device to enjoy all these exciting features! A question to all those who have already rooted their android – Can you think of any other point that's worth mentioning in this post? Please feel free to add your comments below…