It happens so often with all of us — Sometimes we hear a song while shopping at a mall or while having a friendly conversation at some café. We don't identify the song name, but the tunes of that song just refuse to leave our mind. We then try to identify this song by randomly searching broken parts of those lyrics on Google — Alas! All in vain. No worries. In this post today, I will share some useful tips to help you identify a song online.
Two ways to identify songs online
Depending upon how you wish to search, there can be two ways to identify a song online:
Uploading music files – when you have saved some audio clips on your mobile or PC, and wish to know the name of the song
Listening to live music – when you wish to identify the song name by listening to it live
I will now discuss both of these ways in detail:
How to identify the song online by uploading music files?
If you have music files saved on your device, there are three online tools that can help you identify the songs. These are:
1. Audio Tag
Audio Tag is a free online tool that lets you upload any music file, of up-to 45 seconds duration. The music recognition robot then matches the tunes of the uploaded music file with those already indexed in its database. The technology is called Acoustic Fingerprinting. If there is a match, the results are displayed within 2 minutes.
Audio Tag also provides an option to recognize music directly from a link. For example, you can directly copy-paste the link of any YouTube music video on Audio Tag and Audio Tag will then automatically start identifying this song in that video. Not just for YouTube, Audio Tag music recognition works with many other live-streaming services as well, like — MXPlayer and SoundCloud.
2. What Zat Song
What Zat Song is a community driven music identification platform.
This is how it works: You upload the music file on the website using 'Post a sample' button, then the community members listen to it and try to identify this song by guessing the lyrics and name of the artist.
Since real humans like you and me are involved as a community, you should expect a slight delay in seeing someone identify the name of your song. What's great about this platform is that it has more than 400k members actively contributing to this community. What's more? Its ranking rewards system encourages active participation by all the members.
3. Aha Music
Aha Music is a song finder utility (powered by ACR Cloud) that works within web browsers. It works as an extension for Chrome and Edge browsers.
This is how it works:
Once the extension is installed, drag and drop the music file to your web browser
Now start playing the audio and click on Aha Music extension just when then the track is being played in the browser.
The extension will identify the song name within seconds.
How to identify a song online by listening / playing it live?
If you wish to identify songs while playing or listening them live, this section of the post will walk you through five online tools that help you name your favorite songs:
1. Siri / Google Assistant
Smartphones these days come with a pre-installed voice assistant. For example, we have Siri on iPhones and Google Assistant on Android/Pixel phones. These voice assistants have really progressed with time. Now you can even ask them to identify songs playing nearby.
Here is how you do this on iPhone or iPad:
Activate Siri by long pressing the volume up/down button
Say the hot-keywords: "Identify this song" or "What's this song?"
Siri will begin listening to the song that's playing nearby, and the song is named in a matter of few seconds.
On Android phones:
Activate the Google Voice Assistant by long pressing the home button
Say the hot-keyword: "What's this song" OR "Identify this song"
Google Assistant will begin identifying the song that's playing nearby. It works even for your humming.
2. Shazam button on iPhone / iPad
There is even an easier and faster way to identify a song online on your iOS device. You can use Shazam to identify the songs without even having to install the app on your device. With the iOS 14.2 update, Apple has integrated Shazam right in the Control Center of your device. Here is how you can add Shazam in your Control Center for quick access:
Go to settings
Visit Control Center
Scroll down and tap the Add button on the left side of "Music Recognition"
If you have an Android device, you can download Shazam app from the Play Store.
3. SoundHound app
If you have trouble identifying songs with Shazam, you should give SoundHound a try. In my experience SoundHound worked better for humming, instrumental tunes and music of shorter time duration. SoundHound app is available for both Android and iOS platforms.
This is how music detection works on SoundHound app:
Signup for SoundHound using your email address
Open the app and navigate to the Search tab
Now tap on orange SoundHound icon that appears in the center of the screen.
SoundHound will start listening and identifying the music that's playing around you
If you are trying to identify a song by humming, tap on the SoundHound icon as soon as you have finished your humming.
4. Musixmatch Lyrics Finder
Musixmatch is another good app for smartphones that can help you identify songs online. It is primarily a lyrics' finder app, nevertheless it also provides option for identifying songs playing around you. Like Aha Music, Musixmatch's song identification service is also powered by ACR Cloud. It also connects with Spotify and Apple Music app so that you can also play music on the go.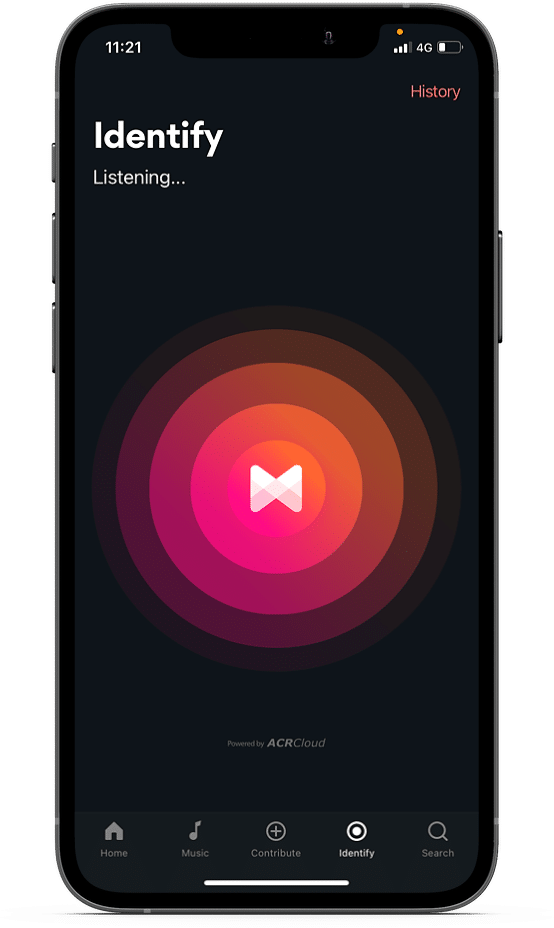 There is a plus point in using Musixmatch app for identifying music playing around you. What's that? Once it has identified the song, you will also see lyrics of the song just identified on your screen.
How do you recognize unknown songs?
What apps and online tools do you use to identify a song name that titillates your mind? Please share your thoughts in the comments below.