Cross-Posting of social media posts from one social media platform to another is often very much desired by bloggers & marketers. Why? Because it is very convenient and it saves a lot of time. With Twitter and Facebook being the two most popular social media websites on the planet, it makes sense to find out a way to cross-post across the two platforms. In this post, I'll be sharing how to share a tweet on Facebook & also simultaneously how to share your Facebook posts to Twitter.
Posting of Tweets from Twitter to Facebook
Coming straight to the point, there are two ways to share a tweet from Twitter to Facebook:
Automatic Cross-Posting (No Longer Works)
Manual Sharing
1. Automatic Cross-Posting From Twitter to Facebook: No Longer Works
Before 1st August 2018, one could easily set up Twitter to automatically share tweets to one's Facebook profile/business page. Doing this was easy. In the Twitter "Settings and Privacy", you would navigate to "Apps and devices" and simply click on "Facebook Connect". And…this would have connected your Twitter directly to Facebook such that any tweet that you post on Twitter would get automatically cross-posted on your Facebook wall.
However, in the wake of Cambridge-Analytica scandal, Facebook has apparently updated its platform policies in such a way that it restricts all external apps to publish on a user's wall/page. Facebook announced this update in a blog post during April 2018. Here is what they said:
The publish_actions permission will be deprecated. This permission granted apps access to publish posts to Facebook as the logged in user. Apps created from today on wards will not have access to this permission. Apps created before today that have been previously approved to request publish_actions can continue to do so until August 1, 2018. No further apps will be approved to use publish_actions via app review. Developers currently utilizing publish_actions are encouraged to switch to Facebook's Share dialogs for web, iOS and Android.

As seen on a blog post published at Facebook
The publish_actions permissions allowed an app to publish on Facebook on behalf of its users.
Today, if you try connecting Facebook to your Twitter, you'll see this never ending loop:

Twitter gives explanation of this error on this page where they have also confirmed that a recent update to the Facebook Platform Policies ended the ability to automatically post Tweets to your Facebook profile or page.
2. Manual Sharing of a Tweet On Facebook
However, You can easily share a tweet on Facebook by copying the link of the specific tweet and posting it on your Facebook wall. No doubt, this is time consuming and out-rightly boring.
Here is how you can do this:
Step 1: Go to your twitter timeline and click on the specific tweet that you wish to share on Facebook.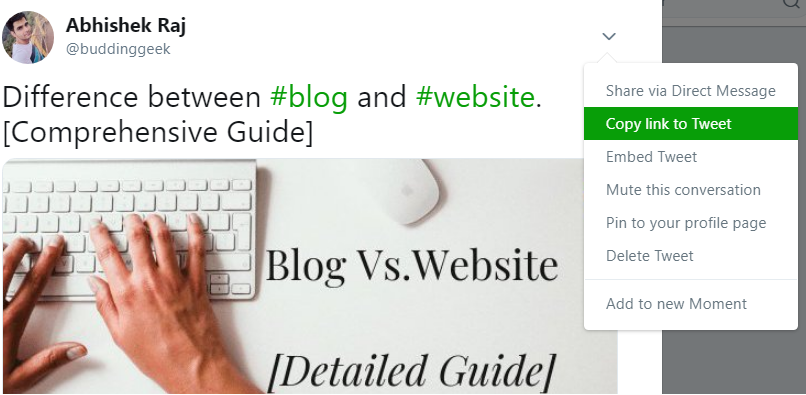 Step 2: Go to your Facebook page and paste the link to the tweet. That's it.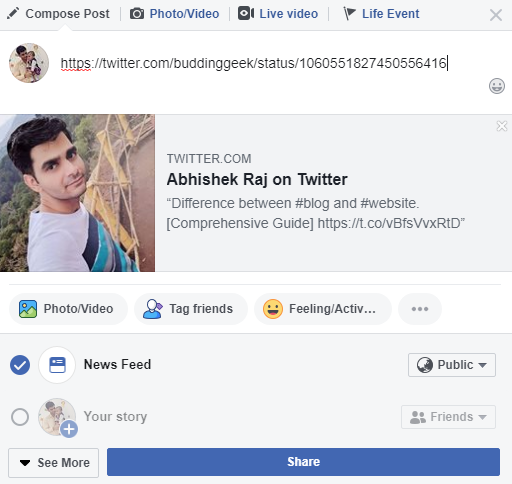 Sharing of your Facebook updates on Twitter
Contrary to this, Twitter freely allows you to cross-post your Facebook updates on to your Twitter timeline. Go to this link on Facebook, check what type of content you wish to cross-post to Twitter and click save changes. This will automatically sync your Facebook updates with your Twitter.
With Facebook blocking all third-party apps from publishing updates on the profile of its users, can we still think of a viable alternative that can let us automatically share tweets on Facebook? Yes!
This is where you can reply on social automation apps like Buffer and Hootsuite. I personally like Buffer app since it is much more convenient and easy to use.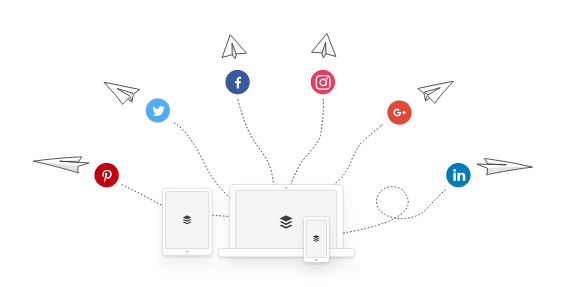 The main purpose of such apps is to auto-schedule your social media posts across as many platforms as you desire. In our problem of cross-posting across Facebook and Twitter, this is how it is going to work:
Step 1: Sign-in/Sign-up to Buffer App. Once you're there, connect your both social media profiles – Facebook & Twitter.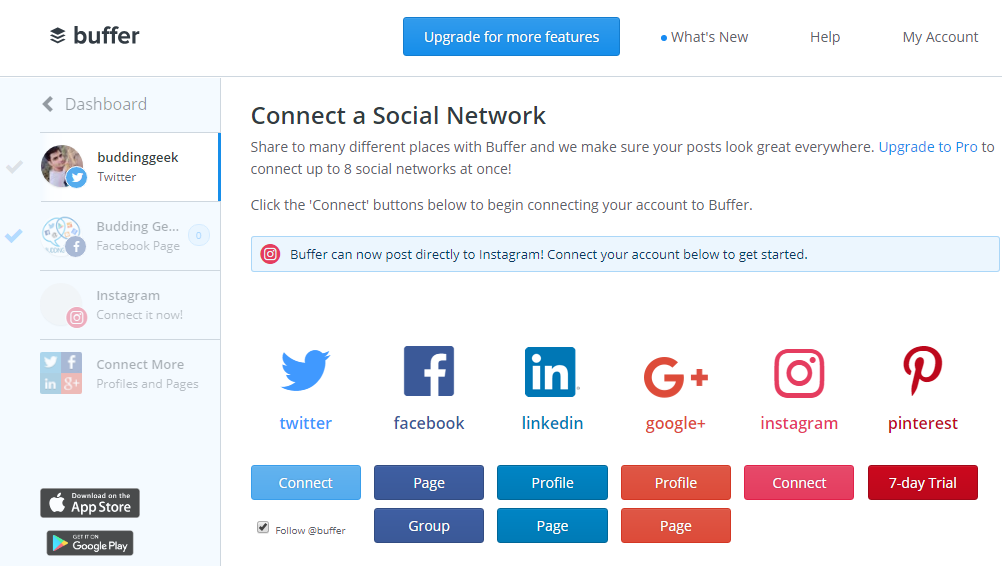 Step 2: Compose your message that you wish to share as a tweet and facebook update. You'll have two options – either to publish this right now or to schedule the post for publishing at some other desired date and time.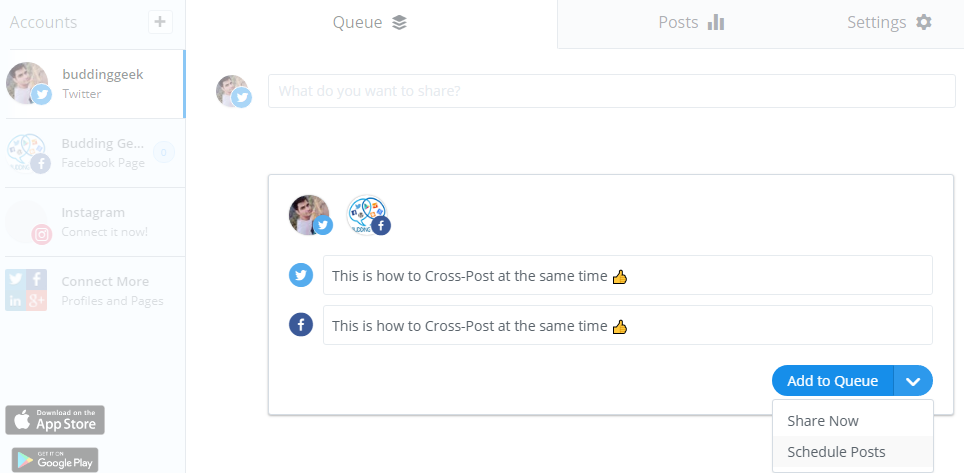 What's your approach?
In the wake of privacy concerns, Facebook's decision to block all third-party apps from publishing updates on its platform is certainly a setback. As a result, it has become officially impossible to connect your twitter with facebook so as to enable Twitter to automatically share your tweets onto your facebook. In this scenario, using social automation apps like Buffer seems to be a viable option. However, I'm sure there might be other ways also to cross-post across these two platforms. What's your approach to this problem? Let's discuss in the comments below.