So you have finished writing your ideas and now with great anticipation you are all set to publish your post.
That's great, but don't be in a hurry. You have to ensure that your article qualifies in all these 8 tests before it goes live on the internet.
1. Is the article free from all spelling and grammatical errors ?
Mistakes do happen! But when your article contains considerable number of spelling and grammatical errors then it can leave a large portion of your readers discontented.
My advice is – Make it a habit to process your articles through Microsoft Word at-least once before hitting the publish button.
2. Is the Keyword density Ok ?
Checking the keyword density has become very important especially after the Google penguin update. Also known by the name of over optimization penalty, this algorithmic update targets webpages with unusually high keyword densities (anything above 3 to 4% can raise alarms). So make sure that the article is not making any over use of keywords. I recommend textalyser.net, an online utility that thoroughly checks an article and creates a comprehensive report on the keyword density and the frequency of occurrence of various other words and phrases.
3. Are all the images optimized ?
Don't ignore the images in your post. If properly optimized, they can draw a substantial amount of organic traffic via Google images.
Before uploading image files, ensure that they are renamed with appropriate keywords. For ex – if you are going to upload an image of a Dell Laptop which is blue in color, make sure that the name of the image file is properly renamed as – Blue_Dell_Laptop.jpg
After uploading, make sure that every image has a descriptive alt image tag and description. This helps the search engines to rank your images appropriately in their search results. Go through this informative guest article at iblogzone to find more about image optimization.
4. Are you making good enough use of bullet lists and numbers ?
Visitors, especially those using search engines are usually too short on time as well as patience. Within first 5 to 10 seconds they decide whether to continue reading or skip back. So its very important for you, as a good blogger to keep them engaged with your content. A post full of plain and stuffy series of paragraphs is most likely to repel the visitors away. On the other hand, a post which is split into meaningful points can compel the visitors to continue reading more and more.
5. Is the article making good use of heading and subheading tags ?
A well structured post, making good use of heading tags not only impresses the people visiting the post but also catches the attention of search engines as well. Ideally, this should be the order of preference of using various heading tags in a post:
<h1> tag – Only for Post Title
<h2> tag – Preferably for Main Headings &
<h3> tag – Preferably for Sub Headings
6. Is the permalink URL SEO friendly ?
A permalink is that part of the URL which follows the main URL and date of publishing. Ensure that all the important keywords present in the blog title are present in the permalink as well. This helps search engines to determine the relevancy of your post against the user entered query.
This is how you can create SEO friendly permalinks for the two major Content Management Systems – Blogger & WordPress :
While writing a post, the blogger editor provides you with an option to manually customize the permalink URL. You have to fill this permalink space with the most important and relevant keywords in order to rank well in the search results. Take a look at the example screen-shot below –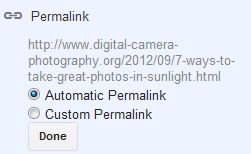 In case of WordPress, the permalink is created automatically just below the post title, which of course can be edited later to include the most important and relevant keywords.
7. Is the title eye catchy ?
An attractive title is what sets your post apart from several other similar posts on the Internet. While including all the important keywords, try to create a title capable of attracting visitors to your post. I know, this task is tricky and time consuming. But eventually its worth your time and efforts.
8. Are you linking to at-least some of your previous articles ?
Contextual inter linking to previous articles is very important, not only from the SEO point of view but also from the point of view of directing the visitors to your previous blog posts. Before publishing, analyze the article deeply and look for any possibility of contextually linking to some of your previously published posts.
Now that your post has successfully qualified in all the aforementioned tests, you should confidently go ahead click the publish button. All the best 😉