A very warm welcome to all my friends. Since the last one year, I have been thinking of designing a good quality logo for Budding Geek. A logo that could sync well with the overall theme and design of my blog. I also thought of outsourcing this design work to experts on websites like Freelancer and Fiver. However, I was doubtful about the quality of work. Somewhere in a corner of my heart, I therefore carried this fear of getting outputs not pleasing to my taste.
So yesterday, I got my hands dirty with all the unlimited possibilities and creative energies that I had in my store. I took on this challenge and spent almost 3 hours straight on Canva. And here's the design that I finally settled for: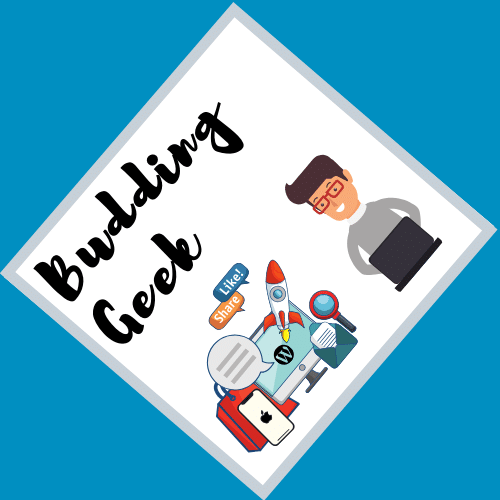 How is it?
I loved this new design since it blends very well with my website's design, look and feel.
The font-family of the title in my new logo conveys a modern and trendy look.
The guy wearing glasses in the grey color sweater represents the nerd/geek in me, who is obsessed with technology, blogging and internet marketing.
The background color blends with the present color theme of my website.
Overall, the new logo conveys a flat, modern and trendy design idea.
I am keen to have your feedback.