Mac users are typically a more tech-savvy bunch, but even the most knowledgeable user can sometimes be caught unawares. Digital accidents are fairly common these days. Whether it's an external drive failure or a simple mistake that leads to the accidental deletion of an important file, data loss is all too common on Mac as well as other computers. Even if you backup your files regularly, things can still go wrong in unexpected ways and at unexpected times. It's essential that you know how to respond appropriately should such an event occur. There are many different software solutions available for recovering data when disaster strikes. In this article, we will explore the 6 best data recovery software options for Mac OS users so that you can choose the one that suits your individual needs.
We will also list the pros and cons of each tool so you can compare them from different aspects, for example, support for a T2-secured computer, disk formats compatibility, file type support, ease of use, etc. So, let's dive in…
1. iBoysoft Data Recovery for Mac
Mac OS Compatibility: macOS 13 – OS X 10.11 
iBoysoft Data Recovery for Mac is a professional and easy-to-use tool that helps users safely recover data from Macbook SSD, Mac HDD, SD cards, USB flash drives, and many other external storage devices.
On a Seagate hard drive, we used the software for testing purposes and recovered every lost file on a Mac, including pictures, photographs, notes, documents, spreadsheets, videos, and audio files. You can filter scanning results and preview recoverable data. Whether you are skilled or not, your data is only a few clicks away with iBoysoft Data Recovery's user-friendly graphical interface.
You can rely on it to recover Word documents on Mac and more than 1000 file formats of office files, as well as photos, videos, audio, emails, and archives on hard drives. This fantastic program can restore deleted Mac files that have been moved to or removed from the Trash.
The iBoysoft Data Recovery app can be used to recover files from formatted drives (no disk unformat tool is required), as well as from unreadable, unmountable, or unrecognized hard disks, in all types of data loss circumstances.
It is not only a trustworthy Intel-based Mac recovery solution but also a reliable M1 Mac data recovery program. Additionally, even when your Mac won't fully start, it can tackle tricky situations like Apple T2 data recovery.
iBoysoft can make a bootable installer for an unbootable Mac, like a few other data recovery programs, but even that won't help if you can't boot from an external USB flash drive! In this regard, iBoysoft differs from its rivals because it gives users the option to use Mac data recovery when the system is in Apple's Recovery Mode.
In a nutshell, iBoysoft is among the finest free data recovery software for Mac since it combines advanced features with a pleasant user interface.
Pros of iboysoft

👍
You can recover a total of 1 GB of files free of charge.
Support Macs with Apple's T2 Security Chip without a hitch.
Can work with M1 Pro/Max Apple hardware
Get back files from the lost partitions
Support recovering data from the unbootable Mac computers
Use the file review feature before data recovery
Can save the data scanning process and resume it later
Wide file system support: (encrypted) APFS, HFS+, FAT32, exFAT
Cons of iboysoft

👎
Does not have the corrupt photo and video repair features
Does not support the NTFS file system
2. PhotoRec for Mac
Mac OS Compatibility: macOS 10.6 – 12.0
You might think of PhotoRec when discussing the free file recovery software for Mac. This open-source, free photo recovery program for Mac may recover data that gets lost due to deletion, disk formatting, file system corruption, etc. It is not recommended for people who have never used a command-line interface, nonetheless.
PhotoRec is designed to provide photo recovery features for DSLR camera users. But this completely free recovery software also supports Mac internal hard drives and other portable devices such as external hard drives, memory cards, CD-ROM, and USB drives.
In our test, we successfully recovered some Microsoft Office documents, MP4 files, and JPEG picture files with this free Mac data recovery software.
However, as PhotoRec's user interface resembles Terminal, it should be cautioned that utilizing it to retrieve files from a Mac requires command-line experience (the Command Prompt on Mac). Beginners should avoid the process. The process is not user-friendly to beginners.
You can use PhotoRec to recover deleted data on Mac OS X, even if it might not be compatible with the newest Mac operating systems like macOS Monterey and Big Sur.
Pros of Photorec

👍
Completely free to use on Mac
Provide a powerful file carving technology
Perform data recovery on the corrupted hard drive
Supported file systems: HFS+, FAT32, exFAT, NTFS, ext2, ext3, ext4
Cons of Photorec

👎
Command-line interface is not friendly for regular users
Cannot support the encrypted APFS file system
Data scanning and recovery are relatively slow
Does not offer technical support or customer service
This freeware only supports up to Mac OS X
3. Wondershare Recoverit Data Recovery for Mac
Mac OS Compatibility: macOS 12 – OS X 10.10
Wondershare Recoverit for Mac Data Recovery is another free tool we found recently. Recoverit for Mac claims a 96% success rate of data recovery from Mac's internal hard drives (HDD and SSD), and external hard drives. But technically speaking, there is no guaranteed result for any data recovery software.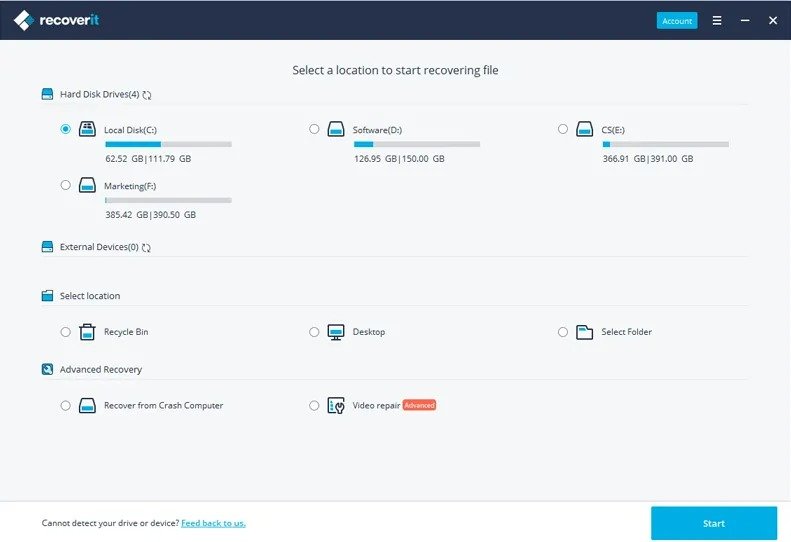 For the sake of this study, we erased data with a maximum size of 100 MB from the trash, external hard drives, pen drives, SSDs, USBs, and memory cards, and Recoverit Mac Data Recovery was able to recover the majority of them. Additionally, this free Mac file recovery program has additional appealing features.
Using this free data recovery software, we successfully retrieved several images, MP3 files, and Microsoft Office files. Wondershare Recoverit for Mac helps users to recover lost or deleted office documents, emails, videos, graphic images, and other media. This Mac data recovery program also receives praise for its Advanced Video Recovery Technology.
Please be aware that Recoverit Mac Data Recovery only permits us to recover 100 MB of lost files, which is frequently insufficient. You must buy the subscriptions if you want additional features for corrupted video repair and recovery, or if you wish to restore lost videos or files with huge sizes.
Pros of Recoverit

👍
Recover 100 MB of files on Mac for free
Support HD data recovery on a crashed Mac
Advanced video recovery and repair functionalities
It is compatible with T2 and M1 Mac
Has file review feature
File systems supported: encrypted APFS, encrypted HFS+, FAT32, exFAT, ext2, ext3, ext4
Cons of Recoverit

👎
It does not provide support for the NTFS file system
Recoverit may slow down hard drive reading and writing speeds when running in the background, causing sluggish system performance.
The paid-for version is expensive.
4. Stellar Phoenix Mac Data Recovery
Mac OS Compatibility: macOS 12 – OS X 10.11
Stellar Phoenix Mac Data Recovery, which works with MacBook Pro, MacBook Air, iMac, Mac mini, portable HDDs, etc., is another file recovery tool for Macs. You may scan and preview lost or deleted data with the free application Stellar Mac Data Recovery. However, you will need to purchase the professional edition if you want to recover data from a deleted APFS partition or lost files from an SSD, SD card, USB flash drive, and portable hard drive. The basic professional version license key for one Mac is $79.99 a year.
The standout feature of this program is its capacity to restore damaged images and movies, which is crucial for professionals using Mac applications like Logic Pro, InDesign, Final Cut Pro, iMovie, and others.
Stellar Data Recovery Professional for Mac's free trial version, which can only preview lost or deleted files, may still be an option if you need to keep track of the condition of your hard drive and lost files. However, it does not allow you to perform file recovery from Mac HDD and SSD until you pay.
Pros of Stellar Phoenix

👍
Get back the deleted and lost files on Mac
Can recover data from a Mac that won't boot
Drive health monitoring feature and drive cloning feature
You can preview the recoverable files
This software also supports Macs with M1 and T2 chips
Can support files systems like APFS, HFS+, FAT32, NTFS, and ExFAT
Cons of Stellar Phoenix

👎
Free download is only used for data scanning and file previewing
Will not support encrypted APFS data recovery
5. Disk Drill (Mac version)
Mac OS Compatibility: macOS 12 – Mac OS X 10.5
As a free Mac file recovery tool, the first edition of Disk Drill was introduced in the year of 2010. On a Mac, in addition to restoring deleted files, the built-in Recovery Vault function and Disk Drill's Guaranteed Recovery can stop unintentional data loss from failing hard drives by backing up files with Time Machine. When you need to restore data from an empty Trash on your Mac, these 2 capabilities come in handy.
Disk Drill can recover data from a hard drive, USB flash drive, iPhones, digital cameras, Android phones, and memory cards and is available for macOS, iOS, and Android devices. Furthermore, it has a powerful capacity to restore damaged photos and videos.
This Mac recovery software even provides you with other features, such as free S.M.A.R.T. disk monitoring, a duplicate file finder for Mac, Mac storage cleanup, data protection, and data backup.
6. Lazesoft Mac Data Recovery
Mac OS Compatibility: OS X 10.9 -10.5
Lazesoft Mac Data Recovery offers a completely free data recovery tool that enables you to recover an unlimited amount of data on old Mac machines.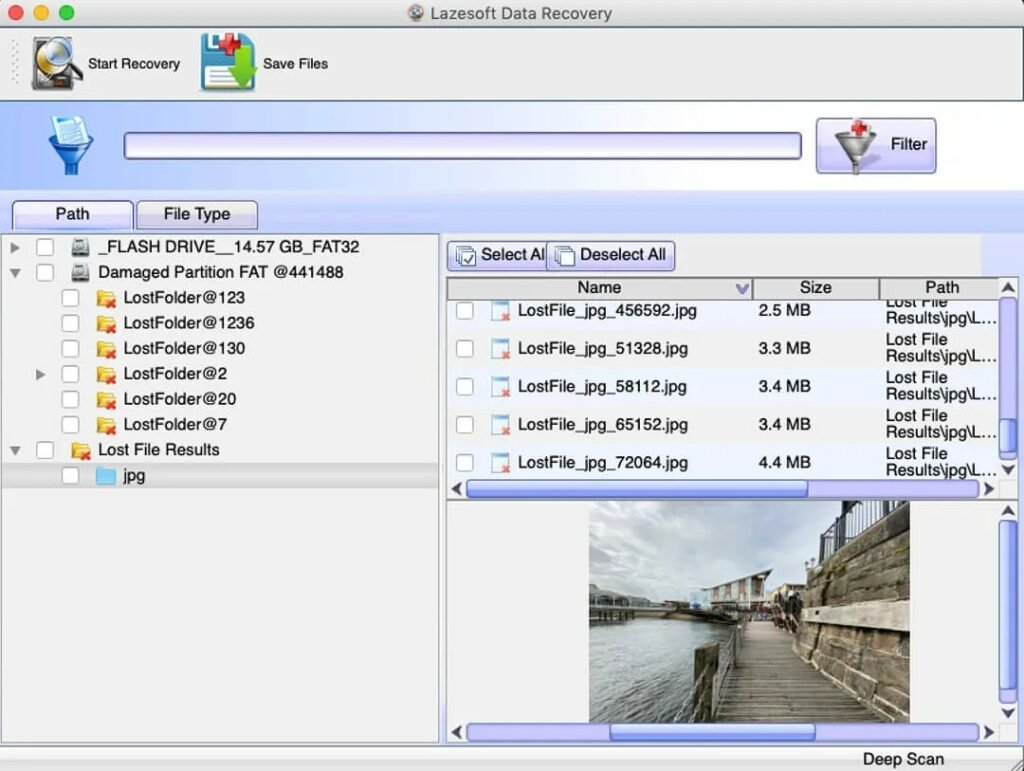 It allows Mac users to get back files from HFS+, HFS, FAT, FAT32, NTFS, and exFAT volumes. You may recover images, music files, video files, work documents, and more with this free data recovery application from any mountable storage device on your Mac, including USB flash drives, memory cards, and hard drives.
You can use the Fast Scan mode to quickly find the recoverable files and then undelete them, or use the Deep Scan mode to search for files on a formatted, unreadable partition or hard drive.
Unfortunately, Lazesoft Mac Data Recovery hasn't received an update since 2014. That means you cannot use it to recover files from the APFS-formatted partition.
Pros of Lazesoft 👍
Completely free to use
Recover deleted data on old Mac computers
Supported file systems include HFS+, HFS, FAT32, exFAT and NTFS
Can recover data from damaged partitions and lost partitions
Cons of Lazesoft

👎
Lazesoft Mac Data Recovery only supports OS X 10.9 to 10.5
Has no support for the newT2 & M1 Macs
The user interface is outdated
Will not support APFS (Apple File System)
You might also like to read:
Your feedback?
We hope this post was useful. If you tried any of these data recovery software for Mac, we would like to hear your feedback. And should you have any questions or doubts, please don't hesitate in dropping your comments below.