Blogging or Vlogging is more than just writing and sharing your thoughts with the world. Besides being a good writer, this creative profession also requires you to be a good web designer. You have to come up with eye-catching graphics and visual content regularly. You need quality graphics for your blog posts, YouTube video thumbnails, social media featured images, and sometimes even for designing Ad flyers, and a lot of other marketing stuff. For most of us, Canva is hands down the first choice for designing beautiful graphics. But that doesn't mean that we should avoid looking at alternatives. In this post, I'll share the list of 8 best alternative apps for Canva in 2022…
Why look at the alternatives for Canva app?
Canva is an easy to use, and in fact, a very good app for your designing needs. For years, it has been my favorite design app. And it still is my favorite app. But lately, I am feeling a bit dissatisfied with the restrictions they have put on their free account:
Lack of a good number of free images and illustrations.
You can't filter out free/pro images and illustrations.
You can't resize a design once you have started working on it.
A pro Canva account @120 USD/year will obviously lift all these restrictions. But, in my opinion, they should have at least removed restrictions no. 2 and 3 above in their free version. But this is just my personal opinion. Your reasons for looking at the alternatives for Canva may be different that mine. If yes, please share them in the comments below.
Therefore, I have come up with a list of 8 best (free and paid) alternatives for Canva app. In the following part, I am not only going to share this list but also a brief review of how well the app stacks against Canva:
8 best alternative apps for Canva (Free and Paid)
1.Pixelied
They introduce themselves as a free design suite for start-ups, e-commerce, and marketers. To start designing on Pixelied, you will first register for a free account on the website. Once you login, you will find a list of 1300+ ready-made templates catering to your social media, e-commerce and Content marketing needs. This is similar to Canva. Some templates are free to use and some are paid. You can pick any template that you like and start designing.
Here are some useful features in Pixelied that you won't find in Canva:
Integration with Unsplash & Pixabay – thereby enabling easy access to high quality and royalty free images right within the app.
Integration with Iconfinder – thereby enabling easy access to free icons right within the app.
Ready-made color schemes
Mockups generator for laptops, tablets and mobile devices – perfect for app and software developers!
Rest all other features in Pixelied are similar to that you will find in Canva. For someone who has been using Canva every day for designing work, using Pixelied felt like a very similar, but refreshing experience.
2. Adobe Express
Adobe Express is another good alternative to Canva app. Coming from the house of 'Adobe', it's indeed a branded design app that you can rely upon for your daily designing needs. Here are some features that I loved using in Adobe Express:
Beautiful color schemes that fill your design magically in one click
Ability to resize your designs while you are working on them
High quality of Design Assets
Good number of quality free icons
You can invite people (through email) for collaborative designing
Text and photo animations.
Create your own brand kit by uploading your logo, color scheme and fonts!
The only thing I disliked about Adobe Express is that it puts a watermark on every design you create on the free account. Overall, I found it very easy to use with bold features right where you need them.
3. Edit.org
With Edit.org, you cannot fully replace Canva as it puts more restrictions on free accounts – low-resolution image downloads, watermarks and a mere 100MB of storage space. However, you can consider it as an alternative ground to test your design creativity. You will find many refreshing templates, design elements and color schemes to play with. Here is a recent screenshot of how the app interface looks like:
Try it. I am sure you will like it.
4. Fotojet
Fotojet is another decent alternative for Canva. But it's recommended to use Fotojet (free plan) only when you need a quick ready-made design. Design, download, and forget how you designed it! That's how your design experience on Fotojet will look like. Thanks to these three major restrictions on free accounts:
No space for storing your designs
No designs of custom dimension
Ad-supported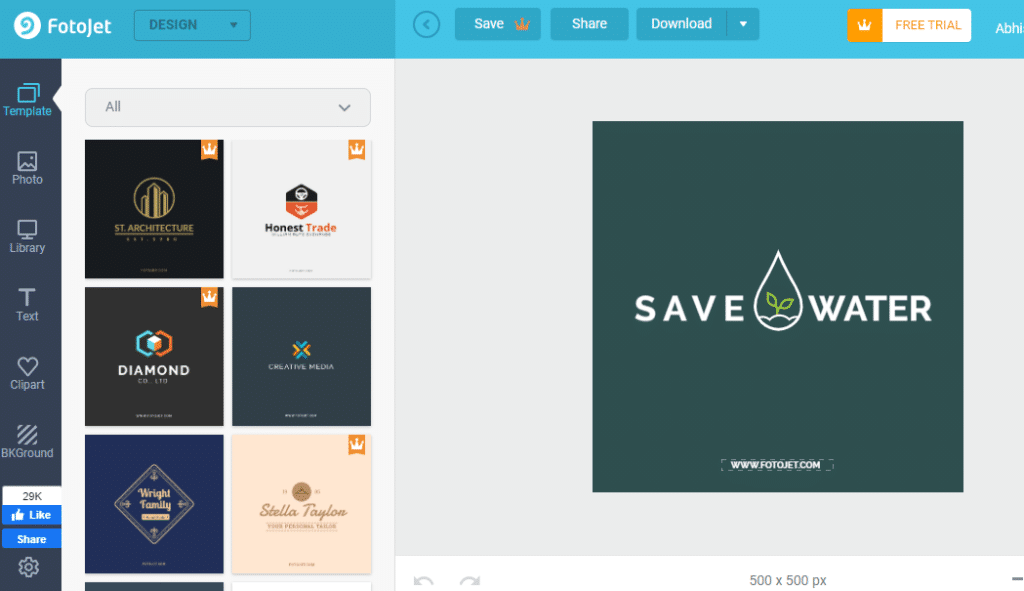 Otherwise, it's a good design tool with access to basic graphic design features like:
Design templates
Photos
Text
Cliparts &
Backgrounds
If you were to replace Canva, you should give least priority to Fotojet as a standalone design tool. But for occasional design work, give it a go!
5. Be-Funky Graphic Designer
There is nothing so fancy about Be-Funky Graphic Designer (let's keep it short – BFGD) that I should brag about. It's a very simple graphic design tool that you can consider for quick designing.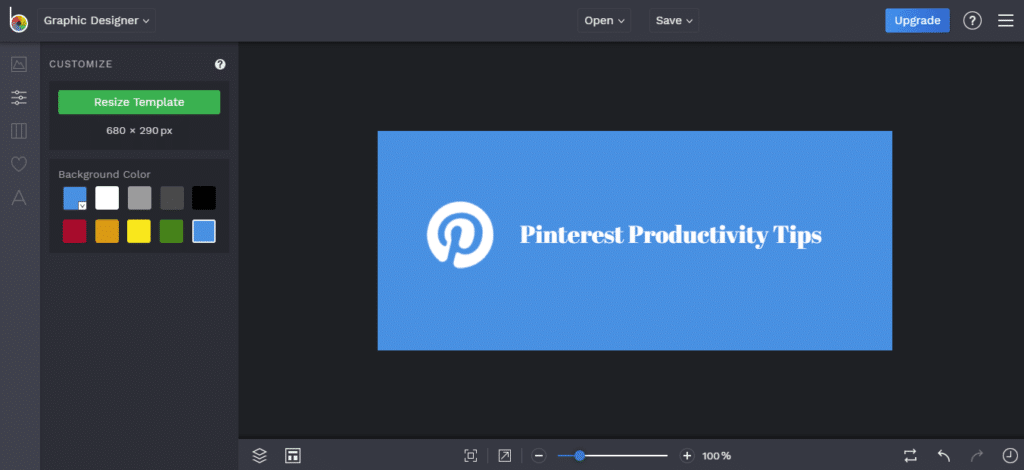 It's relatively fast and has a clean user interface, but provides little room to unleash your full creativity. On free account, you will have access to:
Ready-made templates
Images
Clipart graphics
10 solid background colors &
Text
Resizing of designs.
One thing I liked about BFGD is that it keeps a history of changes that you make in your design. This is convenient when you wish to step back to previous edits. Once you are done with your design work, you have the option to save your designs on your Computer, Google Drive and Google photos.
6. Pixlr-X
Pixlr-X graphic designer is more focused on features that you will typically find in a photo editing tool. Not a surprise, as Pixlr is a popular photo editing tool for mobile devices. You will find options like addition of borders, overlays effect, shapes and stickers. Further, there are color/light/vignette adjustment tools to fine tune your photos. But this doesn't mean that you cannot design graphics on Pixlr-X. You will have access to basic graphic design tools as well, such as:
Layout templates
Text
Photos
Background colors
Illustrations & clipart
Overall, it's a basic graphic design tool that you can consider when you are bored with Canva. Goes without saying, this cannot replace Canva as a standalone design tool.
7. Design Wizard
Design Wizard is another good alternative for Canva. Besides image based graphic designing, Design Wizard also has a dedicated Video editor to offer video based graphic designing. It has a wide collection of ready-made templates spanning across various categories such as social media, book covers, logos, greeting cards, and advertisements.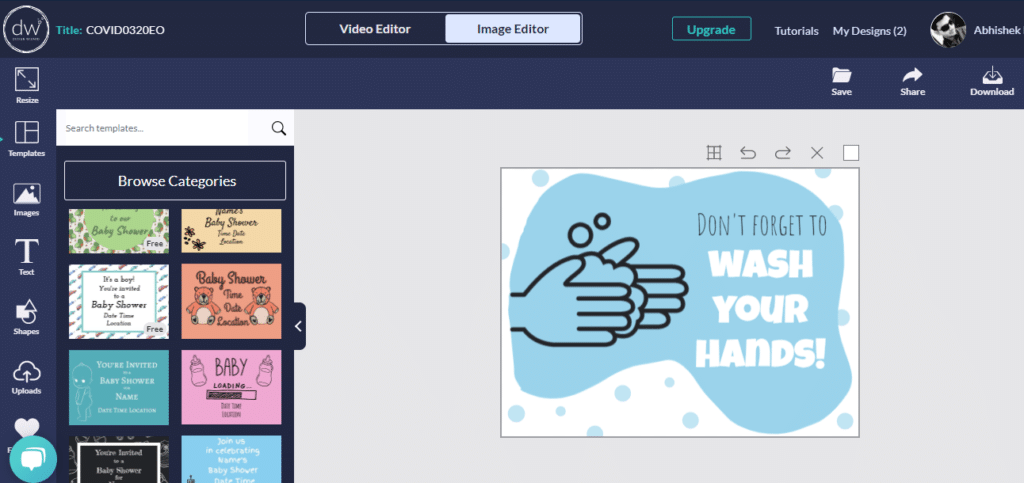 Design Wizard offers almost everything you need to create a stunning graphic design. However, I disliked one thing about it: No illustrations/cliparts! What's more? The storage restriction of 15 MB in the free plan is another turnoff.
8. Visme
If you are looking for a Canva alternative for designing breath-taking infographics, charts, and presentations, look no further than Visme. Don't believe me? Try it out yourself. The quality of statistical figures, images, illustrations and animated graphics will make your infographic and presentations stand out.
The best thing is that it's free to use Visme. You can easily access 80% of the features in the basic plan. The remaining 20% core features like access to premium charts/templates, PDF exports are reserved for paid plan. Here is a recent screenshot of how the app interface looks like:
Your thoughts?
Which app is your favorite alternative for Canva? If I had to choose a daily driver for my designing needs, I would choose Pixelied and Adobe Express. What are your favorite graphic design apps? And why do you prefer them? I look forward to your views in the comments below.